The story is a common one. Temperatures dip into the 40s, and sometimes briefly into the 30s, for one or two nights in October. Unsuspecting, busy, and sometimes forgetful homeowners turn on their home heating system for the first time in months. "You certainly don't want to wait until the coldest day, and then flip a switch, and hope your heat comes on," says Nella Mahoney, general manager for Newburgh-based Abbott and Mills Energy.
A number of problems can occur as a result of waiting, says John Maserjian, a spokesperson for Central Hudson Gas and Electric. "The fall is the time of the year when we tend to see carbon monoxide incidents, where there may have been a blocked chimney over the summer, or perhaps an issue or problem with the heating system that didn't really manifest itself yet," says Maserjian. "It's crucial that people ensure that their systems are operating properly, and that there are no issues inside the heating unit, so that they ensure not only that they have heat, but also that there are no dangers or safety issues associated with their system."
Home Heating Checkup
Maserjian recommends a fall checkup of heating systems by a heating contractor. Early fall proves to be a busy time for contractors like Abbott and Mills Energy, which has been in business for over 75 years. The company provides a number of services, including fuel delivery and energy audits for residential and commercial properties. "There probably aren't words to describe how busy we are right now," says Mahoney. "People are making sure that they are getting the pricing they want, and making sure their boilers and furnaces are maintained."
While calls pour in to Abbott and Mills Energy, Mahoney says many customers still aren't aware of what's available to them, at least when it comes to replacing, retrofitting, or even repairing their systems. "We have quite a few customers who are on service plans, so they are aware, because we remind them all the time," Mahoney says. "I don't know if everyone is aware of that as much as they should be."
She goes on to say that the promise of savings has grabbed the attention of more people these days, who are looking for ways to bring down their heating costs. "People are so concerned about saving money and efficiency right now that they are a little more aware of getting their system tuned up, to make sure they are efficient as they can be."
Time for an Upgrade?
Utilities like Central Hudson Gas and Electric will typically offer a number of rebate programs designed to get customers thinking about the need for renovations. The utility is offering a rebate of $600 for customers to have their homes sealed by designed insulation professionals. Central Hudson also offers rebates ranging from $700 to $1,200 dollars for the installation of energy-efficient natural gas furnaces and boilers at homes and businesses within their service area. The utility serves about 300,000 electric customers, with an additional 74,000 customers who use natural gas. Maserjian says there's no way to estimate just how many of those customers take advantage of the rebate programs.
"It's available for those who decide that they want an upgrade. Those that decide to make an upgrade have to weigh out the cost of a new system, and what sort of efficiency gains they may realize," says Maserjian. "Often, trading up to a higher-efficiency system can pay for itself in a shorter period of time, if the original system is 25- or 30-years-old, and has not been operating well. Generally, providers can give an estimate of what the payback will be."
With an increasing volume of calls to fuel companies and contractors throughout the region, it doesn't mean that homeowners are out of luck if they haven't already made preparations for the fall and winter months, and the accompanying cold weather. Mahoney says any time is a good time, except for the middle of winter, when a day without heat while upgrades are made would be the most noticeable. "It's not like there's a white sale during the year where it's cheaper or better to do," says Mahoney. "It's just all a matter of your personal choice when you might want to do that kind of thing."
Start with an Energy Audit
Energy audits are often a serious consideration for homeowners who are committed to making their house energy-efficient. The New York State Energy Research and Development Authority, or NYSERDA, promotes free or reduced-cost audits for homeowners, specifically for those with incomes that are well below the median range for their area. However, NYSERDA hasn't focused all of its energy on simply retrofitting existing heating systems, or replacing them altogether.
In August, the state-run corporation re-introduced its ENERGY STAR Homes program, which has led to the construction of nearly 20,000 energy-efficient homes since 2001. Nearly 500 builders have joined on to the program since its initial inception. Through the reintroduction of the program, $14.5 million worth of incentives has been made available for home builders. Those incentives, which are set to expire at the end of the year, include $1,250 for homes built upstate, and $1,500 for new homes in Westchester County, New York City, and Long Island.
"Many developers across the state are already building above code, so additional costs to meet New York ENERGY STAR Homes' standards can be minimal," according to Francis J. Murray, Jr., NYSERDA's president and CEO. The authority estimates that it can cost a home builder one to three percent more to build a qualifying ENERGY STAR home, but that the home will be 18 percent more energy efficient, compared to a home built to meet average state code standards.
Storm-Related Rebates
A devastating span of weather may also benefit homeowners across the region when it comes to securing their homes for the winter, and ensuring that their heating systems are working in the correct fashion. While homes and businesses throughout the Hudson Valley and Catskills sustained varying levels of damage as a result of Hurricane Irene and Tropical Storm Lee, which slammed into parts of upstate over late August and early September, the rebuilding process for some may be an opportunity to keep an eye on the future. In response to some of the unimaginable losses to homes in many areas, New York State has made $8 million available for the purchase of household appliances, including furnaces and boilers.
"Our top priority is making sure those affected by these storms have the help they need to recover," said New York Governor Andrew Cuomo, in a release announcing the establishment of the funds. "This program will cover the costs for critical household appliances and help New Yorkers who suffered property damage to save money as they rebuild after the storms."
Rebates are available for the purchase of hot-water heater tanks ($400), furnaces ($2,000), and boilers ($2,500), along with household appliances such as refrigerators and washer and dryer units.  The purchases must be for replacement purposes only. Replacement may not be needed, as Mahoney compares the operation of your home's heating system to that of a car, as sometimes it's as simple as replacing a part.
"Sometimes, it's a matter of drying it out, and everything is good to go. Other times, the water has done more damage than that, and that particular piece needs to be replaced," warns Mahoney. "It doesn't generally mean that your entire boiler or furnace needs to be replaced, but just a component of it."
While preparing homes for the winter may be a more daunting task for some this year due to the impact of Irene and Lee, it is also keeping energy providers busy. As many towns in the region are still attempting to rebuild and reinforce critical infrastructure after once-in-a-lifetime floods in recent weeks, Maserjian says they are "prepared to respond to any problem that may creep up, and that may have gone undetected."
"We suspect that there may be some water in certain gas lines," Maserjian warns. "We're addressing that before the weather gets too cold, but we don't anticipate any major problems. There may be some minor issues in certain localized areas that may have seen extreme flooding, but we're aware of that possibility, and taking steps to address those issues, so that it does not become a problem when the weather turns cold."
RESOURCES
Abbott and Mills Energy
www.abbottandmills.com
Central Hudson Gas and Electric
www.savingscentral.com
NYS Household Appliance Grants (Irene and Lee)
www.nyserda.org/Press_Releases/2011/PressReleas20110915a.asp
NYSERDA ENERGY STAR Home Program
www.nyserda.org/Press_Releases/2011/PressRelease20110823.asp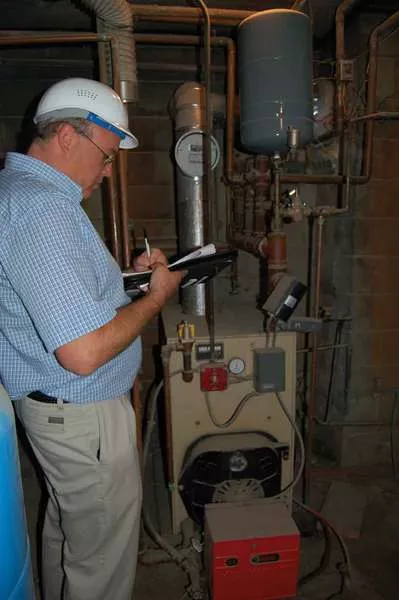 A heating contractor inspects a heating system. Photo courtesy of Central Hudson.
Lighting accounts for about 10 percent of energy usage in the average home. Changing to energy efficient lamps can reduce energy use considerably.Photo courtesy of Central Hudson.