They certainly built this place to last. Tall, solid, unshakeable brick walls. Sturdy, heavy, local wood. Grand, soaring ceilings in the front wing, with massive windows that soak the space in sun. They were William I. Traver and his son, William H. Traver, who constructed the two-story building as Traver's Sash, Blind, and Door factory. The elder Traver had started the business on the site in 1842 as a modest carriage shop and in 1851 expanded it to include a lumberyard, before the family finally built the present structure in 1863. Standing proudly in Hudson at what was then the corner of North Fourth and Diamond Streets—in the 1950s the town bulldozed and renamed the once brothel-lined latter road Columbia Street, in an effort to erase its internationally infamous, vice-ridden past—the property would later see use as a maintenance facility for city buses and as a garage and car dealership.
"Yeah, I actually bought a Jeep here back in 1976," says Marc Shafler as he stands inside the yawning main room and points to the rear wall. "Drove it right out the back, right there. The part that's the prep kitchen now used to be a salt shed, and the section where the offices are was where they stored the lumber to dry." If there's a dash or two of irony in his voice, it's not so surprising: Shafler and his life and business partner, Deborah McDowell, bought the building in 2004 and have just reopened it as the new location of Club Helsinki, the celebrated music venue and eatery they ran in Great Barrington for nearly 15 years.
Thanks to its highly judicious bookings and popularity with artists, the tiny (capacity: 75) original Club Helsinki enjoyed an impeccable reputation as a connoisseur's mecca for topnotch music—though that wasn't originally the plan. "We opened it as a café at first, Helsinki Tea Company," McDowell recalls. "We started out by doing poetry readings and before long local folk musicians kept asking if they could play, so we ended up having them, too. Then Marc suggested we try a little jazz on some nights, and it just took off from there. [The club] became a kind of refuge for artists, because we always fed them well and treated them like friends."
The list of "friends" that eventually played the cozy room is formidable, indeed: Norah Jones, Ralph Stanley, Burning Spear, Pete Seeger, the Tom Tom Club, Mose Allison, Carly Simon, Hamiet Bluiett, Guy Clark, Phish's Mike Gordon, Steve Earle, Odetta, Gogol Bordello, Levon Helm, the Blind Boys of Alabama, Michelle Shocked, Olu Dara, Jimmy Dale Gilmore, Leo Kottke, and Shawn Colvin are just a few of the artists who performed at the more than 1,500 shows that took place at the Massachusetts venue. It's a lot to live up to, to say the least. But Shafler, McDowell, their partner Cameron Melville, and their eager and excited new staff are clearly ready to not only uphold the venerated establishment's standing but also raise it to previously undreamed-of levels.

And a tour of Helsinki's new home, with its stunning, acoustically flawless, no-detail-overlooked restoration, leads one to believe such a goal shouldn't be too far from reach. With its two performance rooms (235 capacity in the multilevel main space; 250 in the upstairs ballroom), state-of-the-art audio and video recording studio (configured for live webcasting), art gallery, performer's lounge and shower amenities, and full-service, 175-seat restaurant, the place is a working shrine to music, entertainment, and dining. "Our theme, food-wise, at the old place was Scandinavian and Eastern European, and we intend to keep that but expand on it; comfort food, but a little more boldly seasoned," explains Shafler. "For the building's renovation, which we're still working on, we've been keeping it as green as possible, using a lot of antique and salvaged materials and hiring local workers and craftspeople, and a lot of them are also musicians or artists. The windows, for example, were made by a luthier we know who lives right nearby." In the works are an outdoor dining area and the conversion of one the adjacent buildings into artist lodging.
Whether they predicted their futures or not, each of the couple's upbringings prepared them well for running a successful nightclub and restaurant. Columbia County native Shafler grew up working at Camp Natchez, the Borscht Belt resort his family owned, while McDowell, a singer and guitarist herself, divided her formative years between her home state of Maine and Finland, where she worked for her grandfather at the capital city's landmark Hotel Helsinki (yes, the club is named for the historic inn). So after having such a hit in Great Barrington, what made the pair decide to make the leap to a much bigger site in a different town?

"We didn't own the building the old club was in [and] the landlord raised our rent, which sort of forced our hand," says Shafler. "We'd put on some higher-profile events at the Mahawie Theater [in Great Barrington, around the corner from the club's earlier incarnation], so we had some experience with bigger acts, which got us thinking about buying a larger place. Deborah and I live in the area, so we've always spent a lot of time in Hudson and we know the town. It was bittersweet, closing the old club [in August 2009]. But we were so excited to find this place, and it's just been a non-stop effort since we bought it—we're still working on it now. Thankfully, though, Cameron got involved; we wouldn't've been able to do this on sweat equity alone."
Called a "social visionary" by the couple for his shared philosophy of using food and music as ways to unite communities, the part-time Californian Cameron Melville, who signed on as a partner in 2005, is also a top rock and blues organist who performs under the name Bo Hammond and whose wife, Hillary, runs stage lights at the new location. "Anytime you bring live music and good restaurants into a community, it positively affects that community," says Melville, who is currently also working to open the Alchemist Properties, a "more political and philanthropic" space in Los Angeles. "I saw how what Marc and Deborah were doing in Great Barrington was improving that town, and I knew right away we had the same kind of awareness. And as a musician, I'm just blown away by the new place. The acoustic design is absolutely exquisite­—the room sounds amazing, whether the band is amplified or playing acoustic." Also allying himself with the cause is Lenny Kravitz producer Henry Hirsch, who runs Waterfront Studio, just blocks away, and sees potential gigs or residencies at Helsinki as added incentive for attracting out-of-town bands to his studio, and vice versa.
Melville and Hirsch, however, aren't the only music types keyed up about the new venue. "We're so happy about [the club]," says Sarah Borges, who leads Boston-based roots rockers the Broken Singles, a staple act of the old Helsinki that recently performed as part of the new nightspot's buzz-building Sound Check Series. "The people behind it obviously love what they do and you really feel that, whether you're in the audience or in a band. And it's one of the only places we've played that seems to actually care about the musicians. If only there was a Club Helsinki in every city, touring would be a lot more enjoyable. Hey, for dessert tonight they served us cherry cobbler made with cherries from the tree right next door—I mean, come on!"
In addition to the club's renowned headlining performances, Shafler, McDowell, and Melville are planning and hosting regular events for the off-times (many of which are already running in the ballroom space, which is also available for private functions), such as poetry readings, chamber recitals, yoga classes, and swing-dancing nights.
"We originally started Club Helsinki because we wanted a place that was a supportive sanctuary for artists, that would have a sense of community," says McDowell. "We want this to be a place that people can be confident that they can come to hear great music and have great food, and to be inspired, to just come together and enjoy some conversation—to get away from TV, Facebook, all of this stuff that we get so wrapped up in. We're really looking forward to meeting everybody, to having everybody be a part of this great community."
Sounds like an approach built to last. Just like its new home.
Club Helsinki's Sound Check Series continues with performances by
Grupo Fantasma (July 10), Locos por Juana (July 23), Eilen Jewell (July 24),
the Wood Brothers (July 25), and Inner Visions (August 7). www.helsinkihudson.com.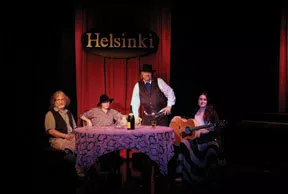 Fionn Reilly
(L-R) Marc Schafler, Deborah Mcdowell, Cameron Melville, Hillary Melville.
Fionn Reilly
The interior of Club Helsinki on Columbia Street in Hudson.