Courtesy of Bethel Woods Center for the Arts
Peace, Love, & Lights at Bethel Woods Center for the Arts
Yes, 2020 has been long and hard, and yes, it has ruined a lot of family gatherings, parties, weddings, and vacation plans—and the winter holidays won't be spared. But it's almost over, and in the meantime, lift your spirits with a drive-through holiday light show. With all guests in their cars, light shows are a safe, socially distanced way to get in the Yuletide spirit.
Here is a roundup of light shows in and around the Hudson Valley. FYI the height restriction for most vehicles is eight feet, so no bringing the extended family in a school bus!
8 Patrick Drive, Lagrangeville
This huge, long-running light show is a family-run operation and one of the biggest in the state. Indeed the somewhat clunky name is made up of owner Timothy Gay's children's initials. What started over 20 years ago with 600 lights, which Gay put up for his kids on the front trees, has grown to be a Guinness Book two-time world record-holder with over 600,000 lights. Drive through to see the lights choreographed to hundreds of contemporary songs from artists ranging from U2 to Ariana Grande, or plan your visit for a Sunday or Monday for carols and songs to get you in the Christmas spirit.
200 Hurd Road, Bethel
From 5 to 10pm every evening (except Wednesdays through January 3, you can hop in your car and take in the splendor of
Bethel Woods
' magical holiday lighting and animated displays. Just over a mile long, the light show features a 120-foot "Twinkle Tunnel" and other themed areas like an "Enchanted Forest," "Snowflake Alley," and "Santa's Workshop," as well as quintessential Woodstock imagery like guitars, and peace signs.
778 Broadway, Route 9W, Ulster Park
Located at Headless Horseman Hayrides, a venue known for its lavish seasonal spectacles, the transformed park looks, feels, sounds, and smells like Christmas, twinkling with lights and jolly snowmen at every turn. In normal years, a hayride would take you through Frosty's Enchanted Forest, passing by all kinds of animated holiday displays with Christmas music piped in through speakers. This year the hayride has been replaced with a drive-through experience. Bring your camera for photo ops with Rudolph the Reindeer, Frosty the Snowman, Mrs. Frosty, the Gingerbread Man, and other icons of the season. There is also a 3-D Adventure, Candy Cane Lane, a gift shop, and several other attractions.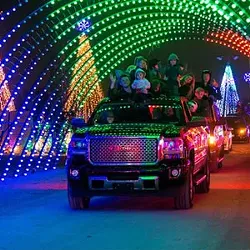 239 Wisner Avenue, Middletown
See the county fairgrounds transformed with holiday flare as you drive through the twinkling grounds and head into the multimedia light show in the covered arena. There will be vendors onsite peddling delicious treats car-side including cider, doughnut holes, funnel cakes, and other fair treats. Through December 13, the light show is open Thursdays through Sundays, 5-10pm, and from December 14 through January 3, the show will be open daily. Car passes are valid for vehicles with up to eight people and are $25 in advance or $30 at the door.
For five nights only (December 12, 13, 18, 19, 20), Garner Arts will transform its industrial grounds into a Christmasy paradise of art and lights. This holiday drive-through will guide you through the Garner complex showcasing illuminated window art, immersive light displays, site-specific installations, music, and video, like Shura McComb's massive outdoor projections. The experience lasts about 15 minutes and costs $25-$30.
310 Scotchtown Rd, Goshen
Running daily from 6-9pm through December 27, Watt Christmas Wonderland is a homegrown operation of sparkling lights and holiday displays by the same festive man that singlehandedly brings you Watt World of Halloween Horrors, John Watt. There is a suggested donation of $5.