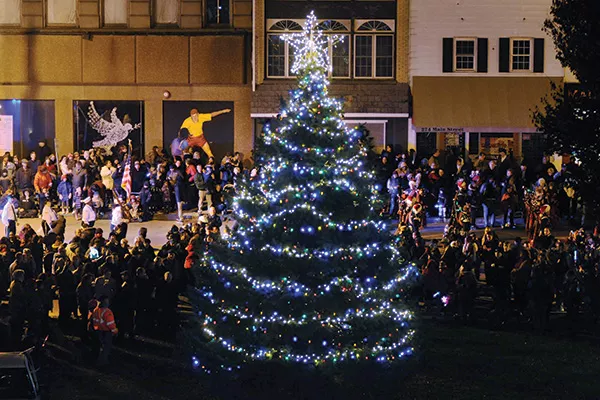 The Celebration of Lights parade, fireworks, and family daytakes place in downtown Poughkeepsie on December 6 & 7.
Just because there's a gaudy polyester scarf of treacly sentimentality wrapped around a hard cold core of consumerism at this time of year is no reason to hide under the covers wishing you could sleep through the whole thing. The ancient impulse to gather and celebrate this season is far older and deeper than the corporatocracy, and to partake of it is a win.
So venture forth and join in some of the excellent celebrations near you. Occupy the holidays and make some memories that will transcend and transform your aggravation when you see that commercial implying that All Good People Give Diamonds and Cars for the umpteenth time.
First, you can do the holiday shopping thing without ever getting near a mall. We're blessed with awesome indie businesses and local makers who create things of great utility and beauty, and they thoughtfully organize themselves into central locations for your convenience this time of year.
At the Winter Fair and Outdoor Marketplace at the Mountain Laurel Waldorf School in New Paltz on December 8, your kids can immerse themselves in holiday crafts while you sneak off to find them something they'll cherish amongst the music and dance and feasting, which features that rare treat of outdoor barbecue in December. The Cornell Street Studios in Kingston are doing a Vintage and Handmade Holiday Craft Fair on December 7 that redefines recycling, complete with live music and hot cocoa. Also in Kingston on December 7, the Backstage Studio people are hosting the Hudson Valley Hullaballoo, curated by Danielle Bliss of Wishbone Letterpress. Their tagline is "Where Arty Meets Party," and these are people who do both extraordinarily well.
Speaking of doing things well, if Christmas is your holiday, don't miss out on a chance to say merry-merry to the monastics. Our Lady of the Resurrection, out near Millbrook, will fling its doors wide on the first two weekends of December for their Christmas Craft Fair, and what they craft are artisanal vinegars, fine relishes, salsas, and jams, along with crèches and cards.
Another shopportunity that sounds like it'll be a winner takes place in Hudson at 704 Columbia Street on December 7, 8, 14, and 15. The opening of the Hudson River Exchange Winter Market has a theme of "Made + Collected," juried for quality and diversity and flavored with food trucks and music.
It also coincides with Hudson's 17th Winterwalk on December 7, which brings us to our next category of genuine down-home holiday magic. Besides the pop-up bazaars, the various villages and their merchants will be celebrating in styles as unique as the communities they inhabit. Winterwalk will feature carillon bells and cool jazz, belly dancers and carriage rides, and finish up with fireworks. Saugerties will celebrate Holiday in the Village with living mannequins and toy giveaways on December 8.
Frozendale Daze celebrates Rosendale's festive warm heart on December 7 with, among other things, free showings of Muppets Christmas at the theater, live music at the Rosendale Café, an opening of "Light Me Up" at Roos Arts, and a well-loved mac-and-cheese contest Rhinebeck will be a-sparkle with Sinterklaas that day, the Dutch-infused folkloric fest that astonishes all ages with dragons and grumpuses and shining stars held high.