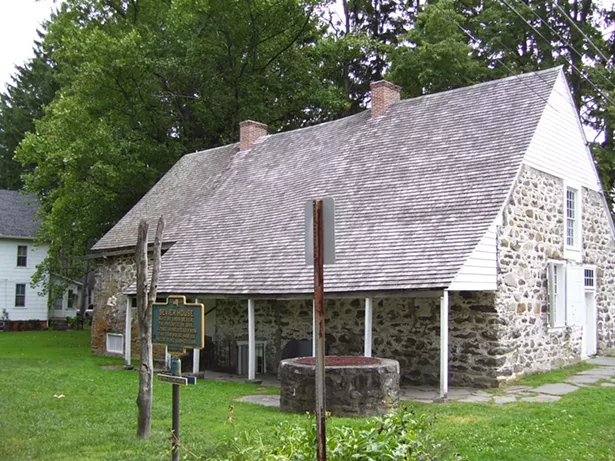 Courtesy of Wikimedia Commons
The Bevier House on Historic Huguenot Street in New Paltz.
Let's explore some of the rich cultural history that surrounds the area of the Hudson Valley.
Independent, nonprofit museum Locust Grove is located in Poughkeepsie. Set on 200 acres, it features an Italianate villa dating to 1851. Designed for Samuel Morse, the mansion is the work of architect A. J. Davis. The carriage roads, views of the Hudson River, and manicured gardens make for a picturesque afternoon.
Across the river from Locust Grove lies Historic Huguenot Street in New Paltz, first established in 1698 by a group of Huguenot families. In 1894, their descendants formed what is today the community of Historic Huguenot Street to preserve their legacy. This 10-acre National Historic Landmark District includes a visitor center, seven historic stone houses, and a reconstructed 1717 Huguenot church.
In 1714, American Jewish leader Luis Moses Gomez purchased 1,000 acres in Newburgh. Later, his two sons, Jacob and Daniel, accumulated a total of 4,000 acres. The Gomez Mill House has been home to many notable members of our nation's history, such as American Revolutionary patriot Wolfert Eckert; 19th-century gentleman-farmer and conservationist William Henry Armstrong; and Dard Hunter and social activist Martha Gruening. The Gomez Mill House is open to visitors on a guided tour only.
Newburgh is also home to Washington's Headquarters State Historic Site. General George Washington spent crucial months here, making key historical decisions. Tour the rooms where he pondered whether or not to be king after the war; decided to eliminate military control of the government; developed and awarded the Badge of Military Merit; and floated a letter to state governors that influenced the writing of the United States Constitution.
Read more in this original article on historical destinations in the Hudson Valley.