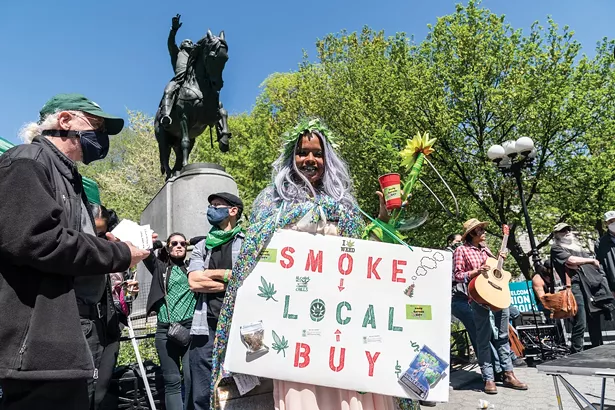 Legal cannabis sales in New York hit a snag in November when a federal judge in New York's Northern District Court granted an injunction preventing Conditional Adult-Use Retail Dispensaries (CAURD) licenses from being granted in several regions, including the Mid-Hudson area.
The initial lawsuit claimed that the company, Michigan-based Variscite NY One, was unfairly excluded from the licenses granted. Its majority owner, Kenneth Gay, was previously convicted on marijuana-related charges (in Michigan) and cited his lack of access to a dispensary license despite an arrest record, something that can qualify New York state residents for the current round of licenses, and the dormant commerce clause as grounds for suit.
This lawsuit throws the future of New York's legal cannabis community into uncertainty. The 36 licenses currently granted for dispensaries to operate exclude the Mid-Hudson region, among others, on the grounds that these areas were possible locations of operation for Variscite NY One. Many are wondering, where does this leave the Hudson Valley's cannabis community?
Bumps in the Road
David Holland, a partner at the law firm of Prince Lobel Tye and executive director of the New York State chapter of NORML, an organization focused on marijuana reform, says the clause being referred to in the suit is being misapplied. The dormant commerce clause refers to the prohibition, implicit in the Constitution's Commerce Clause, against states passing legislation that discriminates against or excessively burdens interstate commerce.

Holland uses the example of railroads in the 1800s to explain. "Before you had the golden spike in the Transcontinental Railroad, you would find that railroad tracks were not uniform state to state. A train would travel across one state and then have to unload all its cargo to be loaded onto another state's trains that ran on different size tracks. Every state was trying to get its own loading and transportation fees," he says.
Holland thinks that after State Attorney General Letitia James has begun filings to combat the lawsuit and once it reaches the 2nd Circuit Court of Appeals, a judge will take a different view of the situation. Holland says, "I am optimistic that this will get resolved in time."
Assemblyman Kevin Cahill, whose 103rd district covers much of the Mid-Hudson region, suggested that legal challenges are going to be an unfortunate part of life for New York's legal cannabis community but that it shouldn't detract from the promise that legalization offers.
"Every new journey has bumps in the road," says Cahill. "New York's innovative laws blazing bold new territory will surely be tested in the courts many times. The intention of the state legislature in making unique provisions for people who had previously been convicted of certain marijuana-related offenses was to acknowledge that we are reversing course on the infamous Rockefeller Drug Laws and giving those who were marginalized a fair chance to be fully returned to society. While I understand and sympathize with the plaintiff with a Michigan conviction, we do not have control over other states' laws. I am confident that the carefully drafted, deeply debated, and broadly accepted legislation will stand the tests of litigation."
Gail Hepworth, CEO of Hepworth Farms, an organic produce farm in Milton that harvested 30,000 pounds of marijuana this past growing season as part of the state's cultivation pilot, has a measured outlook toward the situation. "We were really looking forward to working with some of the applicants in the Hudson Valley and it is gonna slow us down because the rollout is going to obviously be hindered. We do believe it's going to straighten itself out, but in the meantime, of course it's very disappointing, especially since the lawsuit is so flawed and I think that they won't win," Hepworth says.
She still plans to work to fill future orders for dispensaries unaffected by the suit but says there were roughly 100 products she won't get to sell to local dispensaries, from gummies to topicals and everything in between. Being that Hepworth Farms finds itself navigating cannabis' federal status on a day-to-day basis, she almost finds the suit's premise funny.
"It's difficult enough to operate in such a big industry only in your state. However, a person who got arrested in Michigan on a federal charge can also disrupt our business. The irony does not escape me," Hepworth says.
Saugerties-based cannabis entrepreneur Rueben Lindo, CEO and founder of Blackmar Farms, is more alarmed by the situation. He also consults for other cannabis businesses, one of which, has had its license thrown into limbo. "The delay will set us back in securing product for local dispensaries in the Hudson Valley. I think that's where were gonna see an issue because there's not gonna be enough product for the 36 dispensaries that they're rolling out," says Lindo, referring to the initial round of dispensary licenses issued in November.
As a result of the delays and problems caused by the lawsuit, which, like Holland he believes lacks merit, he isn't sure that the OCM's goal of 150 dispensaries is going to be met next year. "I'm not a fortune teller," he says.
Buzzkill
The Hudson Valley's entire future in the industry could be at risk, now that future dispensary licensees are behind schedule on sourcing products for sale, losing first-mover advantage. "There's limited supply currently that we know [of], so what was grown in the state, that's gonna make up the initial marketplace," says Lindo. "I don't think that there's a vast amount of cannabis out there that's gonna be hitting these shelves. The first 36 are gonna get product because these farmers are gonna be anxious to make money and sell their cannabis and get it on shelves."
Martin Mills, a cannabis entrepreneur and host of Radio Woodstock's "420 Report" thinks that the industry has too secure a foothold in New York to be knocked off course in any major way. "I don't have a major concern, because I think that the ball is already rolling, and it's not going to stop," says Mills. "The rollout for a fully licensed market in New York is going to happen. And the Hudson Valley is going to have a very strong presence in the state with its great number of cultivators, manufacturers, and inevitably, dispensaries, opening in this area. It's just going to take more time because of these lawsuits."
Like Gail Hepworth, he does take issue with the grounds of the lawsuit, calling the commerce clause "arcane." Mills thinks it's a part of a growing trend of people using federal law to paradoxically protect their interests in an industry that isn't legal federally, with reactionary federal judges enabling them to try and hamstring the cannabis industry. He did concede that some cannabis entrepreneurs should brace themselves for more challenges to their businesses. "I think that anybody who's a hopeful dispensary license applicant should be taking it very seriously, taking the timeline very seriously and getting all their ducks in a row right now, because the [new] applications are going to come out in 2023," says Mills.
Stress Point
The Hudson Valley has a variety of opinions on the situation, whether it's fair or not fair, calamitous or just annoying, or yet another example of the federal government affecting local cannabis legislation. What cannot be forgotten, is that the Marijuana Regulation and Taxation Act (MRTA) for some, held a promise of providing a safer, easier way to access cannabis. Rather than having to wait in dark parking lots for strangers to facilitate an illicit sale, a cannabis seeker could walk into storefronts and make a simple purchase, like buying groceries or clothes.
Highland resident Joshua Sebesta, 21, grew up in a household that didn't stigmatize weed. Instead, it was just another thing that he had to wait until he was older to enjoy, like alcohol. "Obviously I use it recreationally, but I also do use it for stress relief," says Sebesta. "After a long day of doing schoolwork or a long day of working like 12 hours, I'll come home and smoke."
Sebesta just wants himself, his family and his community to feel safe when they acquire cannabis, whether it be for stress relief, pain management, or fun. He can't say that's how he feels now after the injunction that he thinks is "absurd" was granted last month. "I'm just literally scared for my life," he says.
There's a variety of reasons for him to feel that way, one being that black market cannabis is not tested by regulators like legal cannabis will be once dispensaries are up and running. "You don't know what these people who are selling you weed can put in, there's countless stories of people smoking weed and it being laced, and them overdosing, or smoking weed and freaking out and going to a psych ward," says Sebesta. "These are all risks that you have to deal with now that you can't just walk into a store and be greeted with a smile and whatever kind of weed you want, knowing that is has been tested rigorously and knowing that if I smoked it, I'm not going to die."