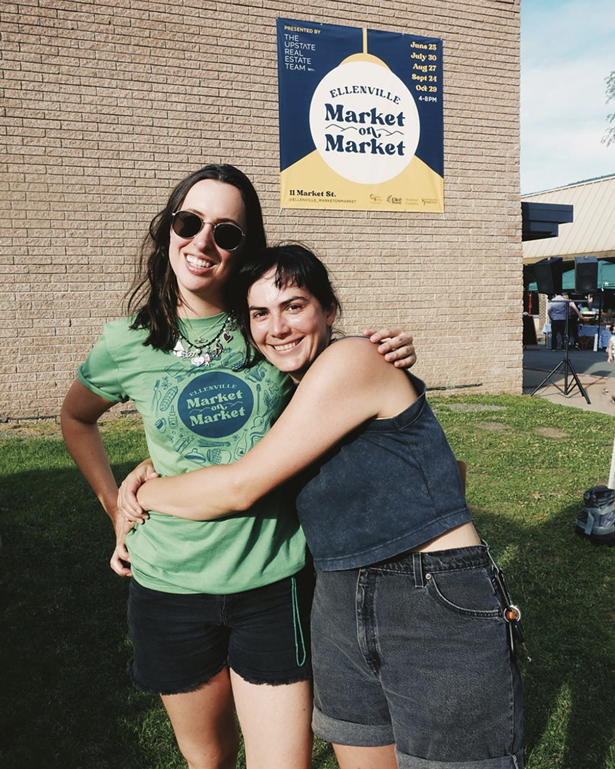 Image courtesy of Reservoir Studio
(L-R) Tori Messner and Natalia Moena, founders of Reservoir Studio, have brought new energy to Ellenville.
<!—————StartFragment—————>
With creative backgrounds, Natalia Moena and Victoria Messner naturally have a good eye for things. In the midst of the pandemic, they set their sights on Ellenville and they haven't looked back—much to the benefit of the gateway-to-the-Catskills village.
Their story began like a lot up here: Moena and Messner lived and worked in New York City and had a weekend home up here.
"I have a background in fashion design, but quickly transitioned to photography, a childhood hobby of mine," Moena says. She began shooting music shows—from small bands all the way up through well-known acts like Lauryn Hill—in New York City. Moena also moonlighted in the restaurant industry, and she soon began pointing her camera at edible subjects. Food photography proved successful enough that she built a studio in her Brooklyn apartment. For several years, Moena shot lifestyle, food, and beauty brands including Joy, Nespresso, and Alba.
Messner also has a creative bent: Among Messner's previous roles are associate vice president/creative director at Creative Media Marketing, a PR and digital agency in Soho, and global digital design director for Clinique. Messner also directed the New York branch of an international boutique creative agency, Reflexgroup.
The pair never thought they'd budge from city life, but Covid-19 inspired them to do just that. "At the beginning of the pandemic, Tori and I decided to move to our cabin at the foot of the Catskills," Moena says. "Only problem was that I had nowhere to really shoot and no room for my equipment." Through a friend, they were able to find a warehouse in Ellenville that was ideal for studio lighting, and by August 2020, their full-service photography, branding, and marketing firm Reservoir Studio—named for the Rondout Reservoir outside their cabin's door—was born.
Image courtesy of Reservoir Studio
While pursuing their business, the pair decided to embark on a branding exercise with the village itself. Ellenville buzzed with business during the Midcentury era, thanks to Borscht Belt hotels like the nearby Nevele. But the shine on the village had faded, and Reservoir Studios was looking to polish it back up for a new generation. Like many transplants, Moena and Messner looked at their new town with fresh eyes and they wanted to share what they saw.
"How do we market Ellenville: its architecture, the potential for arts, and its diversity? We discovered that we needed to do something," Messner says. With community members both native to the area—like general counsel Julie Lonstein—and enthusiastic newcomers—like Victoria Nelson, co-owner of the soon-to-be-revamped Terrace Motel—a new group was formed: The Coalition of Forward-Facing Ellenville (COFFE).
After COFFE was formed, the momentum grew. Last June, Market on Market—founded by Moena, Messner, Kerhonkson resident Ryan Byrd, and Michele Weisman of Mome Made vegan dog treats—debuted at the corner of Market and Center streets in the village. A mix of artisanal goods and fresh produce from local farmers, Market on Market attracted upwards of 500 people at its once-a-month markets. In addition to bringing much-needed fresh food to village consumers, Market on Market's goal was to entice new business to the area. "We had a lot of empty storefronts here," Moena says. "We wanted to show artisans and businesses that they have consumers available here."
Moena and Messner wanted to expand the food offerings to a brick-and-mortar space, providing a spot for the community to gather for coffee and light bites. While their plan for a nearby property wound its way through the municipal approvals process, the duo threw open the overhead garage door on their studio, partitioned off space inside, and brought in comfy seating. Soon the aroma of coffee was bubbling from espresso machines, and dozens of residents could be found at the spot—dubbed
Morning Sunshine
—each weekend.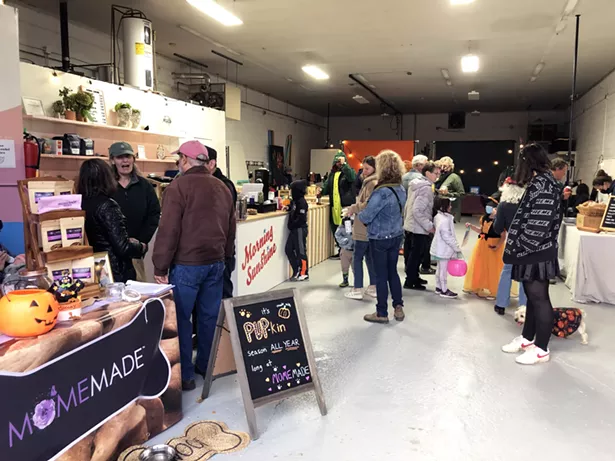 Image courtesy of Reservoir Studio
Morning Sunshine was a welcome coffee pop-up at Reservoir Studio.
The pop-up coffee shop and gathering spot was a welcome addition to the village, and it soon formed stronger bonds between longtime residents and hopeful new entrepreneurs. Now, Moena and Messner are translating that community hub into their brick-and-mortar dream—the village recently approved a zoning change allowing them to open Dolly's Provisions on Clinton Avenue, just a few blocks away from Reservoir Studio. They'll offer coffee and to-go breakfast snacks through a "coffee window" at the shop to start (hopefully by the summer), then graduate to a provisions shop of prepared goods and pantry items. Lastly, after a full build-out, Dolly's Provisions will add a cafe for breakfast and lunch. The shop got its name from Dolly Parton, an icon of support for the LGTBQ community whose fandom spans from rural to urban.
Meanwhile, in the midst of all this community building, Messner and Moena have continued to build their business. "While we started as a studio to help supply work to our New York City clients during the pandemic and rent out the space to other photographers, we have quickly turned into a full-service creative agency for clients in the Hudson Valley region," Messner says. "We offer branding and visual identity, design and social media consultation, and all production needs, including photo and video."
They've also shifted their physical space to be a co-working area for artists and designers. Other creatives who now work out of Reservoir Studio are painter and illustrator Adi Oren, who painted a dazzling mural on Sook House in the village; Tom Conroy, typographer and web developer; Jessica Clark, labor director at Joyful Noise (who plans to open a record shop in Ellenville); and Johnny Slack, creative development director at WeTransfer.
"We appreciate the open arms of people who have been here a couple decades," Messner says. "It re-energizes the business owners who also have been here, as well as new ones." Moena agrees: "We're trying to ride the wave, because we can't do this alone."
216 Canal Street, Ellenville
(845) 272-1051
<!—————EndFragment—————>