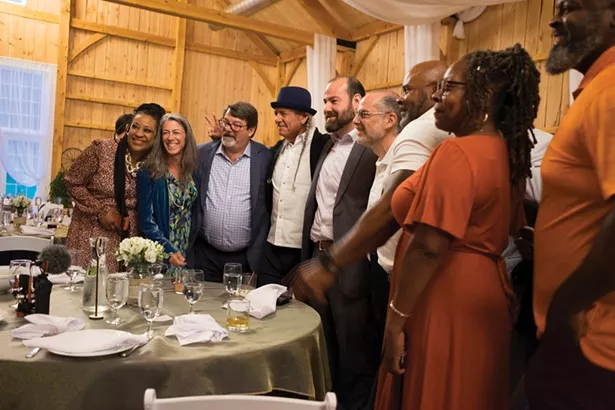 Herbn Couture's first networking dinner in June featured keynote speaker, Steve De Angelo (at center in hat)
Despite five months of regulatory slow-down after March's legalization of cannabis, New York's marijuana movers and shakers are already rolling up their sleeves to get some serious work done. "I came home to the Hudson Valley to ensure that the promise of social equity was kept," says Ruben Lindo, founder of cannabis companies Blak Mar Farms and Herbn Couture.
A former professional athlete and veteran entrepreneur with diverse experience in the cannabis space, Lindo was intimately involved in lobbying the state's lawmakers for social equity provisions in the MRTA. On the eve of legalization, he came back home to the Hudson Valley from California to lend his entrepreneurial expertise and passion for social justice to the state's burgeoning industry.
Roy Gumpel
Ruben Lindo, founder of Herbn Couture, speaks at its luxury cannabis networking dinner on June 19th in Saugerties
"The ethos of both Blak Mar Farms and Herbn Couture is the promotion and advancement of Black and Brown people who were harmed by the failed War on Drugs," Lindo says. "As long as someone sits in jail for cannabis anywhere in the US we're continuing to fight that war."
Between his two companies, Lindo is hoping to empower others in the BIPOC community at every point in the industry, from seed to sale.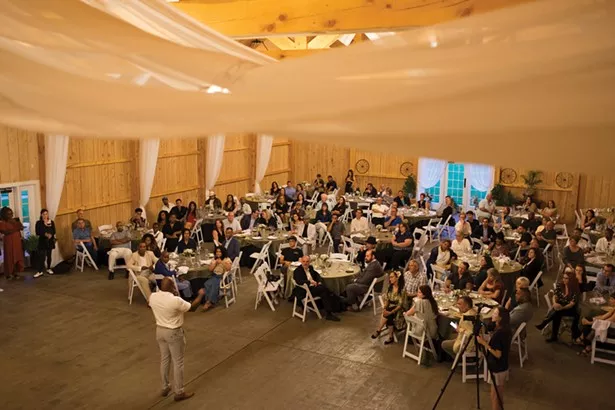 Blak Mar Farms, a cannabis cultivation company with a facility in Michigan, is working to identify BIPOC cultivators and manufacturers from the US, Africa, and Central and South America that can bring high-end cannabis products to market.

Herbn Couture, a luxury cannabis lifestyle brand, makes branded apparel, cannabis accessories, culinary products like infused salad dressings and cooking oils, and baked goods made in partnership with Canna Dolce.
Perhaps the most visible side of Herbn Couture right now is its luxury networking dinners. Its first dinner, a red carpet-style event held in Saugerties on Juneteenth, welcomed a diverse crowd of industry veterans alongside aspiring entrepreneurs, who hashed out potential partnerships over Wagyu beef and tiger prawn shrimp and responsibly indulged in a selection of Blak Mar Farms' cannabis products.


Next month, Herbn Couture is putting on another glam networking soiree at Albany's Kenmore Ballroom, a stately event space and former hotel built by Adam Blake Jr, a prominent businessman and the son of an enslaved man. The event's location in the backyard of the state's legislators is an especially important one for Lindo. "This is how a dedicated, rare African American CEO in the cannabis space plants the seeds for social equity in New York," he says.
Sign up for the Herbn Couture Giveaway and you can win two VIP Connoisseur tickets to the Luxury Cannabis Networking Dinner at the Kenmore Ballroom on Friday, October 22 from 5-11pm! The winner will also receive an Herbn Couture Hoodie, Herbn Couture T-shirt, and Herbn Couture Rolling Tray. Tickets for the event are $125-175 and can be purchased here.