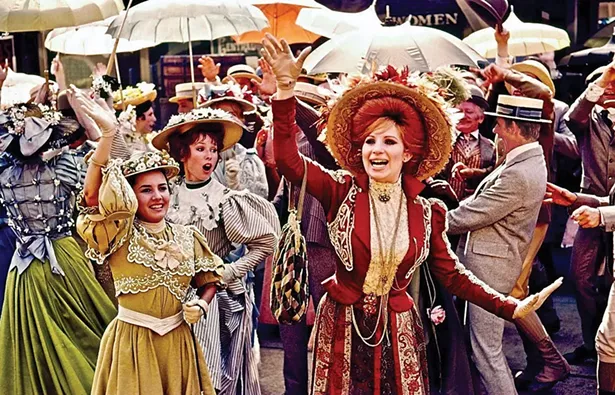 Barbra Streisand on the set of Hello, Dolly! at Garrison Landing in 1968. This summer, the Hello Again, Dolly! festival celebrates the film's 50th anniversary.
Fifty years after filming Hello, Dolly! in Garrison Landing, the town celebrates the milestone anniversary with a summer-long festival.

Hello, Dolly...it's so nice to have you back where you belong!
Fifty years after the filming of Hello, Dolly! in Garrison and the surrounding towns, the community prepares to memorialize the legendary movie with a five-month long festival, duly titled Hello Again, Dolly! It seems that once again the bold and carefree nature of Dolly Levi will be back where she belongs.
Beloved for its witty humor, colorful costumes, and the young Barbara Streisand, Hello, Dolly! was the biggest production to date to be filmed in the Hudson Valley. Directed by Hollywood dance legend Gene Kelly, the film chronicles the machinations of strong-willed matchmaker Dolly Levi as she tries to find a wife for a wealthy client. Hello Dolly!, based on Jerry Herman's 10 Tony-award-winning musical, also featured Walter Matthu, Louis Armstrong, and Tommy Tune. It won three Academy Awards.
The 50-year celebration is the brainchild of Christopher Radko, a Bronx-born, first-generation American, whose interest in Hello, Dolly! was piqued at age 9, when he was taken to the premier in New York City. Radko remembers the incident vividly, recounting how he asked with confusion what "Yonkers" was portrayed in the movie as it didn't look like any Yonkers he had ever seen, although the set and Hudson River certainly looked to be real. Years later, he would learn that Gene Kelly selected the quaint downtown of Garrison to stand-in for Yonkers.
This realization prompted Radko to birth the idea of the festival two years ago, planning for its 18 events to span June through October. Radko said although the idea originated with him, many people in the community love this movie and see these gatherings as a way to "remember and celebrate our history." While the Hudson Valley is no stranger to being the focal point of history (and film history), perhaps Hello, Dolly! is special in its own right for several reasons.
The movie set included multiple Hudson Highland towns, all of which will be commemorating their roles in the movie over the coming months. The scene originally shot at West Point's Trophy Point will be remembered in August, when West Point's Music Under the Stars will be presenting a Hello Dolly! at 50 concert. Garrison is foremost in the spotlight with Victorian hat making workshops and riverboat cruises, themed to celebrate the era of Dolly Levi.
Some full circle moments come to pass for the events, Radko explained, considering that half a century ago Gene Kelly hired local children as extras to dance in the parade scene, and this time around the local schools are still participating in some fashion. Both Garrison Union Free and Haldane Central Schools have been interacting with the festival through in class recitals and dedicating spring programs to Hello, Dolly! themes.
Once drawing crowds together with choreographed dancing in Victorian gowns, the festival is pulling nonprofits together to ensure the crowds still have a fun time. The Desmond-Fish Library in Garrison will be hosting movie events, and various art venues such as Hudson Valley Shakespeare, Depot Landing Theater, and Garrison Art Center will join in to host functions.
When asked which event Radko is most anticipating, there was a pause followed by, "It's hard to pick your favorite kid!" However, he did mention the costume parade in Garrison on June 16, free to the public and led by Tony Award-winning dancer and choreographer Tommy Tune. On Father's Day, Tune will be performing his one-man show Paramount in Peekskill: a great idea to take dad, uncle, or granddad to before sneaking in dinner at a local eatery. Gene Kelly's wife, Patricia, will be offering a two hour show on July 1. The show, titled "The Legacy," will give an in depth look at both Kelly's professional and personal life. Visit the festival website for a full list of events.