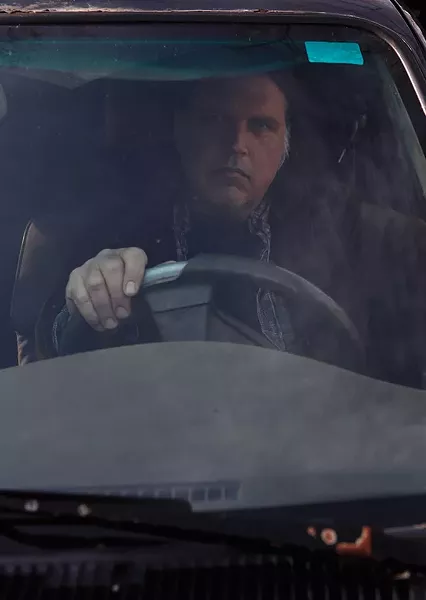 With the title, two images came to mind," says Richard Buckner about his 11th and newest album, Surrounded (2013, Merge Records). "One was of a snake eating its own tail. The other is of this character who's looking out through his blinds and seeing that he's surrounded by all these people trying to get in and make him reexamine his past. Both images are about looking back at what I've done and thinking about it, which is a good place to be as a writer—the realization that you can look at what you've done in a different way, even though you can't change what happened."
What happened was this: Richard Buckner was born in 1967 and grew up in California's Central Valley, a traditionally agricultural region that stretches roughly 450 miles from Redding in the north to Bakersfield in the south. "It's still not very developed, mostly orchards like the ones Steinbeck wrote about," Buckner says over coffee in Kingston. "My dad's from Bakersfield, and when I visited him there—my parents were separated a lot—I saw [local country legends and "Bakersfield Sound" pioneers] Buck Owens and Merle Haggard. Later on, I had a storage space right near Buck's nightclub, the Crystal Palace. My family situation was really transitory, we'd move three or four times a year. I have some pretty big gaps in my early education, because of how things were." Was music a big part of his childhood? The brooding singer-songwriter shakes his dark mane. "Nah, not really," he says. "My mom would sometimes play Motown stuff in her sports car and my dad had country eight-tracks in his truck. He also watched 'Hee Haw,' which I hated—I didn't know who any of [the musicians on the show] were back then. It wasn't 'til I got to college that I started learning guitar and writing songs."
College was California State University (the alma mater of one of the literary-leaning Buckner's eventual faves, Raymond Carver) in rural Chico, a bohemian outpost. "It's a good town, it has a really vibrant arts scene," says the singer. "When I was in high school my friends and I would hear about cult movies like Eraserhead and drive up to Chico to see them. I got a job at a record store there, so I found out about R.E.M. and the Replacements and lots of other music I hadn't heard before. Chico's where I got my first taste of playing live, but mostly I was learning to write songs and recording them on a Tascam four-track I'd gotten. I don't know if I'd have become a musician without that four-track."
After CSU, Buckner beat it down to neighboring San Francisco ("Where else are you gonna go?") and started a band called the Doubters to play his songs. "It was pretty loose, just whoever I could get to play with me," he says about the group, whose recordings later appeared on the demos disc Unreleased (1995, Chelsea Records). "We had a pedal steel player sometimes, so some people called us 'alt-country.' That was what was happening in the scene at the time. The country-rock thing really started to come out more when I started working with Lloyd Maines." A Grammy-winning producer and multi-instrumentalist, Maines is the father of Dixie Chick Natalie Maines, a collaborator of Wilco and Uncle Tupelo, and an architect of the moody, sagebrush-swept country-rock sound that emerged in the 1970s from his native Lubbock, Texas—a style best exemplified by the Flatlanders, the legendary group founded by Jimmie Dale Gilmore, Joe Ely, and Butch Hancock. It was at a 1994 show by the latter Flatlander that Maines first encountered Buckner. "My booking agent got me on as an opener for one of Butch's shows at South by Southwest, and I met Lloyd there," explains Buckner. "He said he wanted to make a record with me, so a little later I flew to down to Lubbock and we started recording Bloomed." Buckner's official debut, the intimate, acoustic-dominated Bloomed (1994, Slow River Records; reissued by Rykodisc in 1999), took the No Depression nation by storm, thanks to dramatic tracks like the desolate suicide ballad "22." "The alt-country thing was something writers could hang a hat on," Buckner says. "But I never set out to specifically be a 'country' singer-songwriter; that period just happened organically. I think a lot of it came from the people I was playing with. I always say that if I'd met other players who were more into klezmer music, I would've fit my songs into that setting."
Although Buckner's yet to make a klezmer record, with his signing to MCA for 1997's Devotion + Doubt he did dramatically shake up the Townes Van Zandt-troubadour box he'd been wedged into by the press. Generally considered his breakthrough album, it sees the songsmith's whiskey 'n' regret-soaked tunes colored by the simpatico playing of guests like Tom Waits guitarist Marc Ribot, Giant Sand's Howe Gelb, and Calexico's Joey Burns. "[Buckner's] singing style has a lot to do with the way that his lyrics wash over you, and some of the images, feelings, and metaphors linger on after the song has played," says Burns. "I love that he embraces such dark themes in his writing and in the instrumentation." The album's "L'il Wallet Picture" makes a fine example; on the track, with lonesome pedal steel lurking in the distance, Buckner sadly savors a love gone lost: "Damn this stretch of 99, that takes so many lives / One of 'em was mine / Hand me that l'il wallet picture in 1985, one more time." Nineteen ninety-eight's Since (MCA Records) upped the avant-rock ante, roping in Tortoise drummer John McEntire, Golden Palominos vocalist Syd Straw, and Gastr del Sol guitarist David Grubbs.
It seemed, however, that MCA was beginning to chafe at its getting an arty indie rocker when it thought it had signed a country pop singer. Both releases were critically praised but neither did the numbers the label was looking for, and it showed Buckner the door—just as he was preparing an even more creatively confounding work. The Hill (2000, Overcoat Recordings) sets to one 34-minute musical track words from Edgar Lee Masters's 1915 Spoon River Anthology, a series of poetic epitaphs for the residents of a fictional small Midwestern town. "I just liked Masters's style, these short pieces about all these different people," explains Buckner. "But, yeah, I can see why MCA wouldn't have wanted a record like that. It was a pain in the ass being on a major label, but it was also good because it got me noticed." By now married to a drummer and based in Edmonton, Alberta, Buckner was touring incessantly. "I put 600,000 miles on my truck," he says.
But while the truck was built to last, it turned out the marriage, like so many, was not. After 2002's not-so-subtly titled Impasse (Overcoat) appeared, the newly detached Buckner landed in Brooklyn and inked with Merge Records. He made his debut for the indie giant with Dents and Shells (2004; with Butthole Surfers drummer King Coffee) and followed it with Meadow (2006). The technical problem-plagued Our Blood (2011), which features Sonic Youth's Steve Shelley, came after he'd taken an extended studio break to tour and resettle in Kingston with his sheep-farmer girlfriend. "I'd recorded the basic tracks for Our Blood on a Roland 24-track workstation, but it broke down and parts of the music were lost," Buckner says, wincing at the memory. "I had to record it all over again. Then my laptop, with the new mixes and some writings on it, got stolen. It was a setback that ended up changing the entire realization of the idea. I recorded the whole album for a third time and tried to recreate the vibe, but I added all this other stuff that turned it into over-painted furniture: You couldn't tell what the original idea was anymore. Sometimes it's best to just hand things over to a mixer and put your trust in him, so that's what I did." In this case, the mixer was local producer Malcolm Burn (Emmylou Harris, Midnight Oil, Patti Smith), who capably brought out the music's understated, atmospheric quality.
But electronic meltdowns and laptop thefts weren't the only dramatic elements at play in the saga of Our Blood, whose title would turn out to be unsettlingly prescient. "I had literally just finished recording the music for the album on my home studio when there's a knock on the front door," Buckner recalls. "It's a cop who says there's been a murder in my neighborhood and wants to know if I'd seen anything suspicious, which of course I hadn't; I'd been working on this damn record all night. Then he tells me they'd found this body in a burning car and that the area near our house is a popular place for dumping bodies. So he thanks me and takes my number and leaves, and a couple weeks later I get a call from my landlord, who tells me the cops want to talk to me. I'm still not sure why they didn't just call me, I guess they lost my number. Anyway, after leaving three messages about it with the sheriff they finally tell me to come in. I figure it'd just be some casual, routine thing. But when I get there it's this basement interrogation room that they end up holding me in for a few hours, questioning me and doing the whole good cop / bad cop thing. I tried to make light of it, since I figured, being innocent, I didn't have anything to worry about. But they were really serious and it got really scary for a little bit. It made me see how in certain situations—I kept thinking of the West Memphis Three—people who are innocent fall into making false confessions. You get scared and feel the full weight of the law on you, even when you totally know you have nothing to be afraid of." Bizarrely, the constabulary came calling yet again to Buckner's front door while investigating what later became a well-publicized case—just as he was putting the final touches on Surrounded. "This woman was strangled right down the block," says the songwriter. "It was pretty creepy. After that, my girlfriend asked me, 'So is someone around here gonna get murdered every time you make a record?' And I'm, like, 'Shit, I hope not!'"
Further comments on its loaded title aside, Surrounded has a close-quartered bedroom quality that hearkens back to Buckner's four-track roots. "Maybe there's a vague paranoia about the outside world [in the songs]," says Buckner, who's been name-checked as a fave by Bon Iver's Justin Vernon. "[The album] got written in a really roundabout way. A friend had asked me to write a movie script, but with the way I'm used to working I had to first write a 45-minute concept album as a way to organize my thoughts. After I did that, I started trying to write a novella based on the songs that I could then adapt to a script. In the end, I just ended up making the album. [Laughs.]" But hopefully, an indie-screen treatment of Surrounded hasn't been entirely ruled out: As "Mood," "Foundation," and similar shadowy, noirish narratives drift out of the speakers, it's not a stretch to picture the late-night scene around some dimly lit, River's Edge-style shack on the outskirts of town.
"Richard's tunes and lyrics are a little hypnotic—they creep up on you rather than bash you in the forehead," says Mekons main man Jon Langford, who partnered with Buckner for the 2005 duo set Sir Dark Invader vs. the Fanglord (Buried Treasure Records). "I don't know where he's going and I don't know where his songs will end up." But wherever Buckner and his songs do go, admirers of consummately crafted, mesmerizing music will be following closely. And digging the ride.
Surrounded is out now on Merge Records. Richardbuckner.com.
"Foundation" by Richard Buckner
Update Required
To play the media you will need to either update your browser to a recent version or update your
Flash plugin
.