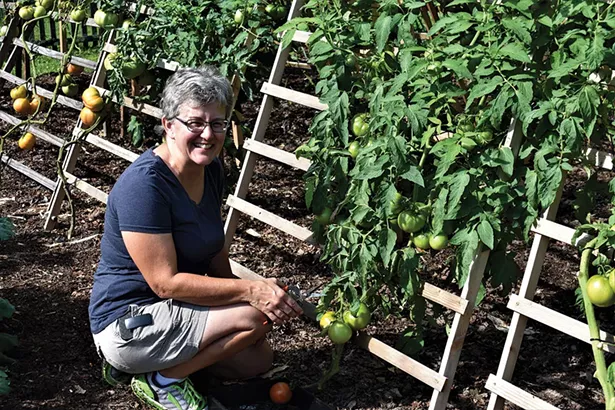 Larry Decker
Horticulturist Susan MacAvery with the A-frame tomato trellis at the Locust Grove Heritage Vegetable Garden.
Learn about heirloom vegetable varieties from Hudson Valley horticulturist Susan MacAvery.

The Heirloomist
Horticulturist Susan MacAvery recently underwent a major job transition, a move further up the Hudson that makes total sense given her talents with heirloom garden restoration. If you've been to Locust Grove, the National Historic Landmark in Poughkeepsie, you have likely seen the Heritage Vegetable Garden that MacAvery and Anna de Cordova restored in 2001 and which MacAvery oversaw until the end of 2017. The garden's soil is rich, its heirlooms and themes are well-researched and interpreted, and its volunteer program is strong.
In light of that stability, MacAvery couldn't resist the chance to join de Cordova and the National Park Service in the restoration of another vegetable garden of historic significance, the Roosevelt Home Garden in Hyde Park. The original Roosevelt Home Garden was paved over (gasp) in 1948; in the past few years, the Park Service has worked to remove the asphalt to reveal the garden. MacAvery is the right woman for the next phase of restoration, which will include historic research into heirlooms of the Roosevelts' time, development of interpretation, and overseeing a new volunteer program.
MacAvery has gardened her whole life. "I came from a big family with a huge vegetable garden," she says. "My dad was an avid vegetable gardener and I always enjoyed being out there with him, even weeding." By the time she was 12, she was caring for ornamental plants for neighbors, and by the time she got to high school, she knew she wanted to study plants in college.
After earning a degree in plant science from Cornell, MacAvery worked for the Hudson Valley Fruit Research Station in a plant pathology lab for two years. From there, she worked in landscape design and commercial greenhouse management before going to work for Cornell Cooperative Extension-Orange County as a horticulture educator. In 2001 she arrived at Locust Grove; she relished her 17 years there just as much as she now embraces the challenge of bringing the Roosevelt Home Garden back to life.


Larry Decker
Heirloom tomatoes make up in personality what they lack in uniformity—they generally have superior flavor over hybrids.
Can you explain what heirlooms are, and how they differ from hybrids?
Susan MacAvery:
There's not a standardized scientific definition for "heirloom" like we have a standard for, say, "organic." The word "heirloom" means that it's handed down from generation to generation through families and communities. There is no rule of how old the variety has to be in order to be considered an heirloom. Heirlooms have to be open-pollinated, meaning a plant whose flowers can accept pollen from itself or from a nearby plant, and it will produce seeds that will grow to become plants that are of similar overall characteristics—not genetically identical, but similar. So, for instance, if you're growing the Brandywine heirloom tomato and collect seeds and plant them out, you're going to get a Brandywine tomato. It will be genetically different than the Brandywine you started out with, but overall it has the same characteristics.
That's in contrast to a hybrid, where you're crossing varieties in order to take desired traits from each of the parents. When you have a packet of seeds for a hybrid, they are genetically uniform and the plants that grow from them are virtually identical to each other. But if you collect and plant their seeds, you'll get all kinds of reversions back to characteristics of previous generations, and these offspring differ widely from one another.


One misconception is that heirlooms are always better than hybrids. It's a mixed bag. Hybrids are developed for a reason; for instance, vegetables that have had disease resistance bred into them so that you can avoid spraying and have better production. Or tomatoes that are bred with shipping and shelf life in mind, to increase profitability for the growers. But generally that breeding sacrifices flavor and texture. Heirlooms, by contrast, tend to have much better flavor, and a bigger range of flavor. They have more distinct personalities in the non-uniform way they grow. That said, there are some delicious hybrids out there, like Sungold, an orange cherry tomato that produces uniform and very flavorful fruits; I grow it every year.
Heirloom tomato growers should be prepared to lose the top quarter or third of every fruit in a phenomenon called "green shoulders," where that part of the tomato never ripens. Some heirlooms are just more prone to green shoulders, no matter what the site conditions. However, the bottom two-thirds of the tomato are delicious enough to make you forget about having to cut off the top.
What are the basic cultural considerations for growing heirlooms?
SM:
As with any form of gardening, you have to start with good soil preparation. When I started working in the Heritage Vegetable Garden in 2001, there were actually streaks of gray clay running through one corner of the plot. After all the years of adding organic matter—composted horse manure in the spring, and leaf mulch in the fall—you can't tell that the clay was ever there. The soil is really beautiful—deep and loamy—throughout.
Vegetable gardens require at least six hours a day of direct sunlight. Selecting good seeds from quality vendors is important. At Locust Grove, I ordered from 15 different heirloom seed companies. Protection from animals is key, of course.
If you're doing an organic garden, expect to do some hand work, like bug picking to keep ahead of the cabbage worms, squash bugs, cucumber beetles, and the like. You can cut the top off a milk jug, leaving the handle on, and fill it with soapy water. Then you just drop the bugs into the soapy water. Starting in July, bug picking should be a twice-weekly activity.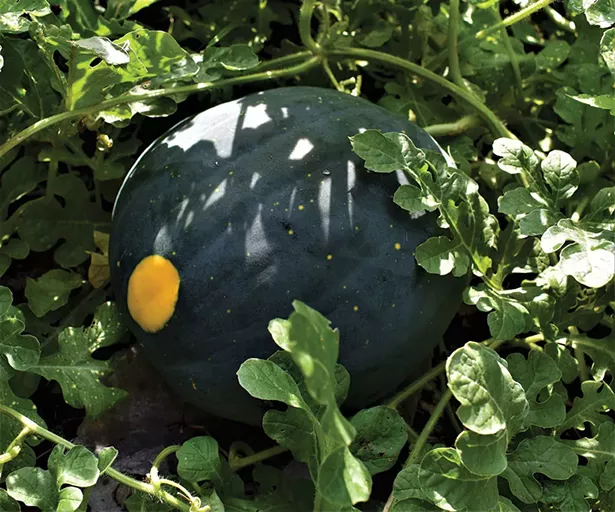 Tomato plants require support. You will see these nifty tomato trellises at Locust Grove; there's an interesting story behind them. Prior to 1830, tomatoes were considered to be poisonous by Americans. When they learned otherwise and started growing them, there was initially a good deal of comically bad advice going around. For instance, in horticultural publications from the 1850s, we read things like, "Once the plant starts to fruit, take all the leaves off so the fruits get full sun exposure." Also, Americans were letting tomato plants sprawl and the fruits would just rot on the ground; there was a need for a means of support.
In our research, we came across a design for a tomato trellis that was sent in to a gardening magazine from a gentleman [in] Milton in the 1850s. It was a design that we replicated in the garden with great success. It's an A-frame, supporting a section of lathe at a 60-degree angle to give optimum sun exposure to the vines and fruits. This system gives good air circulation so you have fewer diseases; you can remove the lower leaves easily, preventing the spread of fungi and bacteria; you can pick tomatoes from both sides; and in the winter, the trellises fold up like an accordion and are easily stored.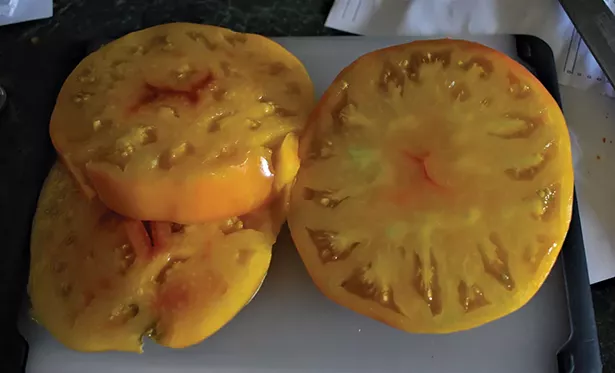 What are a few of the most curious or iconic heirlooms?
SM:
Some folks are surprised to see dinosaur kale, also known as Lacinato kale, in the heirloom gardens, as it's perceived as something new and fancy. It's from the 1700s!
The beautiful Moon and Stars melon is really the poster child of the heirloom seed movement. It was almost out of existence for many years when Seed Savers Exchange decided to go all out to retrieve it. The dark green rind of the fruit sports bright yellow spots on its surface, and the pink flesh is delicious.
There's a green tomato called Aunt Ruby's German Green that remains green even when it's ripe. You learn to tell when it's ripe by feeling the bottom of the fruit and waiting until it's soft to the touch. It's one of the most unusual and delicious heirloom tomatoes.
To learn more about volunteering with the Roosevelt Home Garden restoration, email susan_macavery@nps.gov.