Page 6 of 6
In order to encourage this message, Polaris Project, a Japan- and US-based NGO with a mission to combat human trafficking, has published a list on its website of "Eleven Ways to Fight Modern-Day Slavery." Based on the premise that anybody can become involved in combating the horrors of trafficking, steps one and two encourage self-education and educating others on the topic.
Another anti-trafficking NGO, Humantrafficking.org, provides a toolkit for identifying signs of trafficking, and what do if someone is suspected of being a victim of trafficking. Once armed with this information, anyone can report a suspected trafficking case by calling the Human Trafficking Information and Referral Hotline, getting in contact with the state attorney general victim coordinator, contacting the FBI, or contacting an NGO, such as Safe Horizon, that directly helps victims of trafficking.
There are roughly 12 million undocumented illegal immigrants in the US. If the most recent immigration bill put before the Congress were to pass, proponents cite that border security will be strengthened, a guest-worker program will be established, and those 12 million undocumented illegal immigrants will have the ability to stay in the country regardless of their mode of entry or activities since entering and possibly become citizens. However, of those 12 million it is not known just how many are actually victims of trafficking. According to US State Department figures, between an estimated 14,000 and 17,500 people are trafficked into the US annually.
With much of the controversy surrounding the bill focused on illegal Mexican laborers, there has not been mention as to what will happen to the trafficked victims who have come from all corners of the world. Nor has there been mention as to what mechanisms the US government will implement if the bill is passed that will ensure victims do not disappear into the woodwork and not become victims twice over—first, from the trap of the modern day slave industry and second, from an immigration bill that has not adequately assessed their predicament, nor has made any attempt to put an end to these violations of international law.
For more resources on human trafficking and the anti-trafficking movement:Vital Voices; Safe Horizon; Adventure Divas; Apne Aap, Ruchira Gupta;US Department of State: Human Trafficking and Human Smuggling;UN Human Trafficking in Human Beings:
Adair K. Fincher was born in Woodward, Oklahoma, but raised in the international setting of Tokyo, Japan. Fincher is now pursuing her MS in Global Affairs at New York University.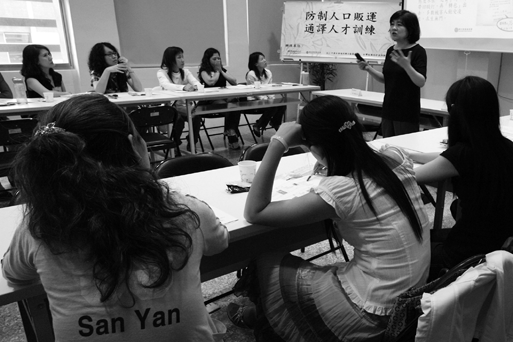 Vietnamese volunteers listen to a speaker talk about anti-human trafficking, handled by the Women's Rescue Foundation of Taipei, Taiwan, May 4, 2007.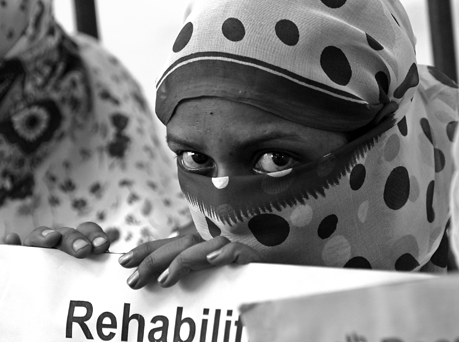 An Indian sex worker during a protest in New Delhi demanding rehabilitation for victims of commercial sexual exploitation on October 25, 2004.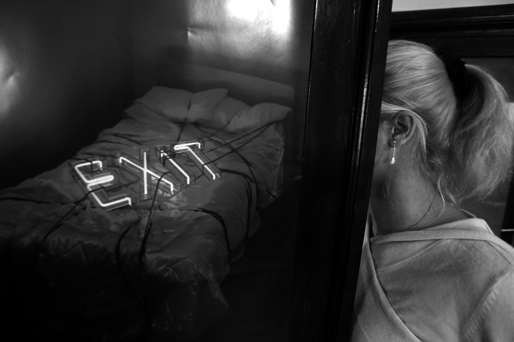 Anca, a former Romanian sex slave, hides her face behind a poster in Bucharest.