Spirituality has always been deeply rooted in the Lakota Sioux culture, and dance and music are used to communicate with their spirit world. The Lakota Sioux were known to be great warriors and fought to defend their sacred lands in South Dakota. In 1874, when gold was discovered on the Black Hills, General George A. Custer and his Seventh Cavalry violated the Fort Laramie Treaty of 1868 which excluded white settlement on the Lakota Sioux property. Conflict sprang up during the Gold Rush when the Lakota refused to sell their sacred land to the United States. The US Army defeated the Lakota Sioux in a series of battles during the Great Sioux War of 1876 and confined the Lakota people onto reservations.
In 1978 The Lakota Sioux Indian Dance Theatre was founded on the Rosebud Reservation in South Dakota to share the Lakota artistic and cultural legacy, as well the tribe's hardships, with audiences across the country. They will perform their show "Cokata Upo!" (meaning "come to the center"), at the Bardavon in Poughkeepsie on Friday, November 12.
The virtue and beauty of Indian culture in the Great Plains is portrayed through music, elaborate storytelling, spectacular video imagery, and symbolic tribal dance sequences. The traditional choreography is performed in tribute to the people of their historic nation. The tribal performers wear brightly colored outfits with geometric shapes and intricate beadwork that are their regalia of their merit. It represents who they are in the society, whether it be a veteran, distinguished person, or a depiction of their family.
Henry Smith, founder and artistic director, says the performances surpass superficial portrayals of Native American lifestyles. "It's really a celebration. The dancing is so powerful and the singing, drumming, and everything transforms you," he said. "The drum beat takes you to another place, [it] is the heartbeat of the people. Just hearing that incessant beat over and over puts you in a place where you can receive awareness."
The Lakota Sioux Indian Dance Theatre will perform "Cokata Upo!" at the Bardavon, 35 Market Street in Poughkeepsie on Friday, November 12 at 7:30pm. Admission is $30, $25, and $10. (845) 473-2072; www.bardavon.org.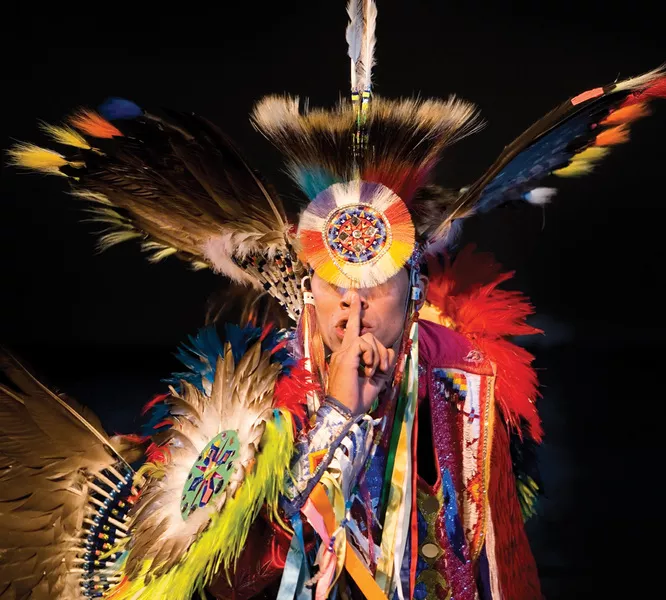 The Lakota Sioux Dance Theater will perform at the Bardavon in Poughkeepsie on November 12.