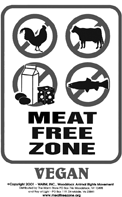 Milk-mustachioed celebrities have been selling us the dairy industry for years. Andy Glick, a longtime vegan and animal rights activist, argues that dairy products—a staple of the Western diet—are among the most unhealthy things a person can put into his or her body. Glick's coaching strategy emphasizes what he calls three "pillars" of veganism: health, ethics, and environment. While each aspect appeals to different people for different reasons, "a real vegan-minded person is going to be armed with all three." According to Glick, we get proteins in correct proportion from foods like beans, rice, potatoes, and kale. We do not need meat or dairy proteins, and in some cases (such as casein) they can be harmful to us. As books like The China Study by T. Colin Campbell (2005, Benbella Books) and Diet for a New America by John Robbins (1998, HJ Kramer) argue, a diet high in dairy/meat proteins can cause or worsen heart/kidney disease, cancer, diabetes, obesity, and other health problems. Living healthy through veganism means more than just taking care of your body—it means taking care of your fellow creatures and the planet, too. Going vegan, even for just a day, saves thousands of gallons of water: For every pound of meat you don't eat, you save 2,500 to 5,000 gallons of water that would have been consumed by livestock. Going vegan can also save more greenhouse gases than spending that day cruising around in a Prius. (According to the UN, livestock are responsible for 18 percent of greenhouse-gas emissions worldwide—more than all the planes, trains, and cars on the planet. With more "fake meats" (what Glick calls "crossover foods") on the shelves than ever, you can easily go cold turkey on animal products without totally reconstructing your palate or favorite recipes. See Glick's website,
www.meatfreezone.org
, for more information about the benefits of a vegan lifestyle, and check out
www.mhvs.org
(Mid-Hudson Vegetarian Society) for potluck dinners, restaurant outings, and other vegan gatherings.