Page 2 of 2
Megan Kulpa Fells (CIA 2000) and her husband Charles Fells opened the
Artist's Palate
in Poughkeepsie in 2005 after catering together for a while. "There wasn't a place where the menu was always changing, where you could get a good bite to eat for a reasonable price. People said we were crazy to open downtown, but it's been great and the risk has really paid off, since other places are opening now, bringing more people to the neighborhood." The couple has weekly meetings to work out the menu, and their main inspiration always comes from what local ingredients are available. Their collaboration has resulted in a menu that comfortably incorporates innovation with more traditional fare. A tapas-inspired first course of grilled squid stuffed with lobster risotto needed a bit more heat; the rice inside was barely warm and the squid wanted more charring. A lemon wedge cadged from Al the amiable bartender helped sharpen the flavors, suggesting that perhaps a spicy vinaigrette would work better than the straight olive oil that served as a sauce. The quail stuffed with veal and chestnut purée was a subtle yet hearty fortification against the cold rain outside. With a righteous sear on the quail, a sweet-sharp onion note to tie the nut and meat flavors together, smooth mashed potatoes, a rich meat jus, and brightly vinegary vegetables alongside, this is precisely the sort of haute home cooking that seems to be a shared trademark of all the chefs mentioned here.
Wes Dier recently opened the Local in Rhinebeck. The name is meant to refer as much to a local hangout for regulars as to the sourcing of many ingredients. Dier aims for many of the same refined comfort food notes as his peers, but the results are inconsistent: the sliders (made from grass-fed beef grown just up the road) are superb, and a carrot salad with sriracha butter and bacon is a standout, but crispy eggplant is overwhelmed by an unfortunate sauce and an apple strudel arrived at the table nearly raw. Most establishments need a few months to really get up to speed, and some further work seems in order here.
There's a real unity of purpose in this group, and frank opinions about the realities of the regional market. By buying food locally, Fells says, "We help support the people who help support us," keeping farms in business and preserving the landscape. "If you drive around and look, all the chain restaurants are packed. People need to know that if they come here, they'll get much more interesting food for about the same money, and support local farmers." Winchell feels that she's part of a burgeoning movement: "If we get enough people dedicated to local food, the Hudson Valley could really become a culinary destination." "More people opening up and serving quality food is the best thing that could happen to this area," says Kowalski, adding, "I'm most proud that I have employees who enrolled and graduated from the Culinary after working here first. We need to train the next generation to keep it going." The CIA's Hengst concludes: "The rest of the community needs to realize the importance of spending their money locally. To attract tourists, we need to support it ourselves."
The wineries and geographical location of the Hudson Valley relative to New York City has led some to call it the Napa Valley of New York. Michael Pardus is a chef-instructor at the CIA, and he sees Sonoma Valley as a far more appropriate analogy. "Napa is all about dentists with wineries; Sonoma is all about agriculture. The Hudson Valley has been taking off for a while, and now it's really arrived. If it can be done off the land and done well, it's happening here. We've reached a tipping point, and soon enough, I think some big [winery and restaurant] money is going to make a move here," which will put a budget behind the scattershot efforts at marketing the region as a major food destination. Meanwhile, talented chefs are working hard to build that culinary identity quite literally from the ground up.
Kelly Merchant
Jessica Winchell of Global Palate.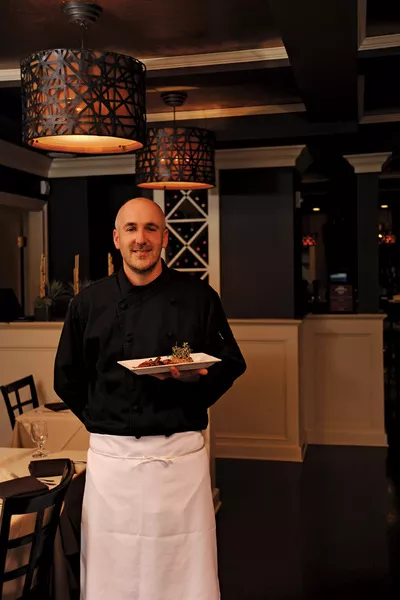 Kelly Merchant
Edward Kowalski of Crave.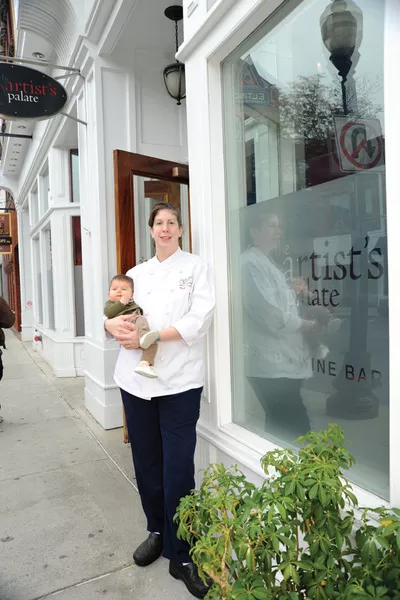 Kelly Merchant
Megan Kulpa Fells of the Artist's Palate and daughter Olivia.
Kelly Merchant
Ira Lee of Twisted Soul.