The
Culinary Institute of America
in Hyde Park currently spends around $1 million a year on local food for its classes and restaurants. Stephan Hengst, director of communications at the CIA, says that 30 area farms currently supply the school—between 40 and 60 percent of the food is regionally sourced—and that "local food is woven through he curriculum at all levels." That investment is now paying dividends in the form of high-quality restaurants run by CIA alumni who have chosen to open their own establishments throughout the valley.
Ira Lee (everybody calls him "Lee") graduated from the CIA in 1994 and opened Twisted Soul In Poughkeepsie in 2007. Lee grew up in Bedford Hills, and his parents cooked soul food exclusively. Upon arrival at the CIA, he says, "I wasn't used to any of what we were making; it was all new." His lack of prior experience in the world of food has had an effect on his mature style; the menu borrows freely from traditions around the world, creating playful and compelling dishes that ignore boundaries and treat any good idea as fair game for remixes and mashups. After spending six years in Mexico, teaching and running a restaurant, Lee traveled extensively all over the world—Central and South America, Europe, and Asia—voraciously learning the techniques of every country on his tour. Now his journeys are limited to one trip a year "strictly for food; I'm on a mission." Each year he chooses a different country and visits the markets and talks to vendors and chefs, searching out ingredients and ideas. His soul food roots are also showing themselves more overtly in some recent preparations, like a fried chicken noodle bowl that quickly became a best seller.
The casual setting and street-food vibe of the fare belies the serious skill involved in its conception and execution; everything is made from scratch, and there are a lot of flavors and textures at work in every dish. Arepas, small corn cakes traditional in Venezuela and Colombia, serve as foundations for a variety of globally inspired toppings: pulled pork, jerked tofu, or Ethiopian-style tofu. The arepas' crisp exteriors and soft insides make them an ideal substrate for the rich and spicy bites that are Lee's trademarks. Korean-flavored chicken wings are sticky, savory, and with just the right level of heat, but some celery kimchi and miso-tofu dipping sauce (instead of the plain white rice with which they are served) would really take the Buffalo-Seoul riff to a fully realized place. Empanadas, noodles, dumplings, steamed buns, bubble tea: Twisted Soul is every ethnic joint you love rolled into one. The nature of the food means that many ingredients come from afar, but it's impossible to order badly, and the price is right.
Edward Kowalski (CIA class of 1998) is the chef-owner of
Crave
, also in Poughkeepsie, which he opened in December of last year and which promptly won the Best Restaurant of 2010 award from
Hudson Valley
magazine. He feels strongly that his generation of CIA grads are kindred spirits when it comes to developing a regional cuisine, and makes a point of hiring current students and recent graduates; executive chef Catherine Williams was in the class of 2001 and sous chef Craig Capano finished in 2009. "We're always trying to push things a little bit," he says, adding that he and his staff enjoy challenging each other and their customers to try new things; after buying a whole pig recently, they served chicharrones as bar snacks and a torchon made from the head in order to use the entire animal. "Sometimes we have to be a little creative with the menu descriptions, but people always like the result." He plans to rotate chicken off the menu soon and replace it with pheasant for a while.
Jessica Winchell (CIA 1996) is the chef-owner of the Global Palate on Route 9W in West Park. After working at Terrapin and the Emerson, among other restaurants, she decided to open her own place. "My style is definitely comfort food—especially now that it's fall—and I use as much local food as humanly possible," including vegetables from her own garden. "I want people to feel comfortable, and satisfied when they leave." Winchell talks enthusiastically about charcuterie and features an appealing mixed plate of meats, cheeses, and pickles on the menu as well as cow's tongue prepared like pastrami. Stone Church Farm duck breast came seared atop mashed potatoes with an elegantly simple celery-apple salad and confit of the duck legs. A cornmeal crust on the breast was less effective than it could have been, but then again, everything is less effective than crisp duck skin. The sauce, a cider gastrique, added a simple and revealing nod to the region; so many other chefs would have used citrus without thinking about it. A blackberry-Bordeaux sorbet was extraordinary.
Megan Kulpa Fells (CIA 2000) and her husband Charles Fells opened the
Artist's Palate
in Poughkeepsie in 2005 after catering together for a while. "There wasn't a place where the menu was always changing, where you could get a good bite to eat for a reasonable price. People said we were crazy to open downtown, but it's been great and the risk has really paid off, since other places are opening now, bringing more people to the neighborhood." The couple has weekly meetings to work out the menu, and their main inspiration always comes from what local ingredients are available. Their collaboration has resulted in a menu that comfortably incorporates innovation with more traditional fare. A tapas-inspired first course of grilled squid stuffed with lobster risotto needed a bit more heat; the rice inside was barely warm and the squid wanted more charring. A lemon wedge cadged from Al the amiable bartender helped sharpen the flavors, suggesting that perhaps a spicy vinaigrette would work better than the straight olive oil that served as a sauce. The quail stuffed with veal and chestnut purée was a subtle yet hearty fortification against the cold rain outside. With a righteous sear on the quail, a sweet-sharp onion note to tie the nut and meat flavors together, smooth mashed potatoes, a rich meat jus, and brightly vinegary vegetables alongside, this is precisely the sort of haute home cooking that seems to be a shared trademark of all the chefs mentioned here.
Wes Dier recently opened the Local in Rhinebeck. The name is meant to refer as much to a local hangout for regulars as to the sourcing of many ingredients. Dier aims for many of the same refined comfort food notes as his peers, but the results are inconsistent: the sliders (made from grass-fed beef grown just up the road) are superb, and a carrot salad with sriracha butter and bacon is a standout, but crispy eggplant is overwhelmed by an unfortunate sauce and an apple strudel arrived at the table nearly raw. Most establishments need a few months to really get up to speed, and some further work seems in order here.
There's a real unity of purpose in this group, and frank opinions about the realities of the regional market. By buying food locally, Fells says, "We help support the people who help support us," keeping farms in business and preserving the landscape. "If you drive around and look, all the chain restaurants are packed. People need to know that if they come here, they'll get much more interesting food for about the same money, and support local farmers." Winchell feels that she's part of a burgeoning movement: "If we get enough people dedicated to local food, the Hudson Valley could really become a culinary destination." "More people opening up and serving quality food is the best thing that could happen to this area," says Kowalski, adding, "I'm most proud that I have employees who enrolled and graduated from the Culinary after working here first. We need to train the next generation to keep it going." The CIA's Hengst concludes: "The rest of the community needs to realize the importance of spending their money locally. To attract tourists, we need to support it ourselves."
The wineries and geographical location of the Hudson Valley relative to New York City has led some to call it the Napa Valley of New York. Michael Pardus is a chef-instructor at the CIA, and he sees Sonoma Valley as a far more appropriate analogy. "Napa is all about dentists with wineries; Sonoma is all about agriculture. The Hudson Valley has been taking off for a while, and now it's really arrived. If it can be done off the land and done well, it's happening here. We've reached a tipping point, and soon enough, I think some big [winery and restaurant] money is going to make a move here," which will put a budget behind the scattershot efforts at marketing the region as a major food destination. Meanwhile, talented chefs are working hard to build that culinary identity quite literally from the ground up.
Kelly Merchant
Jessica Winchell of Global Palate.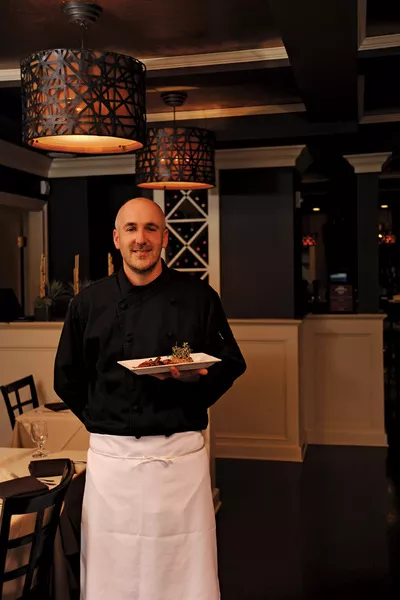 Kelly Merchant
Edward Kowalski of Crave.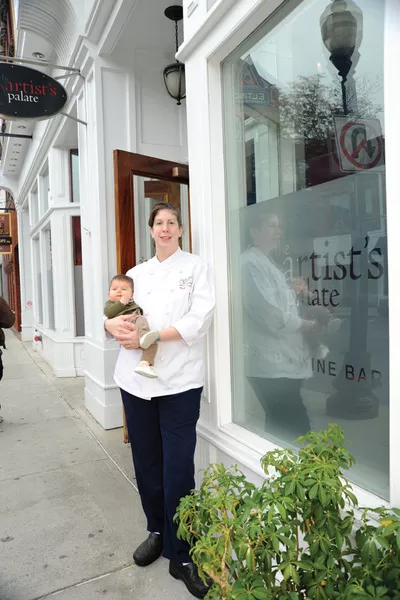 Kelly Merchant
Megan Kulpa Fells of the Artist's Palate and daughter Olivia.
Kelly Merchant
Ira Lee of Twisted Soul.