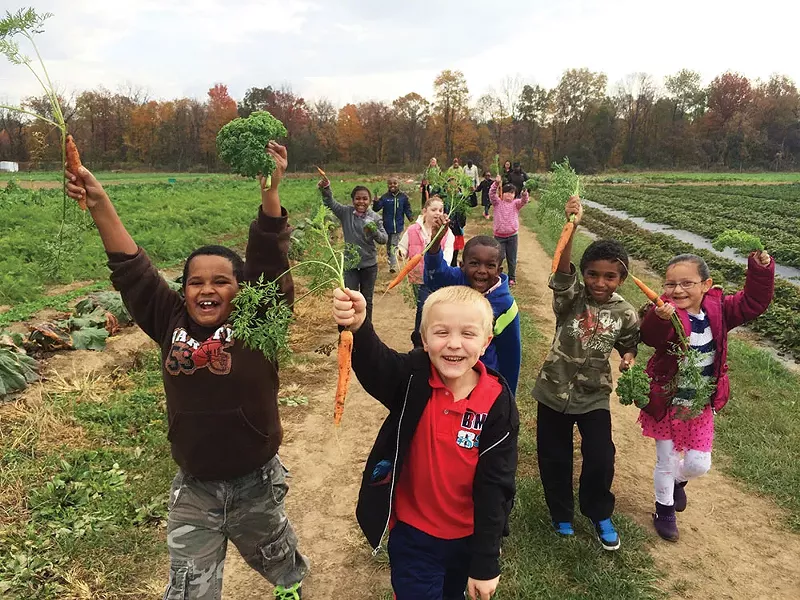 Students picking carrots at the Poughkeepsie Farm Project.
When educators from the Poughkeepsie Farm Project (PFP) walk into Poughkeepsie City schools, it's like a celebrity sighting. The way the kids excitedly yell, "The farm people are here!" witnesses might never guess the farm people come offering tastes of raw turnips. Through field trips to their 12-acre urban farm and cooking lessons in the classroom, PFP's exuberant educators make vegetables cool. So when the students see little white cups filled with raw kale in their cafeteria, they're more apt to give it a taste.
PFP's education programs are part of a larger farm-to-school movement that seeks to bring healthy local produce into school cafeterias and support local farms in the process. Born of growing concerns over childhood obesity, the rapidly declining numbers of family farmers, and a school food environment that, in the 1980s, allowed for condiments to be classified as vegetables in order to simultaneously meet nutritional guidelines and increased budget cuts, farm-to-school initiatives began in the late 1990s as a few pilot programs in a handful of school districts. The idea took off and efforts rapidly sprung up all over the country.
According to the USDA Farm to School Census, in the 2011-12 school year, farm-to-school activities existed in 44 percent of all schools nationally and those schools collectively spent more than $385 million on local food—nearly 13 percent of their total school food expenditures. While school meals don't yet rival the cuisine found in high-end farm-to-table restaurants, farm-to-school initiatives have helped to steadily improve the quality of school food through education of parents and students, technical assistance to schools and farmers, and building on infrastructure that can facilitate local food purchasing.
Recently, in what the Poughkeepsie City School District (PCSD) calls a direct benefit to their schools, PFP was awarded $100,000 from the USDA Farm to School Program, the second such grant to fund farm-to-school endeavors in the district. Written into the two-year award is a continuation of the tastings in the cafeterias and the farm tours. It also expands the program to include faculty training in garden education so teachers can offer instruction in the school gardens that the PFP has helped establish at almost every PCSD school.
Through initiatives with PFP and other partner organizations, PCSD is talking with kids about food in holistic ways. "Kids think milk comes from milk cartons," PCSD Superintendent Dr. Nicole Williams says with a smile. "Now our children own their thinking about the origin of their food. They can explain in detail and give information drawn from real-life experiences, field trips, and exposure to local, healthy foods." That works to galvanize the community. "Parents are unlikely to spend money on foods they aren't sure their children will eat," explains Jamie Levato, Education Director at PFP. "During cooking workshops, whether at the farm or in the classroom, students learn how to prepare simple healthy dishes. We make it straightforward enough so that the students are likely to remember how to prepare them with their families." Many parents tell Levato, "Ever since we took that field trip to the farm, I have to get kale every time I go shopping now." And Williams notes there are more book fundraisers in lieu of chocolate and cookie selling. "There's a shift in the decisions our PTAs and organizations are making about what we share with our families."
Improving Access to Healthy Food
The USDA Farm to School Program is a key source of funding for these initiatives, which is critical to the success of efforts in high-needs districts like Poughkeepsie. Eighty-six percent of PCSD students come from families living in poverty, and access to healthy food can be challenging. City buses limit passengers to four bags per ride, and pricier corner stores with limited fresh food offerings are often more convenient to people without cars. The district feeds the approximately 4,700 students in grades pre-K through 12 a free breakfast, lunch, and dinner five days a week, including during the summer.
Even simple changes can have an impact. With breakfast machines in Poughkeepsie high school, students can grab a free apple or a bagel, rather than stopping at a bodega, and that has reduced tardiness. In the elementary schools, students eat breakfast together in their classrooms. "Our district realizes the impact that quality food has on health, wellness, and an optimal, high-quality learning environment," Williams says. "A healthy, nutritious breakfast is critical for students to excel in school."
According to Erin McGuire, Policy Director at the National Farm to School Network, "The [USDA] Farm-to-School Program is the only public funding stream dedicated to farm-to-school and nothing else." The program was created by Congress and USDA in 2013 in response to a grassroots national movement. Part of its mandate is to fund projects across the country, which is important because farm-to-school is different in every community. "Without the requirement for geographic diversity," says McGuire, "funding could easily go only to states with well-developed infrastructure and shovel-ready programs. This program really helps a wide range of projects get funded and helps deepen and broaden the movement."
Engaging Tastebuds
"You can put healthy food in front of a child all day, but that doesn't mean they'll eat it," says PCSD Food Services Director Al Muhlnickel. "Education is key in getting children to understand why it's there."
Levato agrees. "We hear complaints about the new standards for school meals and that kids won't want to eat those healthier meals, leading to waste," she explains. "That info isn't entirely accurate. In places where that's happening, the problem is that the food just got changed and nobody's going in and getting the kids pumped to eat kale." Engaging students is vital, as well as an opportunity.
At Hawthorne Valley Waldorf School in Ghent, farm life is an integral educational component. Children glean their snack from seasonal crops, and third graders spend a week living on the farm, becoming immersed in farm life. Weekly farm classes for all grade levels teach children animal tending, spring planting, and dairy production for Hawthorne Valley Farm's retail store. "The kids look forward to it," says Amy Flaum, Director of Admissions. The lunch program feeds just 75 students, so ingredients are sourced from the campus farm, as well as through relationships the chef has built with other farms. The Millbrook School sees potential for advanced science research projects and leadership opportunities within the occasion to understand food productions' seasonal vibrations. Through a grant from the Edward E. Ford Foundation in 2013, the school was enabled to build a hoop house for year-round farming and academic projects.
With a new recipe book in hand developed in partnership with the Culinary Institute of America, Muhlnickel aims to experiment with new recipes to keep healthy eating exciting. At this year's open houses, PCSD tried the Tuscan kale, beet hummus, roasted squash, and broccoli au gratin, and asked parents and students to vote on which items should be added to the schools' menus. "It feels slow to change the habits of a lifetime," Muhlnickel says, "but starting young with these children, this is the place and the way to do it."
Bringing Health to the Table
In the kitchen at Rondout Valley High School, Food Services Director Chris Van Dam, students, and volunteers made 130 pounds of organic applesauce this fall from a 3,000 pound donation of local apples. As with a recent classroom cooking demo on how chickpeas become hummus, Van Dam notes, "It's amazing how once kids got involved, they'd taste it, and a good 80 percent said, 'I love this.'"
Like many districts, not all Rondout Valley Schools have cooking equipment in their kitchens, as many schools receive their food ready-to-serve. "Our employees work a four-hour workday. There's not a lot of extra time to do a lot of cooking," Van Dam explains. But food made from scratch is still a priority. Goals for this summer are to buy tomatoes at the height of the season when prices are low, and minimally process them into sauce that can be used by the schools throughout the year.
In rural farming communities, farm-to-school means connecting the next generation to the local food system. "We have everything we need right here to be an amazing farm-to-school model," says Nicci Cagan, who became involved with the effort when her son entered Marbletown Elementary. In 2007, she co-founded From the Ground Up, an organization that has worked in a variety of capacities to study and champion the viability of farm-to-school in the region. She works closely with Deborah DeWan, executive director of the Rondout Valley Growers Association. "Our farms here in Ulster County are relatively small scale, so questions arise like, what are the needs of the school, and are local farmers able to meet the quantity needed by schools?" says DeWan.
Schools don't typically go directly to farms to buy food. There's a complex bidding process, and local food distributors play an important role. They streamline food delivery in refrigerated trucks, reducing traffic on campus, and ensuring maximal use of transportation by pooling multiple deliveries. In Ulster County, seven school districts came together to bid out before the school year on nonperishable products that they can share. It increased the quality of their food purchases as well as each school's clout within the system. Not beholden to the lowest bid, they can accept local foods if the cost difference is minimal.
Vendors and farmers have to be USDA GAP (Good Agricultural Practices) certified. "Farmers should understand what requirements institutional buyers may have—such as farm food safety certification—and how to market to them," explains Glenda Neff, Co-Coordinator of Farm to Institution New York State (FINYS). To address this barrier, FINYS has developed a Market Readiness "Train the Trainers" Program for agencies and non-profits that work with farmers, to help them understand what they need to have in place to sell to institutions. "If we're feeding lots of young children," says Van Dam, "we want to make sure it's a safe product."
DeWan says pricing can be another challenge for schools and farmers. "Are the schools in a position to purchase food, whether it be from a distributor or a farmer at the price that the farmer needs to receive in order to have a viable farm business?" Schools receive between 29 and 43 cents a lunch for students paying full price and up to $3.30 a meal for students eligible for free or reduced-price lunch. "It can be tough for some farmers to meet [a school's] price points while making a profit," McGuire explains. And the school cafeteria can become isolated from the surrounding economy of local growers and makers as food service administrators try to balance the books.
McGuire notes that more and more people are recognizing the benefits of farm to school and that's helping to institutionalize these activities. "We're seeing that in the explosion of school gardens across the country and in the growth of nutrition education in classrooms. This tremendous support from community members has translated into a lot of movement on the local and state policy level."
New York school districts recently got an additional boost when the state was one of eight selected by the USDA to participate in a pilot program allowing them to use more of their federal reimbursement money (the money spent by schools on certain kinds of food that the USDA reimburses) for unprocessed fruits and vegetables purchased from local farmers. And the program was augmented by an additional $2,000 per school added to those commodities funds.
"It's important for the health and wellbeing of the kids to have an understanding of the food system, to reduce our carbon footprint, and for all of us to recognize the role that agriculture plays in our communities," says DeWan. "We're in a transitional moment, an exciting one. It's a perfect time to be having this conversation, working out some of the challenges, and to engage all the stakeholders."