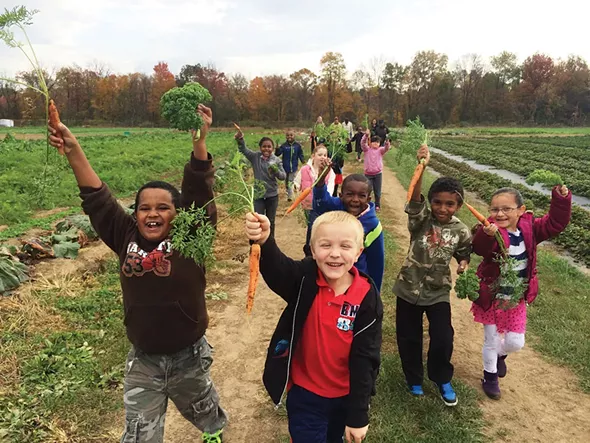 Students picking carrots at the Poughkeepsie Farm Project.
When educators from the Poughkeepsie Farm Project (PFP) walk into Poughkeepsie City schools, it's like a celebrity sighting. The way the kids excitedly yell, "The farm people are here!" witnesses might never guess the farm people come offering tastes of raw turnips. Through field trips to their 12-acre urban farm and cooking lessons in the classroom, PFP's exuberant educators make vegetables cool. So when the students see little white cups filled with raw kale in their cafeteria, they're more apt to give it a taste.
PFP's education programs are part of a larger farm-to-school movement that seeks to bring healthy local produce into school cafeterias and support local farms in the process. Born of growing concerns over childhood obesity, the rapidly declining numbers of family farmers, and a school food environment that, in the 1980s, allowed for condiments to be classified as vegetables in order to simultaneously meet nutritional guidelines and increased budget cuts, farm-to-school initiatives began in the late 1990s as a few pilot programs in a handful of school districts. The idea took off and efforts rapidly sprung up all over the country.
According to the USDA Farm to School Census, in the 2011-12 school year, farm-to-school activities existed in 44 percent of all schools nationally and those schools collectively spent more than $385 million on local food—nearly 13 percent of their total school food expenditures. While school meals don't yet rival the cuisine found in high-end farm-to-table restaurants, farm-to-school initiatives have helped to steadily improve the quality of school food through education of parents and students, technical assistance to schools and farmers, and building on infrastructure that can facilitate local food purchasing.
Recently, in what the Poughkeepsie City School District (PCSD) calls a direct benefit to their schools, PFP was awarded $100,000 from the USDA Farm to School Program, the second such grant to fund farm-to-school endeavors in the district. Written into the two-year award is a continuation of the tastings in the cafeterias and the farm tours. It also expands the program to include faculty training in garden education so teachers can offer instruction in the school gardens that the PFP has helped establish at almost every PCSD school.
Through initiatives with PFP and other partner organizations, PCSD is talking with kids about food in holistic ways. "Kids think milk comes from milk cartons," PCSD Superintendent Dr. Nicole Williams says with a smile. "Now our children own their thinking about the origin of their food. They can explain in detail and give information drawn from real-life experiences, field trips, and exposure to local, healthy foods." That works to galvanize the community. "Parents are unlikely to spend money on foods they aren't sure their children will eat," explains Jamie Levato, Education Director at PFP. "During cooking workshops, whether at the farm or in the classroom, students learn how to prepare simple healthy dishes. We make it straightforward enough so that the students are likely to remember how to prepare them with their families." Many parents tell Levato, "Ever since we took that field trip to the farm, I have to get kale every time I go shopping now." And Williams notes there are more book fundraisers in lieu of chocolate and cookie selling. "There's a shift in the decisions our PTAs and organizations are making about what we share with our families."
Improving Access to Healthy Food
The USDA Farm to School Program is a key source of funding for these initiatives, which is critical to the success of efforts in high-needs districts like Poughkeepsie. Eighty-six percent of PCSD students come from families living in poverty, and access to healthy food can be challenging. City buses limit passengers to four bags per ride, and pricier corner stores with limited fresh food offerings are often more convenient to people without cars. The district feeds the approximately 4,700 students in grades pre-K through 12 a free breakfast, lunch, and dinner five days a week, including during the summer.
Even simple changes can have an impact. With breakfast machines in Poughkeepsie high school, students can grab a free apple or a bagel, rather than stopping at a bodega, and that has reduced tardiness. In the elementary schools, students eat breakfast together in their classrooms. "Our district realizes the impact that quality food has on health, wellness, and an optimal, high-quality learning environment," Williams says. "A healthy, nutritious breakfast is critical for students to excel in school."