Celebrate the crisp in the air and the bounty of the harvest at the first annual
Oktoberfest Handcrafted at Rhinebeck: A Family Harvest Celebration,
happening October 5 and 6 at the Dutchess County Fairgrounds in Rhinebeck.
Ola Rubinstein of Quail Hollow Events, the team that has been bringing us the
Woodstock-New Paltz Arts and Crafts Fairs
for nearly forty years, says they're taking everything they know about throwing a Hudson Valley bash and infusing it with harvest goodness and spicy fresh ingredients.
Clockwise: Upstate Reclaimed NY, Mercato, BarStream Events, Olde York Farm Distillery & Cooperage
"This will be an Oktoberfest with handcrafted at the center," she says. "A coming together of fine art and craft with agriculture and artisanal food and drink. We'll have 150 juried crafters, but they'll be alongside an even larger selection of gourmet foods, apothecary, craft beverage—everything created from what is right here."
Scope out the layout on a horse-and-carriage ride, then wander at your leisure. Arts and crafts exhibitors will have an autumn feel, with lots of fiber arts, woodwork, and nest-enhancing wonders. Food will be artisanal and seasonal. Music will be upbeat and danceable, with lots of soaring vocals and harmonies. Beverages, so essential to a good Oktoberfest, will be brought by the finest local breweries, wineries, and distilleries.
Clockwise: Plan Bee Farm Brewery, Lori Kaplan Jewelry, Deer Meadow Wood Turning
A large children's building and drop-off area means that the kids can enjoy a festival just for them while their adults browse.
"We'll have the free play arts and crafts, of course, but we've added what we're calling the agri-venture, where kids will be able to get hands-on exploring how food gets to grocery shelves," Rubinstein says. "They can do their own farm-to-table shopping—they can even milk a pretend cow. There's a petting zoo full of animals you can go in and play with, and you can meet llamas and alpacas and watch fiber artists spin their fleece."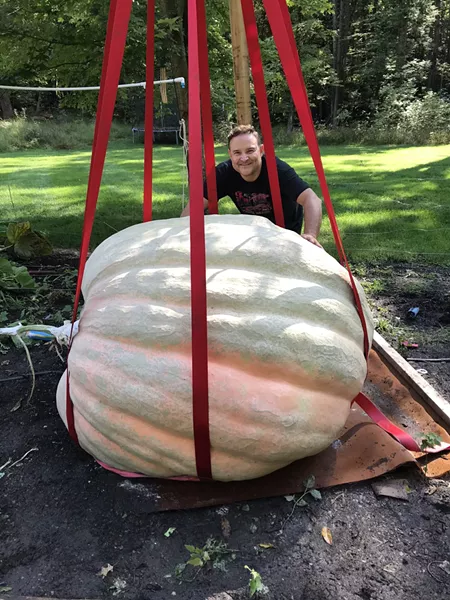 Large Pumpkin: Grown by Tony Scott of Wappingers Falls
All ages are bound to be amazed by the pumpkin portion, which will feature a $1000 prize for the biggest one (the winner will probably weigh in around 1,000 pounds).
Master pumpkin carver Hugh McMahon
, whose works have graced the Whitney Museum and the Rainbow Room, will also be giving demonstrations.
"Expect a very handcrafted Hudson Valley harvest celebration," says Rubinstein. "As a mom who loves fall family activities and all things creative, it's been an incredible journey shaping this festival and bringing it to Rhinebeck."
The festival will happen Saturday, 10/5 from 10am to 6pm and Sunday, 10/6 from 10am to 5pm. Early bird ticket prices are available online.