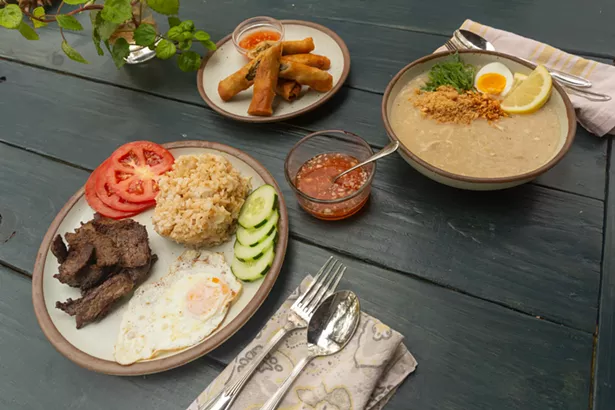 On the way to Bearsville from Mount Tremper, the road curves sharply left where Glenford Wittenberg Road splits off from Wittenberg. For most people, there hasn't been a reason to stop there since the former Wittenberg Store closed up shop. But in late January, the little white house on the corner finally opened its doors again as Harana Market, an Asian market and Filipino deli.
While this corner of the Catskills has gotten its fair share of new restaurants in the last couple years (think Dixon Roadside in Bearsville and the Pines in Mount Tremper), the emphasis has been almost exclusively on New American comfort food. Save for Silvia's Korean-inflected fine dining in Woodstock, there hasn't been much headway in representing or catering to the Asian diaspora. The message Harana Market owners Eva Tringali and Christina Mauricio got from the community? It's about damn time.
Eva Tringali (left) and Christina Mauricio (right), owners of Harana Market
A Community Ready and Waiting
Harana means "serenade" in Tagalog, and wooing residents of the Catskills with the siren song of authentic Filipino flavors is exactly what these two Bay Area transplants are doing with their new cafe and Asian provisions market.
"We've received so much feedback from the community about what they wanted to see in the store," says Tringali. (A survey they shared on social media quickly received over 300 responses from excited residents, some of whom make regular trips to Albany for Asian pantry staples.) "This is an opportunity for us to feed people what they've been looking for."
With her background in event production, Tringali brings a skillset tailor-made for the complex logistics required to set up a restaurant and market. She's the force behind Harana's Instagram and has spent months carefully cultivating relationships with the suppliers whose products now stock the kitchen and line the market's shelves.
On the deli side of Harana, Mauricio, a native of San Diego who spent the early part of their culinary career out west working in large-scale kitchens for hotels and cruise lines, is serving up a seasonally rotating menu of Filipino classics handed down from their grandmother. "I basically grew up in my grandma's kitchen learning her tips and tricks," Mauricio says.
A Pan-Asian Culinary Oasis
After months of renovations and prep, Harana Market officially opened its doors in late January to a flood of excited customers. For now, the store is open for both a la carte hot food and groceries Wednesday through Sunday from 12 to 6pm.
On weekdays, the menu includes a meat and vegetarian or vegan entrée, jasmine and garlic rice, and crispy lumpia. With winter in high gear, entrées are stick-to-your-ribs comfort food like chicken adobo, tofu sisig, and arroz caldo, a cozy bowl of chicken and rice congee topped with boiled egg, fried garlic, crushed chicharron, scallion, fish sauce, and a squeeze of lemon.
On weekends, the menu pivots to all-day silog-style breakfast. A hearty plate of garlic rice topped with a fried egg, tomato, and cucumber comes with your choice of marinated beef tapa, pork tocino (cured pork), or longganisa hamonado (a savory-sweet sausage that Mauricio makes in house). They're also planning to add some house-made treats to the weekend menu like pan de sal, a soft Filipino breakfast bread typically eaten warm with butter and coffee, that will feature fillings like ube jam and coconut.
The market side of Harana is an oasis of pan-Asian staples from Filipino, Japanese, Chinese, Korean, and Thai cuisines. Cult-favorites like Fly By Jing's Sichuan chili crisp; coffee from Vietnamese-grown, Brooklyn-roasted Nguyen Coffee Supply; and One Stripe Chai's chai tea and turmeric latte blends (all owned by Asian-Americans) showcase new spins on traditional flavors. The compact market is also a must-stop for a wide range of classics that are harder to find locally, like bottles of fish sauce and black vinegar, shrimp paste, kewpie mayo, and gochujang, as well as refrigerated items like locally made kimchi and tofu.
For social distancing purposes, the market is currently open for curbside ordering and pickups, with in-person shopping available only by appointment. For last-minute planners, you can order your hot food when you arrive and browse a printed inventory of groceries while you wait.
Pandemic Possibilities
Opening a new food business in the middle of the pandemic might seem like a big risk, but the timing felt right for the couple.
Tringali is a third-generation New Yorker who grew up in Brewster and went to college at SUNY New Paltz. After working in event production in the Bay Area for several years, she met Mauricio and the two married and settled in the area.
But as the West Coast wildfires continued to intensify, the couple began questioning what they wanted their future together to look like. "It wasn't there. It wasn't capitalism," Tringali says. So they moved back east to be near her family, eventually landing in Phoenicia right before COVID-19 hit. "[The pandemic] gave us the space to really move out of our complacency," says Tringali.
"It feels like Harana has been something that I was thinking about for a long time, but I just didn't have a way of articulating it until now," says Mauricio. "Food is the string that keeps my life together."
The Intersection of Food and Politics
The fact that Harana has opened its doors during one of the most politically fraught and xenophobic periods in recent history is not lost on Tringali and Mauricio. Across the US, Asians and Asian-Americans have been the targets of hate crimes for their supposed involvement with bringing coronavirus into the country. As the couple opens Harana in a mostly-white rural area, it's no wonder that atmosphere remains top of mind.
"Opening a market for Asian ingredients and putting forth my grandmother's recipes is an opportunity to educate folks," says Mauricio. "It's an opportunity to share culture and open the doors to whoever wants to come in. Breaking bread with people is one of the ultimate things we share with other human beings."
As a queer couple with a new business in the Catskills—one of whom is non-binary and a person of color—Tringali and Mauricio feel they also have an imperative to create space for marginalized voices in the queer, trans, and BIPOC communities.
"Having grown up in this region, I know there are so many youth in our community who are quite isolated by nature of where we live. Having this space is so much more than the market and the people we're feeding. We can ensure that we're inviting people to a safe space," says Tringali. "It's really important that we are able to say 'This is where we stand' from the very beginning. We hope you'll choose to have a conversation with us about it, and leave thinking that 'Damn their food is good,' too."
Harana Market
603 Wittenberg Road, Woodstock
Call (845) 684-5835
Wednesday-Sunday, 12-6pm
Haranamarket.com