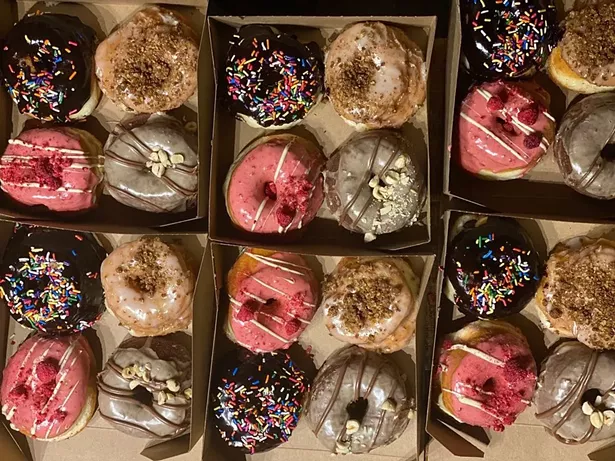 "I learned to write my name with buttercream before I could hold a pencil," says Rachel Wyman, owner of Gunkin' Doughnuts. She's come a long way since then, with her signature fried brioche doughnuts earning her a spot as one of Bake magazine's "25 Most Influential Bakers in the US" in 2015. After a blow-out summer selling doughnuts at the New Paltz Open Air Market, on November 5, Wyman will open the doors to her brick-and-mortar bakery on Main Street in New Paltz.

A Long History in the Kitchen
Wyman began baking before she was even in elementary school. She grew up in Maryland, decorating paper plates with frosting as her grandmother made wedding cakes in her basement. Growing up, Wyman didn't think it was possible to become a full time pastry maker. She didn't know any other home bakers like her grandmother, and baking shows weren't popular on TV yet. "It wasn't something that seemed accessible," explains Wyman.
She sold cookies and brownies throughout college to pay rent. After getting a degree from the University of Florida in French, Wyman began substitute teaching. When she realized that in order to obtain a full-time teaching contract, she would need to get a master's degree in education it dawned on her that she'd rather continue her education in culinary school.
Wyman relocated to Hyde Park to enroll in the Culinary Institute of America's baking and pastry arts program, where she discovered a passion for breadmaking. "I just fell in love with it. It kind of smelled like my grandma's basement, in a good way," says Wyman. "I found that there was something really soulful about nurturing this dough for 24 or 36 hours and then being rewarded with a gorgeous loaf of bread in the end."
Photo by Kerri Kolensky
Rachel Wyman
Her love for bread only continued to develop when she worked as a barista and then baker at Bread Alone Bakery in Woodstock. After graduation, she baked at Amy's Bread in Manhattan, eventually helping her friend open a bakery in Milford, Pennsylvania. When the 2008 recession hit and the bakery closed, Wyman moved to New Jersey to work as a recipe developer, creating breads for major chains like Wegmans, Target, and The Cheesecake Factory.
In 2012, Wyman opened Montclair Bread Company and soon after made her first batch of doughnuts in January 2013. In an experiment with her coworker, Wyman fried a few dozen doughnuts using dough from a brioche bread recipe. "I think my friend and I ate more than half of them," she says with a laugh. "We put the other half out for sale, and they went so quickly that we decided to do it again." After Wyman won Food Network's Doughnut Showdown competition in 2014, the demand for doughnuts skyrocketed. Now, doughnuts make up most of the business at the Montclair bakery.
Returning to Two Passions
Wyman started visiting New Paltz when she was at the CIA to take advantage of the area's many trails and nature preserves, and stayed connected to the Hudson Valley throughout her career. "My dream and life goal was to retire here," says Wyman. When lockdown hit in 2020, she and her partner started regularly making the trip up to run on the trails, eventually deciding to get an apartment.
From there, Wyman got involved with the local rock climbing scene and, this past summer, started selling her doughnuts at the town's Open Air Market. Quickly, Gunkin' Doughnuts grew in popularity. "The first week, there was some interest," Wyman says. "The second week, there was a line down the parking lot." As customers increased, Wyman looked into acquiring a physical location, curious to see how far she could take the business. "I kept telling my friends and family, 'I am just going to keep moving forward until somebody puts a wall up and I can't,'" says Wyman. "The wall never came, so now I have a doughnut shop in New Paltz."
Creating a Community Hub
Wyman secured a lease for 138 Main Street and Gunkin' Doughnuts will open its doors on November 5 with two varieties of doughnuts for sale. The first, her signature brioche doughnuts, will be available in three flavors: classic, chocolate, and apple cider. The latter is different from a traditional doughnut. "It's not like what you'd get at the farmstand. It's a little doughier, and has a layer of cinnamon laminated in it," says Wyman. While glazed doughnuts are the most popular, other kinds like "Raspberry Belay" are made using seasonal ingredients (and regional puns).
The other variety, Wyman has dubbed "sourdoughnuts." These vegan treats are made using sourdough starter and are also available in multiple flavors, including a fruity cranberry orange glaze and maple-glazed—Wyman's personal favorite.
Many of the doughnuts have names derived from climbing terms. The "Trijam Doughnut," made with triple-berry jam, is a play on the gear term tricam, a tool often used when climbing the Gunks because of cracks in the rock. "Lemon Squeeze," a lemon-glazed variety, gets its name from the famously tight Mohonk Mountain House trail.
The personal connection and quality ingredients is what Wyman believes makes the doughnuts special. "It's all about the dough for me," she says. "That's what really attracted me to doughnuts in the beginning, and so I really like to focus on creating a unique experience with the dough itself."
As she continues expanding her team down the road, Wyman plans on offering more baked goods, including breads, pastries, and egg sandwiches. She also hopes to establish Gunkin' Doughnuts as a place where visiting climbing folks, locals, and college students can come together. "For me, the community is number one, and the doughnuts are number two," says Wyman. "To create a space where the community wants to gather is really my number one goal, and it just happens to have really yummy treats."

Gunkin' Doughnuts
138 Main Street, New Paltz, NY
www.gunkindoughnuts.com