Despite being best known for their farmer training programs, CSA organic produce, and farming and food advocacy, the Glynwood Center for Regional Food and Farming is also deeply committed to finding ways to give non-professionals—your everyday Hudson Valley residents, foodies, and visitors—a fun, free, and educational glimpse at farm life.
"An important part of our work is to help eaters understand how they can support a regional food system," says Kathleen Finlay, Glynwood president."One that is better for their health and the livelihood of our farmers."
Visitors to Glynwood can check out the farm property—225 acres of beautiful land that's home to a number of animals—while learning about regenerative farming and Animal Welfare approved livestock practices along the way.
Photos Courtesy of Glynwood Center
Glynwood's guests can also pretty much always anticipate being well fed. At their monthly farm dinners, local ingredients and chefs take center stage showing off meals sourced locally and ready to inspire some mindful dinner-time conversation. For July's farm dinner, Brian Arnoff, head chef at the Beacon restaurant Kitchen Sink, is cooking up a meal at the lakeside boathouse. Then, in August, chefs from Juanita's Kitchen in Cold Spring will use Hudson Valley-grown produce in their Mexican cuisine while Glynwood's vegetable farmers take some time to talk and educate guests about their work.
And, of course, you can't talk fully about farming in 2019 without addressing the realities of climate change. Another upcoming event, the Taste of Summer farm walk (on Sunday, July 21 at 11am) will zero in on how climate change is impacting farming in the Hudson Valley and Glynwood's methods for adapting and lowering their own carbon footprint.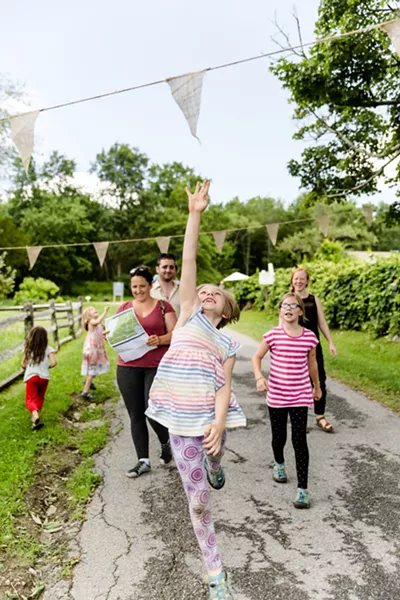 On Saturday, July 13 from 12pm to 4pm, Glynwood will host Food and Farm Day which will include tastings, tours, demonstrations, and workshops among the list of activities for adults and kids. There will also be live music from Tall County throughout the day, a marketplace full of local vendors, a food court full of local food, and more on-brand activities that let guests really pay attention to where their food comes from and how it's prepared.
"We love helping our local community understand the importance of regional food," says Finlay, "and helping them know what they can do to support our farmers and keep our agricultural heritage thriving."
Programs (except for the farm dinners) are free, but registration is required. Check out Glynwood's website for more details.