In 1969, after receiving a $2,000 inheritance following the death of his father, young painter Calvin Grimm bought two pitched and scenic acres in Shady, a rural hamlet just west of Woodstock. Grimm had grown up on Long Island, but his maternal grandfather was Woodstock's town pharmacist; during childhood, he often visited his widowed grandmother.
Grimm missed the muddy historic music festival; as rain was forecast, he needed to roof what has evolved into one of the area's most tasteful and enduring folk-art houses. "I was in my early 20s, and working with a carpentry crew in Woodstock, having studied art in Buffalo. I knew how hard my father had worked to leave me that money and I wanted the security that my own home would give me," says Grimm.
Constructed as inexpensively as possible, Grimm's house was also built sensibly and made to last. When building codes became more stringently enforced, Grimm got the paperwork approved, although he laughs when he says that he'd already "lived in it for years" by the time it was actually certified for occupancy.
Grimm's home was featured in the best-selling Woodstock Handmade Houses (Random House, 1974), written by Robert Haney and David Ballantine, with photographs by Jonathan Elliott. The book captures the build-it-yourself design ethos of the artists' colony.
Today, Grimm estimates he has about $60,000 in materials invested in his home. In 1970, he borrowed $500 to buy lumber, but otherwise, he's paid cash for everything, including an addition built in 1996. Not counting the storage shed, it's about 1,000 square feet with two bedrooms, two baths, and an office. Grimm recently added a small pool, where he swims in place wearing an anchoring belt. And for the most part, he's done all the work himself. "The heat is oil-fired hot-water baseboard installed by Kosco over 20 years ago," says Grimm. "I had previously cut and split all of my own wood" for a stove, he says. "I surrendered from that ordeal."
Grimm's Modest Magic Kingdom
In round numbers, had young Calvin invested that $2,000 inheritance in shares of the Walt Disney Co., it might be worth about a million dollars today. Given the costs of an equivalent rental for the same duration, and including what a fortuitous sale of the unique dwelling might fetch, he's only down from that by about a third.
But of far greater value than strictly calculated financial returns, Grimm's quirky castle has not only provided him with inspiring and solid shelter, but it's also been the springboard for a creative and adventurous life. He's often rented it out while he's gone off exploring the wilderness; Grimm's a former National Outdoor Leadership School instructor. An early tenant was noted American Buddhist Robert Thurman (father of Uma), who wrote his graduate thesis there while his house was being built. "Bob Thurman doesn't have any of my work, but I have some of Uma's," says Grimm. "At the age of one she drew with crayons on a wall of my then-new house. It's ensconced under several layers of paint now."
Wood in the Blood
On his father's side, Grimm descends from a line of master craftsman woodworkers who built mahogany ballrooms and wood-paneled private libraries for the mansions of the Vanderbilts and Morgans on Long Island's Gold Coast. In the Roaring Twenties, Grimm's father built a racing schooner.
But the Great Depression and World War II softened the luxury woodwork market. The family moved to a tract house in Hicksville and Grimm's father sacrificed "a number of his creative directions" in order to provide for his family, eventually working for the Grumman Aircraft & Engineering Corp. Grumman was the chief contractor for the Apollo Lunar Module; the painter's father, a master tool-and-die maker who had studied physics at Pratt Institute, worked on that supersecretive project. "But I saw his unhappiness," says Grimm. "This house has kept me focused and kept me out of trouble, but it's the gratitude aspect of it which is most important. This is who I am. The authenticity of the place, and that I've kept hold of it for 43 years, it's a miracle," he says.
Teamwork Made the Dream Work
In 1969, when Calvin broke ground, he worked for a building crew which belonged to Dominique Vos, Milieu & Co. David Miller was the foreman. On weekends, the men assisted one another with their personal abodes. These efforts had the flavor of an old-fashioned barn raising.
The beams in Grimm's house came from a barn which once stood on what is now Wilson State Park. Forms for the foundation's cement piers were fabricated using plywood dismantled from an architecturally intricate sculpture Grimm had to sacrifice on grounds of penury. Next came the recycled barnbeams, which became the large "sills" upon which the floor joists were attached.
"It has never moved an inch!" exclaims Grimm. "Who needed a building code?"
Since the barn beams were all 30 feet long, that established the length of the house, and then "everything else fell into place," he says. That's also how Calvin's painting process works.
"When one begins an abstract expressionist painting with the correct intuitive mark, the rest falls into place—sometimes with a great deal of editing, but that's why this kind of painting is a record of it's own existence," says Grimm.
The skylight above Grimm's bed came from the former domed showroom of the Johnson Ford Dealership in Kingston. The dome's clear Plexiglas magnified the sunlight and radiated too much heat; it was replaced with black. Calvin bought the rejected sheets for $5 each. That's how he was able to afford a 5' x 7' skylight that nevertheless took substantial ingenuity to weather-proof. "But it's the only one like it," he says.
"If I Sold This Place, I Could Never Buy It Back"
In recent years, Grimm has been steadily selling his colorful paintings, and he is best known for his murals at AT&T Park, home of the San Francisco Giants. His paintings range in price from $3,000 for a work on paper to $18,000 for a large canvas, usually sold directly to buyers who find him through existing collectors. Astex Pharmaceuticals, Inc., a NASDAQ-listed public company, recently purchased three major works for its corporate offices in Dublin, California. The artist also maintains a web site, www.calvingrimm.com.
When weather permits, Calvin hangs canvases all over his property, creating a dynamic juxtaposition of modern art against the equally considered landscape, with its surreal man-made pond.
Although money's not so tight anymore, Calvin usually rents his house to a seasonal tenant for up to $10,000, depending on the duration. His horse, Journey, now lives at a friend's Colorado ranch. This summer, Grimm rode California's most pristine beaches.
"These days I think a lot about relocating out West," he says. "Sometimes I feel all I have is what's in this house, and it gets lonely living here solo," says Grimm, who's had several serious relationships but never married. "But if I sold this place I could never buy it back."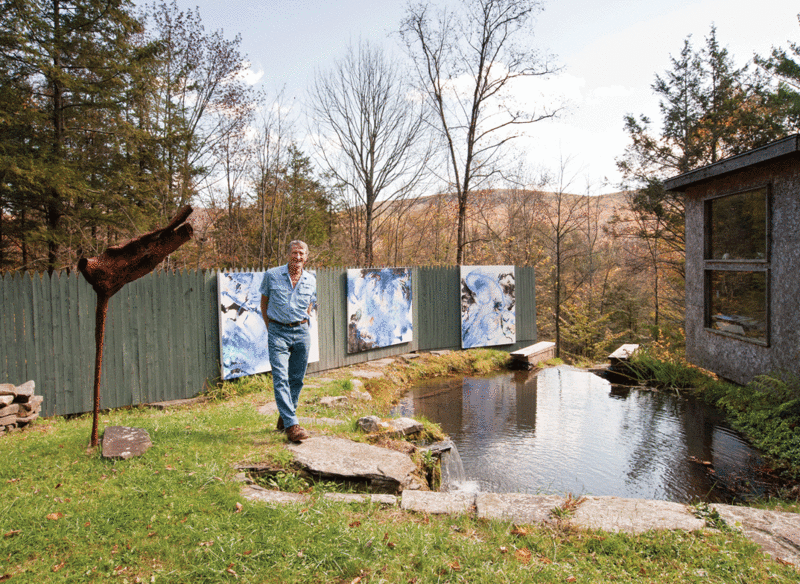 Deborah Degraffenreid
Calvin Grimm in his backyard. Three of his paintings are hung on the fence behind him; to Grimm's right, a sculpture by Ezio Martinelli.
Deborah Degraffenreid
The living room looking into the kitchen and upstairs to the bedroom.
Deborah Degraffenreid
The bedroom looking down into the living room.
Deborah Degraffenreid
The house viewed from the edge of the pond.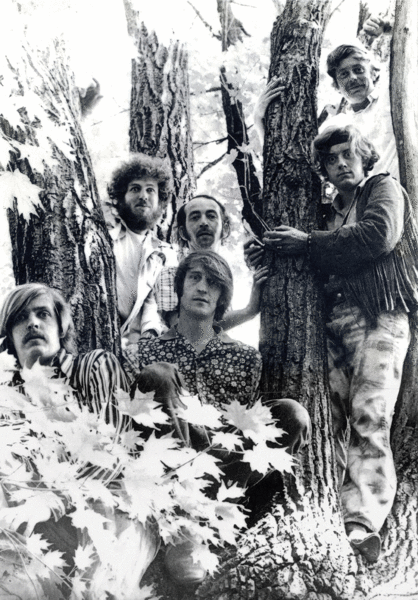 Deborah Degraffenreid
The crew that built Chez Grimm, circa 1969. Calvin Grimm is seated center, in floral print shirt.