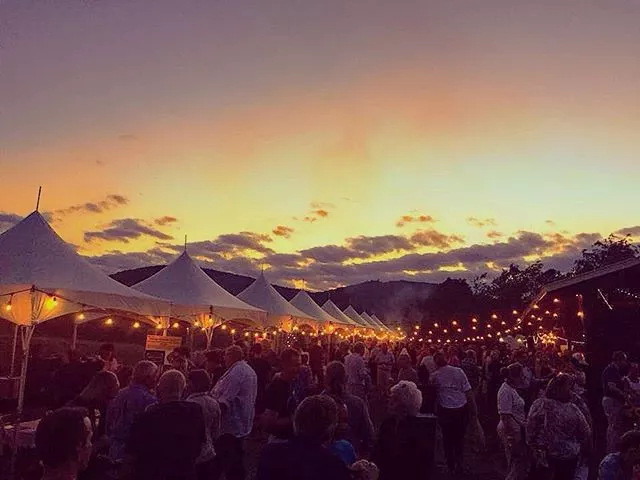 Summer's still in session and so is BBQ season. This Saturday, there are two grill-tastic events happening in the Hudson Valley. Enjoy a picnic lunch and live music at Moosic Fest in Gardiner. Or if you're on the other side of the river, and looking for your char-grilled fix, head to Grillsdale 2018 in Hillsdale for dinner, drinks, and more live entertainment.
Moosic Fest | Kiernan Farm, Gardiner
Saturday August 25, 12pm-dusk
Spend an afternoon among the picturesque ridge views of the Shawangunk Mountains in Gardiner. Moosic Fest is one big, all-day picnic at
Kiernan Farm
, at 1308 Bruynswick Road. Bring your picnic blankets and lawn chairs, and enjoy music from Dan Brother Band, Mike Cusato Group, Ed Packer, Jerry the Bulldog, and Hurley Mountain Highway. The grill will whip up the farm's very own, 100 percent grass-fed beef and other BBQ favorites catered by Mancave Meat Company (Full menu below). Tickets are $59.50, and children 10 and under are free. Visit
Kiernan Farm's website
for more information.
The Moosic Fest Menu:
• Kiernan Farm 100% Grass-fed Beef Hamburgers
• Kiernan Farm Hot dogs
• Kiernan Farm Sausage and Peppers
• Kiernan Farm Pulled Pork
• Barbeque Chicken
• Thelma's Macaroni Salad and Coleslaw
• Local Corn on the Cob
• Loaded Baked Beans
• Watermelon
• Drinks: Lemonade, Iced Tea, and Water Included
Grillsdale 2018 | Roeliff Jansen Park, Hillsdale
August 25, 7-11pm
As they say, "third times a char." Grillsdale 2018 brings together the best restaurateurs and chefs of Columbia County, Dutchess County, and the Berkshires. Food and drink will flow across Roeliff Jansen Park to the sounds of music by headliner Chops and Sauerkraut Trio—plus, a surprise musical performance. Guests can sample small, grilled plates from over a dozen participating chefs (Full list below). One griller will earn the People's Choice award at the end of the night. Food ranges from steak and empanadas to burgers and grilled pizza.
The event will also have a craft beer tent featuring beverages from Svendale Brewing, Kings Highway Fine Cider, Chatham Brewing, Irving Farm Coffee Roasters, White Oak Farm, and Little Apple Cidery Inc. For more information, visit the Grillsdale 2018 website. General admission tickets have sold out, but you can still enjoy the fun with a $45 ticket for beer, wine, and music.
Participating Chefs:
• Job Yacubian, The Farmer's Wife
• Carla Perez-Gallardo & Hannah Black, Lil' Deb's Oasis
• Jack Peele, Jacüterie
• Eliah Gardner, Yummy Kitchen
• Carrie Chen, Casana T House
• Luloo & Evan Flynn-Mann, Empaninas
• Nick Keene, The Barn at Egremont Village Inn
• Laurel Barkan, The Stagecoach Tavern
• Jared Schwartz & Laura Webster, The Poor Devil Pepper Company
• Brigid Dorsey, Les Collines Preserves
• Bobby Hellen & Team, Otto's Market
• Ethan Arthur Sumner, Fireking BBQ
• Jeremy Spesard, Miracle Springs Farm