David McIntyre
A snowy Great Barrington in December.
The purest form of democracy is alive and well in Great Barrington, Massachusetts. Each May, taxpayers come together at Monument Mountain Regional High School—or the parking lot there, as has been the case this past few years—to convene in an open meeting and vote on the town warrant (a full listing, furnished in advance, of each agenda item up for discussion), right down to the last proposed penny to be spent from the town coffers. It's a tradition spanning three centuries, one hinging on the right of every registered voter to attend, speak, and vote on the issues integral to the community at large. It's a powerful means of understanding the townspeople's commitment to their community.
"The people who live in Great Barrington are very involved in what goes on [here]," says Paul Joffe, adding, "and this has an effect on the town" where, in his estimation, people are friendly and polite. Joffe is the brains (and hands) behind the Flying Church and its eponymous coffee shop, which is adjacent to the building. The church was constructed in 1845 by the Methodists before Joffe renovated the venerable building as a mixed-use commercial space in 2014.
David McIntyre
Carol Bosco Baumann, executive director of the Community Development Corporation of the South Berkshires.
As Joffe is quick to point out, those with the loudest voices do not always represent the majority. There's something quintessentially quaint yet heroic about this annual assembly of neighbors, one that lies at the intersection of Old New England and progressive thinking—as evidenced by rainbow-colored crosswalks downtown. Still, gritty issues abound.
For a community where many full-time residents were already struggling to make ends meet, the pandemic created a crucible of sorts—as evidenced by an ongoing housing crisis and a shortage of service industry workers (a pair of chicken-and-egg problems). While uncertainty prevails, so does the collective spirit to press on. Together, many hands are making light(er) work, ensuring often-marginalized populations have the opportunity to thrive here alongside the restaurants, shops, and businesses valued visitors continue to crave.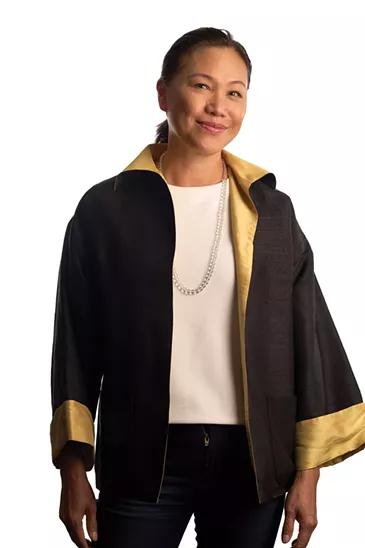 31 slides
Many Voices, One Vision
In a town boasting dozens of nonprofits, a handful remain committed to being inclusive of those who might not otherwise feel they fit. Community Access to the Arts
has a new permanent home on Stockbridge Road after operating from a rented space downtown since its founding in 1993. CATA's universally designed headquarters—featuring a pair of fully accessible arts studios, designed to accommodate individuals with a range of abilities—allows 800 artists with disabilities to explore new art forms and discover new talents.
David McIntyre
Lucas Swann in the cheese department at Guido's Fresh Marketplace.
"Every week, hundreds of people with disabilities tap into their creativity and express their unique perspectives in our arts workshops," says Executive Director Margaret Keller. "Every time a CATA artist shares their talents, takes the stage to perform, or exhibits a painting or drawing in a gallery or museum or coffee shop, our community becomes that much more inclusive. And as individual members of this community, we expand our worldview and grasp the human experience more fully. We are stronger as a community when we truly see each other, and when we honor and respect each person for their talents and contributions."
In June, doors at the South County Recovery Center (a project of Rural Recovery Resources) were flung open, offering a long-awaited brick-and-mortar hub and community gathering space for those seeking recovery from substance-use disorder. The nonprofit, whose mission is to lower the morbidity and mortality associated with substance use and to foster a culture of compassion and empathy among the peer-driven community, hosts a myriad of events, including all-recovery meetings, yoga and meditation classes, poetry readings, and Naloxone training.
David McIntyre
Matt Rubiner, owner of Rubiner's Cheesemongers and Grocers and Rubi's Coffee and Sandwiches on Main Street.
Volunteers in Medicine Berkshires has been providing access to free, comprehensive health care for roughly 1,300 individuals each year who are uninsured or under-insured since 2004. In the wake of the pandemic, the nonprofit has been experiencing what Patient Services Manager Natalia DeRuzzio calls a "migration" among the immigrant population, one that comes with complex dynamics. "For someone who doesn't speak English—and who doesn't know how things work here—things become very complicated," she says, underscoring the difficulty of navigating systems in order to create roots in the community, buy a home and open a business.
Pressing Issues
Restaurateur Josh Irwin is heavily invested in Great Barrington—and for good reason. The owner of Cantina 229 (in nearby New Marlborough) and Mooncloud (which opened in Great Barrington three years ago) has had a front-row seat to the growing gap between those who flock to the bucolic hills for fun and relaxation versus those who call the Berkshires home.
David McIntyre
Railroad Street Youth Project (RSYP) empowers young people by supporting youth-inspired projects that promote responsibility, self-worth and intergenerational communication.
"I've come to see the good, the bad, and the ugly [in town]," Irwin says. His most recent passion project, to create workforce housing, is a shining example. In what turned out to be a long and auspicious chain of events, Irwin's idea—to purchase the 13-bedroom Windflower Inn, located in neighboring South Egremont, for service worker housing—was ultimately executed by Construct, the leading nonprofit provider of affordable housing and supportive services to residents of the southern Berkshires. The plan is to begin welcoming lodgers (via applications from employers) to the property, as soon as January.
"[This past year] was very difficult for many in our service area, and our waiting lists grew exponentially," says Construct Development Director Leigh Davis, citing over 200 individuals currently awaiting housing. While Construct has grown over five decades to meet the needs of more than 600 families per year, it is not tackling the problem alone.
David McIntyre
Leigh Davis, Selectboard member and development director for Construct, outside the Windflower Inn, an affordable housing project that will open its doors to residents this month.
Community Development Corporation of South Berkshire (CDCSB) is exploring a variety of ways to serve community needs. In addition to co-developing Windrush Commons, a 49-unit affordable housing complex under construction at 910 Main Street, on track for completion in spring of 2023, the nonprofit is poised to acquire its first building. In early December, CDCSB entered into a contract to purchase the Marble Block—a downtown building comprising eight apartments and six commercial spaces.
"Our motivation in acquiring this mixed-use property is to directly mitigate impacts of the prolonged economic fallout of the pandemic and luxury rental development on the local real estate market," says Executive Director Carol Bosco Baumann. "By keeping downtown rentals economically diverse, we can slow the socioeconomic homogenization of the neighborhood." That said, there are many pieces to the proverbial puzzle.
David McIntyre
Volunteers in Medicine has been providing access to free, comprehensive health care in Great Barrington since 2004. From left: Gladis Rave, Kelly Baxter Spitz, Hannah Weeks, Natalia DeRuzzio, Ilana Steinhauer, Marcela Urrea, Robert Olsen.
Jennifer Capala of William Pitt Sotheby's International Realty distills the 12-month period decisively: "From a macro perspective, after a very busy year of buying and selling, real estate activity is ending the year almost exactly where it began," she says, citing sale prices that—after spiking—have now come down, leaving inventory at historically low levels. "The COVID frenzy has dissipated, which has cooled the ubiquitous bidding wars. And given that Great Barrington is buoyed by a second home market, buyer activity remains strong even with interest rates on the rise."
Bosco Baumann fears renters have borne the brunt of this frenzied real estate market, leaving many "finding it harder to find affordable housing here, and facing difficult choices about where to live and how to budget their money" as evidenced by the more than 100 applications already on file for units at Windrush Commons, which is still at least six months from completion.
David McIntyre
Pam Pescosilido, longtime owner of the Bookloft, hassold the business to former employee Giovanni Boivin, who takes the reins this month.
Davis, who also serves as vice chair of the town Selectboard, felt compelled to take a proactive stance on addressing the town's housing crisis. "By getting ahead of the short-term rental trend that has swept across other communities, I hoped to stem the tide of displacement of residents by STRs and help local businesses struggling to find staff," she says. As a means of keeping neighborhoods intact, a new bylaw, which went into effect on January 1, prevents the purchase of residential homes solely for short-term rentals—while still enabling residents to earn extra money from their properties.
Downtown Developments
Despite a proliferation of recreational marijuana dispensaries in Great Barrington (the current tally stands at seven), the town has hardly gone to pot. Home Love made a sweet addition to Railroad Street in February (just in time for Valentine's Day) with a wide array of home decor and gifts. Following a four-decades-long stint downtown, Byzantium is slated to close its doors in January. Barrington Outfitters added a fourth floor of merchandise, dedicated to its extensive line of outdoor furniture.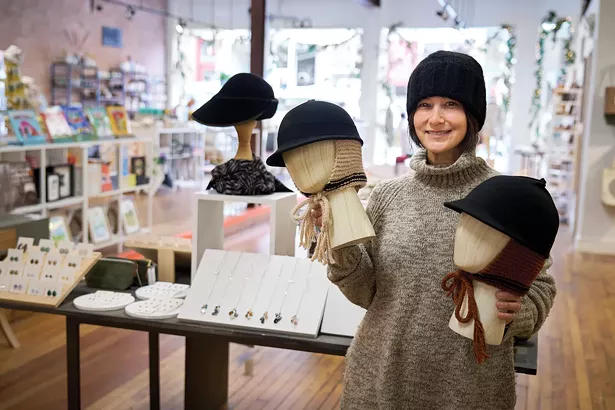 David McIntyre
Hat maker Karen Almeida at Railroad Street Collective, an artist-run cooperative.
Newcomer Scout House is open for business, selling furniture, textiles and lighting and artwork, decor, and apparel, plus loads of books in a renovated Victorian home on Elm Street. And, on the final day of 2022, the Bookloft, a Stockbridge Road staple since 1974, will turn an historic page as ownership is passed to long-time employee and head book buyer Giovanni Boivin.
Guido's Fresh Marketplace is nearing completion of its impressive expansion, now featuring a swoon-worthy selection of imported and domestic cheese at LaGrotta (stay tuned for house-made mozzarella); a full bakery; a wide array of prepared foods from Guido's Kitchen; and the soon-to-open Renie's Cafe (a nod to the owners' late mother) boasting coffee and smoothies, plus a brand-new deli and kitchen with hot bar, salad bar, and burrito bar coming in early 2023. The Marketplace Specialty Foods has opened a brand-new standalone store on Stockbridge Road (opposite its Marketplace Kitchen Table), offering heaping piles of artisanal cheeses and handmade prepared foods to go—both savory and sweet.
David McIntyre
Bard College at Simon's Rock Provost John Weinstein outside the provost's house on the Simon's Rock campus.
Construction is underway upstairs at the
Berkshire Food Co-op
where a new retail space is slated to open early in the New Year (followed by a community space).
Mama Lo's Southern Style BBQ
, a family business serving up warm and happy food for the soul, is now nestled into the Barrington Atrium on Main Street. Following a pandemic-length nap, Rubi's Cafe is once again open for business—plus conversation by the fire—seven days each week. Further north, Flying Church Coffee is finally brewing beans and slinging breakfast sandwiches beginning at 6am (perfect for early-morning ski outings), and Big Elm Tap Room
is
pouring a wide selection of ales and lagers—all brewed in Sheffield—at their new location on Stockbridge Road.
Grounded by the Good Stuff
Those keen on an alternate perspective of town need look no further than Monument Mountain and Flag Rock, a pair of iconic peaks that not only tower over Great Barrington and Housatonic (the town's little-sibling hamlet) respectively, but are also now connected via a 0.7-mile cross-over trail, thanks to The Trustees of Reservations. Berkshire Natural Resources Council recently opened a new footpath—the eponymous Whale Rock Trail—at the existing Thomas & Palmer Brook property on Route 23. With food and farming integral to the Berkshires, there's something in season year-round. November thru April, Berkshire Grown hosts a Winter Farmers' Market (held the third Saturday of the month at the Housy Dome); come mid-May, the Great Barrington Farmers' Market is in full (outdoor) swing downtown on Church Street.
David McIntyre
Fluff Alpaca is a family affair. Suzanne Werner and her son Jamie Werner run the retail shop on Main Street.
Small-town living means not everyone sees eye-to-eye—including the addition of a highly controversial roundabout at the town's southern gateway, directly in front of the police station; plans for the merging of two regional school districts into a single high school, in response to a steep decline in student population coupled with rising costs; and the proposed shuttle bus service between downtown and Wassaic's Metro-North station in nearby Amenia.
"We need more leaders with diverse backgrounds in all kinds of spaces," says DeRuzzio, citing a growing population of English learners in the local schools that led to the creation of the first English Learner Parent Advisory Council—Consejo Asesor de Padres de Estudiantes de inglés del Distrito Escolar Regional Berkshire Hills, with regular meetings conducted entirely in Spanish—required once the population reaches 100 or five percent of the school's total enrollment.
David McIntyre
A snowy Great Barrington street.
Perhaps Irwin hits the nail on the head: "I can't think of a better place to balance out the rough stuff that's happening in today's world than where we are both in terms of landscape and support," he says in a broad nod to the Berkshires. "If we're going to continue to live in a really, really weird world for a little bit...we should try and fill our days—and our community—with moments and glimpses of true happiness and goodness."