Remember what outdoor concerts in Ulster County used to be like? (Cover your ears, new folks, we wouldn't want you to die of jealousy.) Spreading out your blanket and becoming part of a big tender family for a few hours? Kids romping everywhere? Dancing with the sunset? Bands inspired by the setting and the love to epic heights?
Talk about a concept that was long overdue for a revival with some fresh world-class music. Now add truly splendid beer. Yes? Yes,
please
.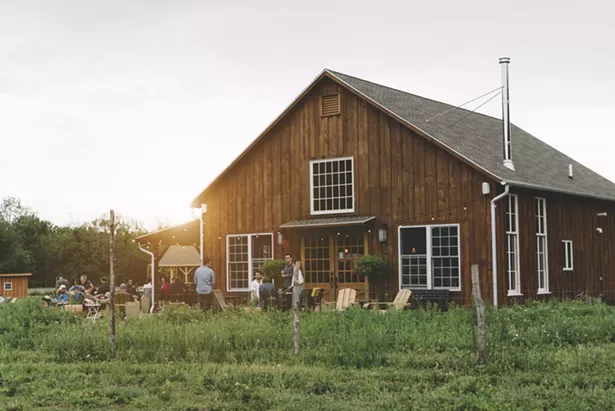 Photos Courtesy of Arrowood
West of the Rondout, where the countryside gets all rural and enchanted, is
Arrowood Farms,
the first New York farm brewery to have its hops certified organic by NOFA. It's an artfully farmed oasis of lush crops, free-range chickens, heritage pigs and bees busily making wildflower honey.
Any Wednesday through Sunday afternoon, you can grab a beer in the tasting room and drink it in the hopyard, where the gracious grain climbs 20-foot trellises.
Part of what's organically grown out here is a five-star venue just right for a crowd of about 1,000, delivered with laid-back warmth and poise. Partner Blake Arrowood has a world traveler's understanding of hosting. Fine legacy musicians that first played here last summer will be back, and more will be joining them.
Amy Helm
selected the spot for the
Dirt Farmer Festival
, organized by Levon Helm Studios and Impact Artist Management, and indie record label
Woodsist
chose it for the
Woodsist Festival
. Both of those will be returning in September.
But get your tickets now for August 3, when Boston-based alternative rockers
Guster,
the famous ferocity of
Low Cut Connie
, the harmonies of
The Restless Age
(guys who've toured with the likes of Kate Pierson and Donald Fagen), and singer/songwriter/multi-instrumentalist Jocie Adams will make the mountains ring.