The Food Bank of the Hudson Valley will host its 4th Annual Farm-to-Fork Feast on Thursday, November 8 from 5:30-9 p.m. at The Country Club at Otterkill (100 Otter Road, Campbell Hall, NY).

The Farm-to-Fork Feast is a 4-course dinner lovingly prepared by some of the region's most talented chefs using the finest local ingredients. Dinner is preceded by a cocktail hour, with "Tasting Stations" featuring samples from the Hudson Valley's top restaurants, wineries, bakeries, breweries and more.

The dinner will be prepared by:

The Country Club at Otterkill (1st appetizer)

Heritage Food + Drink (2nd appetizer)

Cosimo's on Union (entrée)

Henry's at the Farm (dessert).

Tasting Station vendors will include: Bad Seed Cider, Benmarl Winery, Brotherhood Winery, Café Spice, The Culinary Institute of America, Delancey's, Henry's at the Farm, Hudson Ale Works, Local Artisan Bakery, Milanese Italian Restaurant, Newburgh Brewing Co., Switch Inn, and Tuthilltown Spirits.
The Farm-to-Fork Feast will also include live music; a raffle, plus silent and live auctions; and opportunities to meet and mingle to discuss both the rich abundance of good food in the Hudson Valley, and food insecurity in the region.
Food Bank of the Hudson Valley's Mission
Food insecurity, most often defined as limited or uncertain access to adequate food for a healthy, active life, presents a unique challenge. More than 40 million Americans (including 12 million children) are food insecure. At the same time, this nation wastes around 40 percent of all the food we produce—which in turn leads to large-scale environmental impact.
Food banks fill this void.
Working in partnership with the food industry, the Food Bank of the Hudson Valley collects surplus food and distributes it to charitable agencies feeding hungry people in a six-county region of the Lower Hudson Valley (Dutchess, Orange, Putnam, Rockland, Sullivan and Ulster). Last year, the Food Bank provided 16 million pounds of food to more than 124,000 people through 400 member agencies—including food pantries, soup kitchens, emergency shelters, day care centers, senior programs, rehabilitation programs and programs for the disabled.
Tickets for the event are $150 per person or $1,500 for a table of 10. Proceeds will help the Food Bank continue to alleviate hunger and prevent food waste throughout the region. For more details or to purchase tickets, please visit
www.foodbankofhudsonvalley.org
or call (845) 534-5344.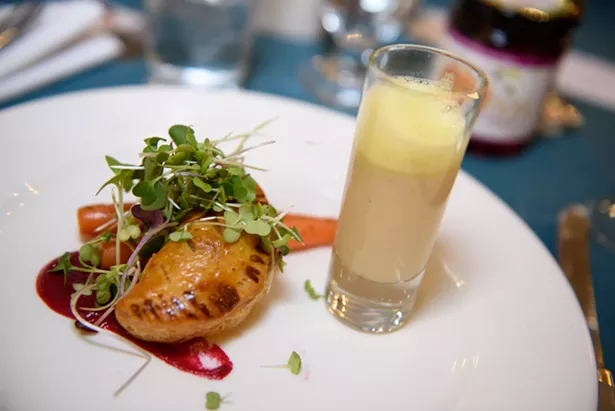 The 4th Annual Farm-to-Fork Feast is sponsored by: Events Unlimited, Hudson Gateway Realtor Foundation, Performance Food Service, ShopRite, Lakeland Bank, Manhattan Beer Distributors, Rocking Horse Ranch, SplashDown Beach, Stop & Shop Supermarkets, EMS Plumbing & Heating, Price Chopper/Market 32, Red Barn Produce, Sawyer Savings Bank, BJ's Wholesale Club, C&S Wholesale Grocers, Café Spice, Central Hudson Gas & Electric Company, Hannaford, Hudson Heritage Federal Credit Union, Hudson River Fruit, Hudson Valley Federal Credit Union, Mid-Hudson Valley Federal Credit Union, Morgan Linen, Orange Regional Medical Center, Pepsi Cola of the Hudson Valley, Rhinebeck Bank, Russo Propane and Walden Savings Bank. Additional support comes from: PKF O'Connor Davies, Jacobs Music Center, and Vivian Photography. Media sponsorship is provided by Hudson Valley Magazine and Luminary Media.