For Carver Farrell, it's a simple task to trace the origins of his new seasonal pop-up restaurant in Delhi to his Catskill Mountain upbringing. Raised in a household that placed an emphasis on "clean eating," Farrell has brought those same sensibilities to his most recent project, Goldenrod.


"I grew up in the Delaware County community of Bovina, on a small farm," Farrell related. "My mother raised organic vegetables and sold them at the Greenmarkets in New York City,
His background in healthy fare has been a cornerstone of Farrell's life and career. For the past 20 years, he's resided in the city and has owned/operated a pair of well-received restaurants, The Pines and Willow.
Although his work has been city-based, Farrell always maintained a house in the idyllic town of Bovina. In recent years, he has started spending an increasing amount of time upstate and began working in earnest to develop his long-held vision of an eatery centered around the abundance of food originating in the region.


"I've always wanted to open a restaurant in my hometown," he stated enthusiastically.


When the opportunity arose to set up shop in the Quarter Moon Café, which has a prime location at 53 Main Street in Delhi, Farrell realized it was prime time to pursue his vision. His intimate knowledge of the region and of local purveyors of meat, dairy and produce quickly got the supply chain in order. The restaurant opened its doors on June 9 and has been immediate hit with patrons.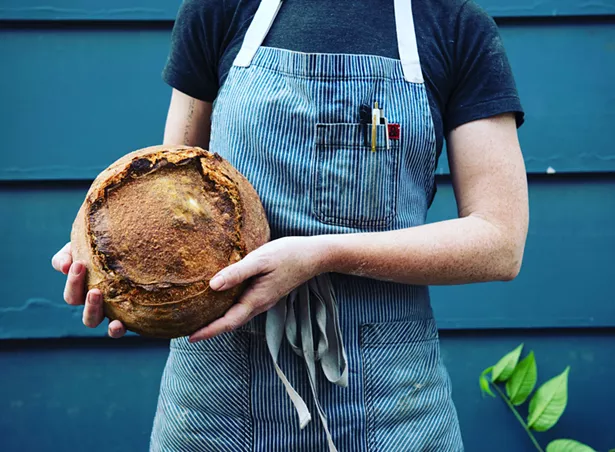 "Goldenrod is modern American cuisine with a focus on what seasonal and hyperlocal. We are sourcing everything we serve from Delaware County or as close as possible," Farrell explained. "We make everything in-house—our sourdough bread, our housemade pasta, etc. We harvest a lot of wild edibles, as well, and preserve lots of ingredients through fermentation and pickling," he added. The menu includes starters like the Asparagus with gribiche, wild leek aioli, wood sorrel, and cured egg ($9); pastas like the Trenette with wild pesto, black walnut, and garlic ($14); and meats like the Bavette Steak with salsa verde ($19). (Full menu below).
The "we" Farrell refers to includes a top-notch kitchen crew who bring impressive resumes to the endeavor. Joe Aponte worked with Farrell at The Pines in Brooklyn, and his background includes stints at Le Bernardin and Union Square Café. Stephanie Hirsch is married to Joe and has worked at Vinegar Hill House and Prune. Rounding out the cooking team is Katie Phelan, who has plied her talents at Gramercy Tavern, Del Posto, and Daniel.


Along with easy access to ingredients that have primarily been harvested just a stone's throw away, the setting for Goldenrod was equally important when Farrell was searching for an appropriate space to launch his restaurant. The intimate dining area has table seating for 40 patrons, with another 10 seats at the bar and embodies the tranquil vibe that the owner was seeking.

Because Goldenrod is based on a "fresh off the vine" approach, Farrell said he plans for the pop-up to operate only through early fall.
"Our goal, other than to make great food, is to highlight the bounty of Delaware County. It has been an agricultural community for generations, and the farmers here grow amazing food," Farrell commented. "We are trying to stay very local so we probably won't stay open past October, but we hope to be here again in the spring."


Goldenrod has a full liquor license, and Farrell said the kitchen crew is pleased to cater to any dietary restrictions.


The restaurant serves dinner from Thursday-Saturday from 5-10pm and Sunday from 5-9pm. For information or reservations, call (607) 746-8875 or email 607goldenrod@gmail.com.