Photo by Dan Fisher
The corridor of Showcase Cinema de Lux in White Plains on October 28.
The theater was immaculate. The purple, red, and blue pattern on the vast carpet was so vivid that it cast the illusion of hovering above the floor. The lobby of the Showcase Cinema de Lux, a 15-screen multiplex in White Plains, was empty, with the exception of a handful of employees. I felt like a special guest at the grand opening of a brand-new theater. I also felt like I had just checked into the Overlook Hotel.
I went back to the movies days after Governor Cuomo permitted theaters in certain parts of New York to reopen on October 23, seven months after he'd ordered them to close throughout the state due to the pandemic. The executive order stated that theaters could only open at 25-percent capacity; no more than 50 people were allowed in front of each screen; and only theaters in counties that have a COVID-19 positivity rate of less than two percent. No cluster zones were permitted to reopen.
While most counties north of New York City were cluster-free, including Westchester, where I live, many theaters were not reopening. My local, go-to movie house, the longstanding Mt. Kisco Theatre, where I had taken my kids to virtually every movie they had ever seen, permanently shuttered its doors in September. The next-closest theater hadn't reopened yet, so I drove 30 minutes to one I'd never been to before. The drive made me think about how our comfort zones have changed. We want to stay close to home; traveling even remotely beyond our new parameters causes unease.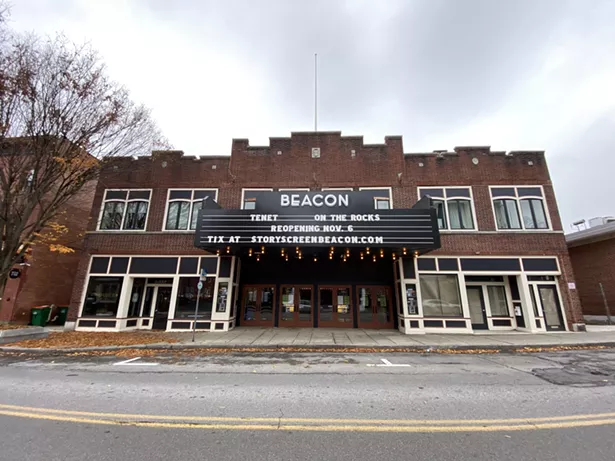 Before I left my house, I bought my ticket online for a contactless purchase. I could select my seat from a seating chart, as one does when purchasing tickets for a concert or a Broadway show. It made it feel like a special event, which, ironically, going to the movies used to be in its early years when it was a novelty and not the commonplace pastime it became. If I wanted snacks, I had to preorder them, which I skipped, since getting popcorn at the now-closed concession stand is still part of the experience for me.
There were two other people in the theater at the matinee, and one of those two other people in the theater happened to be sitting two rows behind the seat I had chosen. We were at least six feet apart, but it still felt too close, since the rest of the auditorium was empty. There were no previews, since there are no big studio releases coming out in the theater any time soon, as their openings have been delayed until next year, if not indefinitely. The only thing that screened before the movie was a reminder to put your mask back on at the end of the show. I saw Christopher Nolan's new film, Tenet, which the director refused to stream or make available on-demand, insisting that it only be shown on the big screen. I was lucky Tenet is nearly three hours long, because I spent the first 45 minutes grappling with whether or not I should take off my mask even though the other moviegoers and I were adequately distanced from one another. I wear my mask in the gym and when I rehearse in a local music studio, where I'm already comfortable, so why shouldn't I wear it in a big, enclosed space among strangers? I ultimately took it off but put it back on whenever I was overcome by a small wave of paranoia. I was preoccupied for most of the film and was never able to fully suspend my disbelief.
For the theater owners, the decision to reopen or not—even in counties that meet all the criteria—was an extraordinarily difficult one. This was particularly the case for the owners of smaller, independent cinemas that don't have the backing of a major chain. "What is paramount for us is the health and safety of our customers and staff," DeDe Leiber, codirector of Upstate Films, which operates theaters in Rhinebeck and Woodstock, tells me, regarding their decision to remain closed. "We don't know if there is data that says, 'If you go to a movie theater in a large space with a big volume of air, you'll be fine,'" she continues. "Additionally, the theaters we've been looking at, economically, can't go back to normal at 25 percent." She is currently renting out the Rhinebeck theater for $675 a night to private groups of up to 35 people. The package includes concessions for all and a movie of your choosing, depending on availability.
Faced with the same obstacles, Michael Hoagland, executive director of the Bedford Playhouse, chose to reopen the small arthouse theater, but not without some pushback: "It was not an easy decision, and it was not a unanimous decision. There were definitely people that thought that we should stay closed," he explains, "but what I can say to that is: We are not hemorrhaging any more money at 25 percent capacity than we were being closed. We are still losing money, but at least we are open for the community."