Happy Thanksgiving week, Hudson Valley. As difficult as it is, we hope you're all staying safe and limiting the size of your gatherings to help prevent the spread of COVID-19 this season. In the interim, here are some suitable events to check out as November winds down.
"Peace, Love & Lights" at Bethel Woods | November 23-January 1
Head to the site of the original 1969 Woodstock Festival, the
Bethel Woods Center for the Arts
in Sullivan County, where you can take in the splendor of miles of magical holiday lighting via a masked/socially distanced walk—or without even leaving your car. The center's "Peace, Love & Lights" light show is open from 5pm to 10pm every day (except Wednesdays, which are 6-10pm); the Bethel Woods Museum and Holiday Hub are open as well, with masks required. Tickets are $20 per vehicle.
The The Band Band Live from Daryl's House | November 27
To celebrate the 50th anniversary of the Band's 1970 album
Stage Fright
, revered tribute act The The Band Band will rock out via livestream from Pawling venue
Daryl's House
on November 27 at 8pm. In addition to classic Stage Fright tracks like "The Shape I'm In," "Time to Kill," and the title cut, the group will revisit other gems from the Band's rich catalog. Donations of $10 to $100 go to the performers and sustaining the venue.
"Parade of Lights" in Pine Plains | November 28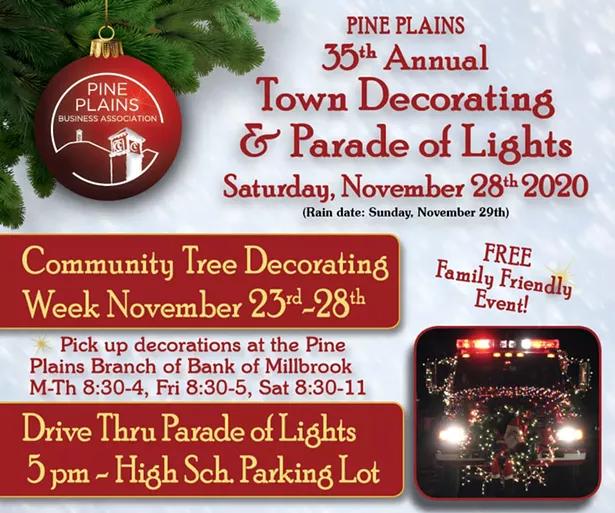 Pine Plains is another local location that's getting into the holiday spirit with its own seasonal light display. The 35th annual town-wide
Pine Plains Town Decorating Day and Parade of Lights
gets underway in the Dutchess County municipality and running on November 28 from 8:30am to 5pm. This year, in order to spread holiday cheer with the least risk of spreading COVID, the hard-working volunteer coordinators have implemented a free, drive-through parade. Parade participants will be parked at the Pine Plains High School parking lot so that the community can cruise through in the warm comfort of their vehicles with their family and friends. Viewers are encouraged to pack cookies and hot cocoa, listen to holiday music in their cars, and decorate their vehicles for the occasion.
Jimi Hendrix Tribute from Bearsville | November 27
On what would have been the guitar giant's 78th birthday, November 27, the
Bearsville Theater
will host a special livestream performance by leading Jimi Hendrix tribute act Kiss the Sky, The Re-Experience. Led by guitarist and vocalist Jimy Bleu, the band is renowned for its uncanny recreation of Hendrix's sound and style, and utilizes the famed Joshua Light Show, which provided the visuals for Hendrix and other artists at New York's legendary venue the Fillmore East; additionally, Bleu has performed with Band of Gypsys bassist Billy Cox and has even been endorsed by Hendrix percussionist Juma Sultan. The concert starts at 7pm. A donation is requested.
Pamela Zaremba in Beacon | through December 6
Electrolux by Pamela Zaremba
Running through December 6 at
BAU gallery
in Beacon, Pamela Zaremba's new series of photographs created during the pandemic, "Transposed." Zaremba captures a skewed domesticity in her work, imbuing the seemingly banal scenes with an undertone of
The Stepford Wives
-style creepiness. That the photographer happens to live in the suburban idyll of Westport, Connecticut, which the town of Stepford was based on in Ira Levin's satirical thriller, is a fitting subtext for the series. The photos also try and marry the current moment of heightened domesticity, when we are all spending more time in our homes, with the historical confinement of women to homes and house holding. As Zaremba notes in her artist's statement: "This pandemic prompted a resurgence of finding comfort in the day-to-day chores under a profoundly complex context, one that continues to unfold seemingly indefinitely."
"Centers of Somewhere" at Bard College | through February 14
A still from Dislocation Blues, a video by Sky Hopinka
"Centers of Somewhere," a powerful solo museum exhibition of work by Sky Hopinka, a member of the Ho-Chunk Nation of Wisconsin and the Pechanga Band of Luiseño Indians, is on view at the
Center for Curatorial Studies
at Bard College through February 14. Curated by Lauren Cornell, director of the Graduate Program and the chief curator for CCS Bard, "Centers of Somewhere" includes a newly commissioned work filmed around the Hudson Valley and is part of a series of solo shows at Bard designed to provide emerging artists with a platform to make a significant statement about their work. The museum is currently closed to the public, although the safety team reevaluates weekly. Please check the CCS Bard website to ensure the gallery is open before planning your visit.
"A Christmas Carol" in Rhinebeck | through December 20
Now through December 20,
the Center for the Performing Arts at Rhinebeck
will present its 15th annual production of Charles Dickens's beloved holiday classic, "A Christmas Carol"—but this year, due to the pandemic, the play will be staged outside the venue for a series of drive-in performances directed and adapted by Lou Trapani with musical direction by Paul and JoAnne Schubert. The all-ages-appropriate shows will take place Thursdays through Sundays at 7pm (no shows on November 26 or 27), with parking on the center's lawn. Tickets are $20.
"Rhapsody in Black" at the Bardavon | December 1-February 28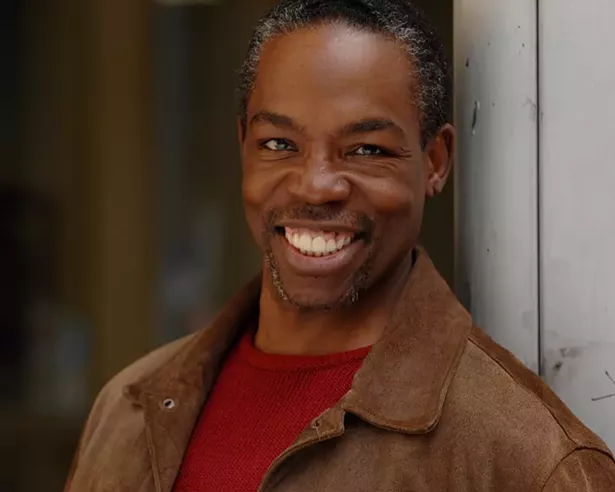 Written and performed by LeLand Gantt and developed at New York's Actors Studio by Estelle Parsons, "Rhapsody in Black" is an electrifying, autobiographical, one-man show that explores Gantt's personal journey to understand and eventually transcend racism in America. "I'm just trying to start a conversation," says the actor, who is known for his roles in such films as
Miracle at St. Anna
(2008),
Presumed Innocent
(1990), and Requiem for a Dream (2000). "Rhapsody in Black" is streaming via Poughkeepsie's
Bardavon 1869 Opera House
from December 1 through February 28 at 9am. Performance are free, but reservations are required.
To find out about more upcoming events in the Hudson Valley, subscribe to our weekly newsletter Eat. Play. Stay.