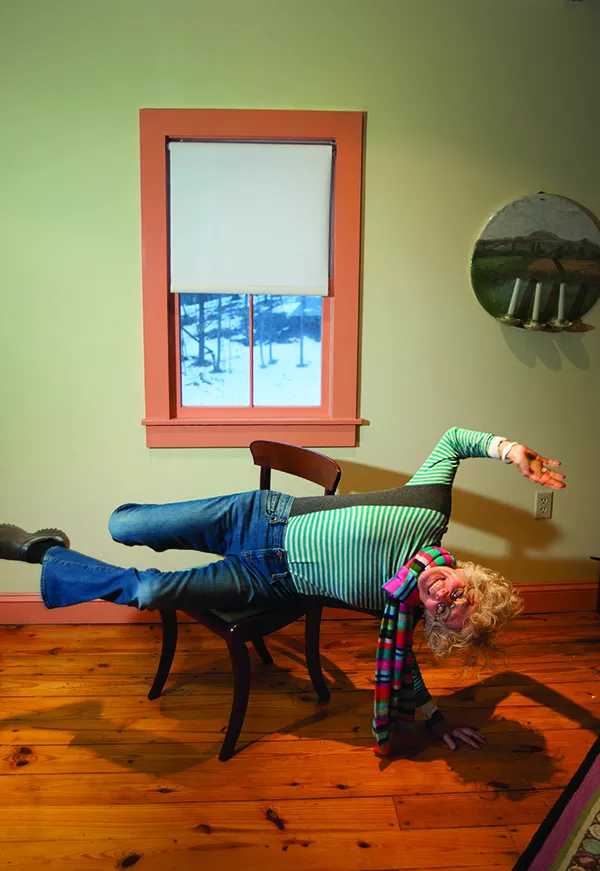 It got worse," Lois Walden announces. Grinning, the singer, actress, and author of One More Stop (Arcadia, 2010) and Afterworld (Arcadia, 2014) ushers me inside her gabled Victorian home in Milan. She bustles around the flower-filled kitchen in stocking feet, offering tea (a fragrant home blend of vervain and silver-needle white) while unspooling the latest installment of a five-day saga to get the propane heating fixed. She's combating the chill with a crackling fire on the hearth, but it barely seems necessary: Walden radiates warmth. With her wide-set blue eyes, ready smile, and flying wedge of Harpo Marx curls, she's a cheerful host with a bottomless treasure of stories.
There's the one about landing a role in Martin Scorcese's Mean Streets. The affair with a member of Bob Dylan's Rolling Thunder Revue. The incapacitating car accidents in Tahoe and Red Hook. Oh, and the time her gospel group sang for the pope. More tea? Maybe a headstand or two?
The whirling dervish of creative energy that manifests as Lois Walden has lived here for 28 years with Margot Harley, producer and co-founder of The Acting Company, who's based in Manhattan during the week. Painted in calming pastels, with hand-painted tiles by Martine Vermeulen and a felicitous jumble of books, artwork, musical instruments, unfinished knitting, crystals, and plants, it's a cozy retreat. "I never go out," says Walden, who nevertheless studies yoga at Sacred Space and raves about Red Hook's Get Juiced. "It's not that I'm a hermit, but I really love beauty. I like comfort. I like feeling that I belong somewhere."
Maybe so, but a glance at her website bio (nicknamed The Saga) attests to a lifetime of packed suitcases. Walden dropped out of Boston University to tour the segregated South as the singer and only white member of trombonist Snub Mosley's jazz band. She opened for Rodney Dangerfield and Red Skelton in Borscht Belt hotels and Atlantic City, acted in New York, and moved to LA for what she now calls "my lost years. I did more drugs, had more sex. I don't know what else you do in California, except drive your car."
In the 1990s, Walden helmed the SongmastersInsideOut series at the Algonquin's famed Oak Room, appearing with Laura Nyro, Brian Wilson, Roberta Flack, Al Jarreau, and other legends. With gospel supergroup Sisters of Glory (whose members included Thelma Houston, Mavis Staples, Chaka Khan, and Phoebe Snow, among others), she performed at Woodstock '94 and at the Vatican. And for nearly two decades, she's crisscrossed the country as a teaching artist with The Acting Company. It's no accident that her first solo album is called Traveller and her first novel One More Stop.
If there's a downside to following so many different creative paths, Walden doesn't see it. "I'm a triple Aquarian—I like things to be electric, to move quickly," she says. "Every seven years we grow a new body. Our cells morph. We're constantly transforming, so why as artists can't we tap into that?"
"I guess I'm all about expression," she says, adding, "I'm a chameleon." This flexible self-definition extends to her personal life. For Walden, "Gender issues are nonissues. I've lived with a woman for 26 years, who I adore, so I guess I'm gay." But there've been significant men too, including a long relationship with actor Lenny Baker (Next Stop, Greenwich Village), who died in 1982. Walden says, "Physically I love men, emotionally women, and I'll take the emotional. The physical you can get anywhere."
She excels at libidinous characters, from the pansexual Loli in One Last Stop (a Lambda Award finalist) to Afterworld's rapacious Duvalier clan, who steam up the Louisiana swamps with a Pandora's box of forbidden lusts. How did she start writing novels? Walden tucks her legs onto the couch, yoga-flexible. Seven years ago, when she was feeling at sea, a friend sent her to a psychic. "I said, 'I don't do psychics. I lived in California. I am psychic.'" But her friend insisted, saying, "He'll change your life." Walden recalls, "So I walk into this really strange apartment in Manhattan Plaza, and he greets me with, 'The book. There's a book in a drawer. You wrote it many, many years ago, but you didn't know what it was about. It's your life's work.'" She was astonished.
"I never wanted to be a writer," she says. "I don't have the patience." But she dug through the drawers in her office, and found something she'd written in the '80s while her father was dying. "Just vomit," she says. "Page after page about how much I couldn't stand him." Still, she followed the psychic's instructions, picking a passage at random. It was about her mother, who'd taken her own life when Walden was 27. "I said, 'Oh no. No, no, no. I can't deal with it.' But then I sat down and started to write."
A comic and passionate road novel, One Last Stop borrows a lot of particulars from Walden's life—narrator Loli is a mostly lesbian traveling arts teacher with a gift for inspiring recalcitrant teens—and takes the reader deep inside its narrator's head, where her dead mother's voice asserts itself freely.
After Walden's mother died, she stopped singing for years. Music was something they'd shared; her mother was "a great pianist, very musical." The family was prosperous. "We lived in Larchmont, very privileged. My father was a successful broker—an arbitrageur, very handsome. My mother was beautiful, talented. It looked like perfection." Walden's sister, five years older, remembers an idyllic childhood. But their mother slid into depression and drink during Walden's teen years. "When I grapple with my emotional issues—which I have—I go to yoga, meditation, herbal medicines, therapy. I put my foot on a different path early on," she says, gazing out at the snow that's beginning to fall. "I tried as hard as I could, but I couldn't save her. This notion of saving somebody, or being saved, it haunts you."
The dead and the haunted fill Walden's Afterworld, a wiggy Southern gothic narrated by four generations of a profligate Louisiana sugar-cane dynasty, along with some loquacious nonhuman entities—Swamp, Sugar, and the title character, a magisterial presence who orchestrates the transitions from life to death (and sometimes back) during one fateful hurricane season:
"As the blues come to roost in God's hallowed halls across the city, parishioners wail. They grieve for the sudden loss of loved ones. There will be no goodbyes. There will be sorrow for years to come. Once again, New Orleans will be a deeply wounded city."
Walden is about to deliver a revision of her third novel Beyond Expectation to editor Ann Patty, who also helped her shape Afterworld. It's about Daisy Wentworth, a "visual genius" with Asperger's, and her estranged father, an equally brilliant musician who left the family when she was young and who shares her condition. Like all Walden's work, it's written in first person, and when she reads the opening aloud, the change in her affect and vocal rhythms is startling. She writes like a character actor, disappearing into other voices and skins. "I'm a process person, so I can't detach. I feel their emotions in my body." This process is grueling, but richly rewarding. "I've tapped into my heart more than anything I've ever done, even writing songs," she says of Beyond Expectation. "I've gone into places I never wanted to go. But I did it, kicking and screaming."
Will there be more novels? Walden's not sure. "At the end of every project I think, now I'm going to be a plumber, or raise seedlings," she says. "Books take forever. I disappear from the world. I don't see friends. I don't see myself—I disappear into these characters." Meanwhile, she's working on two collaborative projects. The Buddhist-themed opera Mira: Great Sorcerer, written with Jean-Claude Van Itallie and composer Andrea Clearfield, will have its first workshop this winter. She's also writing High School Yearbook, a nonfiction book about teenagers with cancer, for the multiplatform organization of the same name.
Walden's been teaching teenagers for years, and loves tapping the deep emotions and vulnerability underlying an often-resistant facade. "Teaching is the true collaboration. Every time I get in front of a class, I think I'm going to throw up. Because it means so much, working with teens. I feel a real responsibility. I've watched the educational system in this country be destroyed," she asserts. "I believe that everyone is a writer and everyone has a story, just like everybody can sing—not necessarily sing well, but everyone has a voice."
Lois Walden's unique voice rises with passion. "We're meant to change. Everything in life is about learning—not learning, understanding. I've been trying to understand this world in its chaos for decades. Getting older is really challenging, especially when you're someone like me. Inside, I'm Peter Pan."