If it's Friday, there must be a bank failing somewhere across the country."
That was the dire beginning of a CNNMoney.com article written by David Ellis toward the end of February. Just a few days later, National Public Radio aired some good news: There had been a hiring spree, even in this economy. Then the sobering news: it was the Federal Deposit Insurance Corp. adding hundreds of fresh employees to the new Irvine, California, office to deal with the country's massive number of collapsing banks. According to the FDIC's failed banks list, 25 banks closed in 2008 alone—a number that's just two less than the list records for the entire scope of October 2000 through the year 2007. So far in 2009, there have been more than a dozen additional closures. But if you scroll down the list of failures, you won't notice one community bank from the Hudson Valley.
In fact, if you talk to Rhinebeck Savings Bank's President and CEO, Michael Quinn, he'll tell you that while Washington Mutual and IndyMac were going under in 2008, his bank experienced its best year in earnings. "I think part of [that is due to] the good economy we've had in this area and part of it is the lending that we do," he said. "We don't do subprime lending, which is creating most of the headlines in the country, and we are a fair lender. People want to say it's conservative, and maybe it was, compared to practices that have been out there over the last 10 years. But a lot of those practices are proving to be completely insane."
Especially now, community banks seem more comfortable identifying themselves as conservative—what was once viewed as a negative is now a buzzword for peace of mind. Quinn said he recalls instances where customers would become frustrated that Rhinebeck Savings wouldn't meet the loan terms that lenders like Countrywide Financial were willing to offer. Now that the bubble has burst, it's the community financial institutions that are poised to vocalize the long history of products and services they've offered. Many of the community banks in the Hudson Valley are more than 100 years old and have weathered the Civil War, the World Wars, and the Great Depression, as well as more modern financial turmoil like the savings and loan crisis in the late '80s and early '90s. Throughout this time, most of these banks have stuck to their traditional terms of lending and have steadily, and safely, grown because of it.
James Davenport, the president and CEO of Rondout Savings Bank, said that the big bank failures and forced mergers of the past year are mainly due to drifting from banking basics—abandoning sound loan underwriting principles and then owning securities backed by questionable residential mortgages. At his bank, they focus on the time-honored techniques of determining credit merit. "Rondout Savings Bank has always had a responsible, conservative credit culture," he said. "We approach our loan underwriting from a commonsense perspective. We get to know our borrowers and require down payments, cash flow, decent credit scores, and collateral. Our strong asset and capital base underpins our rock solid balance sheet."
Knowing the borrower has also been a major key in differentiating community and national banks. Quinn said that Rhinebeck Savings makes a point to get to know the people in the community, and by doing so, it makes it easier to help them through difficult times. "One of the famous 'five Cs' of credit is character, and I think local banks know the character base of customers more so than large banks that are making decisions out of the area," he said. This community knowledge impacts the bank's lending choices; Quinn said Rhinebeck Savings is continuing to give money to local businesses that are dealing with tough times in part because the bank believes in their experience and talent, and that they'll still be standing at the end of the day.
Paul Merski, chief economist for the Independent Community Bankers of America, also touched on this point in an address before Congress in January. Merski told lawmakers that while community banks represent only 12 percent of bank assets, they make 20 percent of all small business loans and make half of all small business loans under $100,000. The businesses they fund are responsible for creating 70 percent of the net new jobs in the country.
"Community banks rely on relationship lending in their communities, not on relationships with investment banks or hedge funds," Merski said in the address. "Community bankers live and work in the communities they serve and do not put their customers and neighbors in loan products they can not possibly repay. While community banks did not cause the current turmoil, they are well positioned and willing to help get our economy back on track."
Beyond a more personal connection than national counterparts, community banks also have an advantage over bigger banks because they know the community's market better. "When a customer chooses to bank at a community bank such as Rondout Savings Bank, they inherently get the value of local leadership," said Davenport. "All of our credit decisions are made locally, and we intimately know the markets we do business in. We fulfill the role of 'trusted advisor' to our customers."
Marjorie Rovereto, the president of Ulster Savings Bank, said that being local encourages community banks to really apply ethical business practices and to price competitively, because they know they're going to see customers walking down the street. "We look for the best business decision for everybody involved," she said. "If we ever err, it's on the side of the customers, to do better for them, and you don't see that with larger banks that have particular policies and don't have negotiating powers."
One illustration of this is the fact the community banks aren't governed by the interests of the stockholder, just the stakeholder—the customer. "Community banks don't have the constant reminder that they have to make quarterly earnings to give quarterly dividends," Rovereto said. "It's driven in a much different way."
Not having to be concerned about boosting a short-term stock price allows banks to invest in things that will be a benefit in the long term, like new technology, employee training and development, and new products. "Although these investments may depress short-term earnings," said Davenport, "we can look beyond the next few quarters or year and know the allocations are worth it since they will help both the bank and our customers."
Credit unions have also been faring well based on their not-for-profit cooperative model of business that is without any sort of stockholder role. According to the National Credit Union Administration, there are more than 10,000 credit unions in the country today, with over $480 billion in assets serving more than 79 million people.
"We have only one group of people to please, and that's the members of the credit union," said Bill Spearman, president and CEO of Mid-Hudson Valley Federal Credit Union. "Our philosophy is that our member is our first priority. We only go into the investment market if our member demand for credit is not where it needs to be. Additionally, most of us are federally chartered, so we're regulated by the National Credit Union Administration, which has pronounced fairly strict regulations in terms of our powers and what we can invest in, and we're very strictly monitored."
There has been some news about the $1.1 billion loss that US Central Federal Credit Union, the wholesale financial center of the nation's corporate credit unions (which then provide services to the retail credit unions), reported for 2008. Spearman said these are paper losses that will be recapitalized by the National Credit Union Share Insurance Fund, which will then be replenished by the retail credit unions themselves, not taxpayers. "In our particular case, we've never cost the American taxpayer one dollar, and we're proud of that," he said. "And it's very effective for us in Congress, and we want to continue to keep that process going."
Though the majority of the more than 8,000 community banks in the US have remained secure, this segment of the banking industry has suffered its share of failures. Quinn said many of the community banks that have gone under were in "high-flying" areas like Florida and California, where real estate development was booming, and indeed, National Public Radio reported that many of these bank failures were due to aggressive lending to commercial real estate developers who now are not paying back the funds. But here in the Hudson Valley, playing the conservative card is paying off. Rondout Savings Bank reported growth for its loan portfolio and its deposit base in 2008, and Davenport said the bank purchased branch space that tripled its size. Rovereto said that she believes Ulster Savings went the last five years without owning any foreclosed properties, and even now said the bank owns only four properties out of the 15,000 they service. Community banks throughout the Hudson Valley are hoping that unsettling financial times will remind the community of the advantages of banking locally.
"The more you support the local businesses and the local banks, those profits stay in this community and drive lending in this community," said Quinn. "It doesn't get shifted to other areas where another, larger bank may have opportunity and isn't concentrated in this area. The more business we have, the more we're able to do, not only for our customers but also for the communities in which we live and serve."
Rondout Savings Bank
Five locations in Kingston
and West Hurley
www.rondout.com

Mid-Hudson Valley Federal Credit Union
Nine locations in Dutchess,
Orange, and Ulster Counties
www.mhvfcu.com
Rhinebeck Savings Bank
Ten locations in Ulster and
Dutchess Counties
www.rhinebecksavings.com

Ulster Savings Bank
Twelve locations in Ulster, Dutchess, Greene, and Orange Counties
www.ulstersavings.com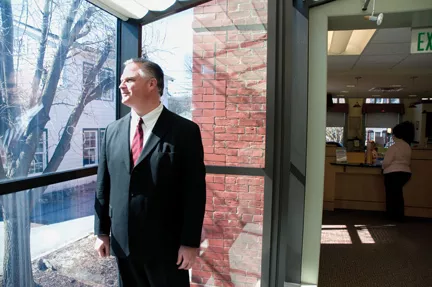 Hillary Harvey
Michael Quinn, Rhinebeck Savings Bank president and CEO
Hillary Harvey
Bill Spearman, Mid-Hudson Valley Federal Credit Union president and CEO