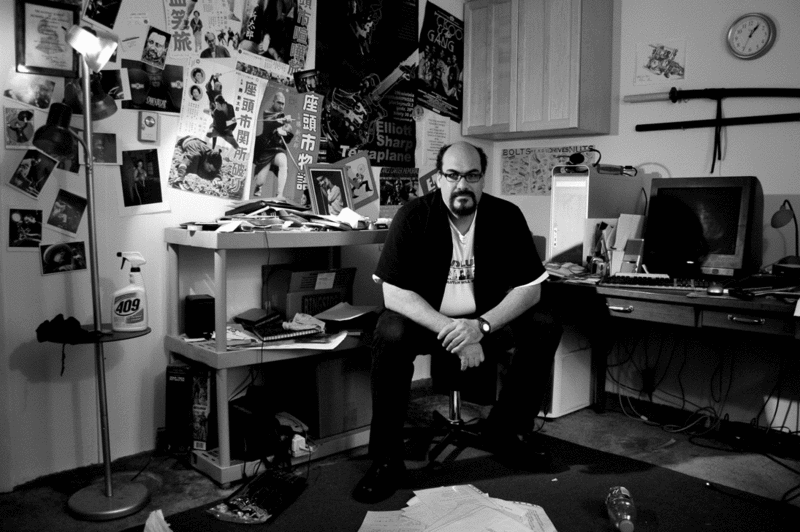 Maybe you were in there. August 4th's Cafe Chronogram event, inside the yawning cavern of Kingston's Muddy Cup coffeehouse. If you were, this is what you saw. And this is what you heard. And this is what you felt.
From the stage area at the front of the venue, the emcee (yours truly) introduces the headliner. Somewhere deep in the back of the room, a shout begins. It gets louder. Closer. Louder. Deeper. It becomes a full-throated, gospel-testifyin' field holler. Louder. It batters the tall brick walls of the space, rattles the massive glass of the floor-to-ceiling windows. Louder. The floor trembles. Closer. And still the yell gets louder. Closer. Louder.
From the shadows a giant steps forth. A towering, absolute bear of a man, a figure every inch the match of that huge, powerful voice. He stands behind an upright bass and plucks out a thick, lowdown, spine-throbbing line. He trades roars and growls with a saxophonist, belts out hot, angry blues in jagged, blood-flecked chunks. He dispenses poetic couplets of a highly unsettling nature—something about smashing his hand with a hammer.
Meet Eric Mingus. He makes quite an impression.
If the last name sounds familiar, you're right: Eric, 43, is indeed the son of legendary bassist and composer Charles Mingus (his mother was the jazz giant's third wife, Judith). But in the presence of Eric's own art, a powerfully moody, darkly cool, Beat-inspired combination of rock, blues, soul, jazz, and sung/spoken poetry, the family legacy is rendered a mere footnote. In an age when the descendents of too many jazz icons—Duke Ellington's son, Mercer; Cab Calloway's grandson, C. Calloway Brooks—have been all too content to earn a crust by milking their heritage in tribute shows, Mingus has always done his own thing. Though it hasn't always been easy.
"It was funny," Mingus recalls with a laugh. "When I was younger and decided I wanted to play the bass, [longtime Charles Mingus drummer] Danny Richmond said to me, 'Man, do you realize how good you're gonna have to be?'—meaning that people would be expecting me to play like my dad. That was pretty intimidating at first, but then it became more of a challenge. It got me to try to sound different, to come up with my own approach to the bass and to music. Yeah, my dad's name has opened a lot of doors for me, which I'm really grateful for. But I try to stay conscious of that, and I always try to take as many other people with me as I can when I go through those doors."
"You could say Eric's blues are dyed deep in his marrow, and it'd be true," writes music journalist Gene Santoro in the liner notes to Mingus's new album, Healin' Howl (Intuition Records, 2007). "But his blues aren't Charles's blues, though there are some family resemblances. [Mingus has] lived the blues, he's given away his heart and had it smashed, but he's never sold his soul. In that way, Eric is his father's son."
Born in New York City, Mingus was eight years old when the family moved to the area, first to Stone Ridge, then Rosendale; Mingus attended Accord's Rondout Valley High School. In addition to unavoidably discovering music at an early age, he also found poetry. "Of course, music was always very much around the house when I was kid, and I got to meet a lot of great musicians," he says. "But I also got turned on to Langston Hughes and T. S. Eliot. Allen Ginsberg and Jack Micheline were good friends of my dad, and they both were really encouraging to me when I was starting to write my own stuff."
Another early love was boxing. "After my dad died [in 1979], I was pretty angry and was getting into a lot of fights at school," Mingus says. "I guess I have a fighter's mentality, and boxing was the obvious way to channel that. So I ended up training with [late boxing legend] Floyd Patterson in New Paltz. It's been years, but lately I've started to get back into training. To me, there're really a lot of parallels between boxing and music. I mean, Muhammad Ali is like a jazz master, you know?"
In the mid '80s, Mingus moved to Boston to study voice and bass at Berklee College of Music but only lasted "a semester and a day," he says, citing a clash of ideals with the conservatory's faculty. "Everything was too by-the-book there," he grumbles. "For one of my performance classes, I played a version of [jazz standard] 'Misty' and I did it kind of 'out,' in free time. They told me it wasn't good because people couldn't dance to it. But what's really funny is that, years later, they asked me to teach a couple of workshops there."
The requisite move to New York City came next, and there Mingus read his work at gritty rock clubs ("I didn't want to do the typical 'jazz poetry' scene like everyone else," he says.) while holding down a gig as a martini mixer at the staid Old Granddad whiskey bar in Midtown. In 1993, after he had toured as a vocalist with the bands of jazz pianists Carla Bley and her daughter, Karen Mantler (whose group has also featured Jonathan Sanborn, son of saxophonist David Sanborn), Eric was introduced to The Kinks' Ray Davies, who was then directing Weird Nightmare, a documentary about Charles Mingus. The following year Davies invited him to help work on the film in London, where the young bassist-poet soon formed a duo with trumpeter Jim Dvorak (alas, no relation to the famed Czech composer). The two recorded an album, This Isn't Sex (eventually released in 1999 on Slam Records), but after he'd spent two years on the UK and European jazz circuit and taught vocal improvisation at London's Community Music House, Mingus ran into visa snags and left.
But, of course, the prodigal son must always return. And these days Mingus lives in West Shokan and commutes once a week to New York to teach vocal techniques. "Everything's come full circle," he says. "I had to leave and come back to the area I grew up in to actually appreciate it." He's released four albums as a leader since moving back to the States, occasionally sings with his organist-neighbor Bruce Katz's band, the Organiks, and sometimes performs at Levon Helm's star-studded Midnight Ramble sessions. In addition to regularly headlining in the US and Europe, Mingus has been invited by Hal Willner to perform in the filmmaker's recent tribute events honoring songwriter Doc Pomus, folk archivist Harry Smith, and literary luminaries Edgar Allen Poe and the Marquis de Sade; and lately he's toured with Downtown guitarist Elliot Sharp's avant-blues unit, Terraplane.
Another of Mingus's frequent collaborators and a Midnight Ramble cohort is Woodstock saxophonist Erik Lawrence, whose father is the late postbop sax king Arnie Lawrence. "Eric is by far one of the most intense performers I've ever worked with," says Lawrence, who also leads the jazz/poetry projects Merge and Mystery Loves Company and often works with Willow-based drummer Ben Perowsky, the son of New York reedsman Frank Perowsky. "Before he goes on stage, he goes into this incredibly deep, almost meditative state. And then he just totally bares his soul when he performs."
In May of this year, Mingus met and played with Irish-born saxophonist Catherine Sikora at a memorial event for drummer Lance Carter. The symbiosis was instant, and the two decided to form a duo, Clockwork Mercury, which takes its name from a line in "Silverfish," a piece by poet Bernard O'Donoghue. "Right away, we really clicked," says Mingus. "Playing with Catherine has really reinvigorated what I do. In fact, it doesn't feel like I've ever not played with her."
"Playing with Eric is [an experience of] pure sound," says Sikora—another avid boxer and poetry lover—who lives in New York and also plays in the groups Burnt Sugar and RX. "It's the purest, most focused concentration on sound and melody. I always feel like I'm all ears when we play together, which is the pinnacle of playing, really." The unsigned twosome has a haunting, addictively atmospheric debut in the can and is touring Italy this month with an expanded lineup in support of Mingus's Healin' Howl.
With any artist that works in the undefined, neither-here-nor-there world where music collides with poetry, one can't help but wonder: If forced to decide, which would he choose, the former or the latter? "Sometimes I wish I could just dive right into the poetry full time, but it's really hard for me to separate the two," says Mingus. "I've had some poems published in Chronogram and other magazines, though I haven't done any books yet.
"But I'll record a piece and to me that will feel like, 'Okay, it's been published.' Of course, it's not really the same thing as putting it out there for people to read, but I just can't imagine other people reading my stuff. I don't write it with that in mind. When I write something it always feels like I'm singing it."
The Clockwork Mercury track "Blue Steel," for example, makes it easy to see his point. A slithering, diabolical
ode to a beloved handgun, the half-sung/half-spoken piece would lose much of its menacing impact were it to appear only in cold print, devoid of Sikora's smoky sax and Mingus's nimble bass—not to mention his jittery, serial-killer ticks at the close.
A devoted and focused artist, Mingus has no plans to settle down and start a family any time soon. "No, I couldn't have kids. I'm on the road too much," he says as he prepares for the upcoming Italian tour. "Right now, I'm actually trying to find someone to take my dog before I go away. It's really hard to give him up, but it's just not good for him that I'm gone so much."
Should he ever change his mind when it comes to having children, however, those kids would find themselves in a tough place. With a dad like him, they'd have a lot to live up to.
Clockwork Mercury, featuring Eric Mingus and Catherine Sikora, will play at the Knitting Factory in New York on December 13. Eric Mingus's Healin' Howl is out now on Intuition Records. www.myspace.com/ericmingus.