The first thing you notice at Lynnhaven Farms is the activity, most of it animal. A peacock struts and occasionally screams. Four large white geese preen after a hot afternoon dip, and honk protestations at a stranger. A lop-eared Nubian goat patiently and prettily allows herself to be shaved by two young 4-H volunteers. Two young Nubian bucks eye me with interest. I look around at pens with La Mancha goats and Nubian goats and Boer goats, and realize I'm in caprineophile heaven.
Located in Pine Bush, Lynnhaven Farms is run by Lynn Fleming. Lynn is a big, strong woman with curly blonde hair and unexpectedly manicured nails, tomato red. Don't be misled—Lynn is a farmer, through and through. She can milk a goat, trim their hooves, castrate the bucks, shoot a .22, midwife the does, oh, and by the way? Lynn Fleming makes some of the best chevre in the Hudson Valley.
Lynnhaven has three kinds of goats: Nubians and La Manchas, which are dairy goats known for their high-butterfat milk, necessary for cheese-making; and Boer goats, larger, stockier and used for meat. Nubians are tall and leggy, with long lop ears, like a hare, and high-bridged, long noses. La Manchas have straight faces, also known as "dished," and look more like deer. Lacking external ears, they have round craters where their ears should be, giving them an appearance of incompleteness.
Descended from capra aegargus, or wild goats, these domestic cousins have lived and worked with humans since Neolithic times, over 10,000 years ago. Goats have evolved to survive on every continent except Antarctica; they live in deserts, on mountaintops, and everywhere inbetween. Goat hide has been used for carrying both water and wine, as well as being used for parchment prior to the invention of the printing press. Their milk is used for butter, cheese, yogurt, and soap.
The Veal of Lamb
Called
cabrito
in Spanish,
gida
in Greek,
cabra
in Portuguese,
karnéng
in Tagalog, and mutton in the English speaking world, goat meat is popular in Central and South America, Italy, Greece, Spain, Africa, the Philippines, and the Caribbean. Almost everywhere except the United States. Ric Orlando of New World Home Cooking is an enthusiastic promoter of goat meat, and occasionally features it on the menu of his Woodstock restaurant. "I think as a food it's a fabulous, wonderful, sustainable alternative to other meats that's accepted all over, except here. I think of it as 'the veal of lamb'; it's pinker, and more delicate," says Orlando. "It took Americans 250 years to accept goat's milk and goat cheese. We don't eat mutton because we don't like the smell of sex. Goat smells, too. I make curried goat at the restaurant; it's a known dish, people have heard about it and it sells pretty well," says Novi.
John Novi of the Depuy Canal House is also a big fan.
"Coming from an all-Italian family, I was introduced to goat meat as a child. Some of my favorite ways to prepare goat is in a white onion sauce, or alla cacciatore, Hunter's style, with tomato, garlic, and spices. Ground goat meat makes a great stuffing for quail or pheasant.
"When I had goat meat on the menu it was almost always a good seller. Older, more adventurous eaters would try goat meat as an appetizer or dinner. I used to have a customer, a little Italian woman, who would ask me to save and cook the goat's head for her, split open, broiled with butter and spices. It's a delicacy in Italy."
For the less adventurous among us, Novi recommends braising as the best way to cook goat. A combination of red wine and brown stock, as well as aromatic vegetables (onions, carrots, and celery), makes a good, easy braise. Ric Orlando also cooks goat in a simple chicken stock braise, as well as slow roasting a whole 25-pound cabrito rubbed with lime over a fire for Cinco de Mayo.
Stark White
New York is ranked fourth in total cheese production nationwide. According to a survey by the New York State Department of Agriculture and Markets, goat dairies are on the rise, with about half of the 425,450 gallons of goat milk produced annually going into cheese production. About 27 percent is sold as goat's milk. Smaller farms like Triple H and Lynnhaven tend to shy away from selling goat's milk, due to stringent regulations as well as needing it for their cheese.
Goat milk is pure, stark white, as opposed to creamy, yellowish cow's milk. Its fats and proteins are easier to digest than those in cows' milk, making it a better choice for the lactose-intolerant. According to the American Dairy Goat Association, more goats' milk is consumed worldwide than that of any other animal.
As we stand inside the goats' pen at Lynnhaven Farms, at my request, I ask Fleming if Nubians and La Manchas have different personalities.
"The La Manchas will go out in the rain and eat rose briars on the other side of the street while the Nubians look outside and say what are they doing? La Manchas are great milkers, with devilish personalities. If there's trouble, they're in it. Saki ate my 2007 datebook. Left November and December. Sometimes they bite the Nubians' ears. I like to say they've got ear envy."
Right now, Fleming is making primarily fresh cheeses—plain chevre and flavored—as well as experimenting with bloomy rind cheeses.
Probably the most famous of the bloomy rind cheeses is Camembert. Called croute-fleurie ("flowering crust") in French, bloomy rind is simply a surface mold, usually sprayed onto the cheeses and left to age in humid cheese caves.
In addition, many artisanal cheeses are coated with ash, as Fleming has done here. She uses old soda machines, purchased on eBay, as aging caves. We cut into one of the experimental bloomy rinds, and the milky, yet sharp flavor could compete with any Loire Valley chevre. Goat cheeses are in season from April to November. Chevre literally means "goat cheese," and it can be fresh or aged. Fresh goat cheese is spreadable; aged, sliceable. Fresh goat cheese has a cream-cheese-y taste, with more tang, and possibly a more crumbly texture.
Home on the Farm
As we tour the farm, the domino effect of farming comes into play. Fleming apologizes for the state of the barn, saying she wishes it were cleaner, but the tractor broke. And the broken tractor becomes a litany—not an excuse, but a litany—of how, out of one malfunction, come many.
I turn around to see a small Boer buck appraising me from the bushes.
"That's the mayor," she says. No more explanation is needed.
She shows me her Boer buck, a tough-looking fellow with the classic roan head and white body. He ignores us, but his horns are large and he has a beard and a face like a bison.
Boer goats (Boer is Dutch for "farmer") are bred expressly for meat. Dot Hempler at Triple H Ranch in Hudson raises Boers, in addition to her dairy goats—La Manchas and Nubians. "We market goat meat as 'the other red meat,'" Hempler says. "We have it cut like beef—into chops, et cetera. We sell it in farmers' markets. People would say they'd had it in France or the Caribbean. You cook goat like squid—either you flash it or cook it for a very long time."
Both Fleming and Hempler evoke those brave, tough women who settled the American prairie. Though they each have volunteers, and occasional employees,—and Fleming has her teenage son,—Tyler, both of them are essentially running their farms solo.
"If there's any hope for agriculture in this country, it's with people like me," said Fleming.
As I wandered Triple H, I noticed a bumper sticker on Dot Hempler's pickup: "a woman and her truck is a beautiful thing."
So is a woman and her farm.
Jennifer May
La Mancha and Nubian dairy goats at Lynnhaven Farm.
Jennifer May
Dot Hempler of Triple H Ranch in Hudson
Jennifer May
Chevre aged in a bloomy white rind at Lynnhaven Farm.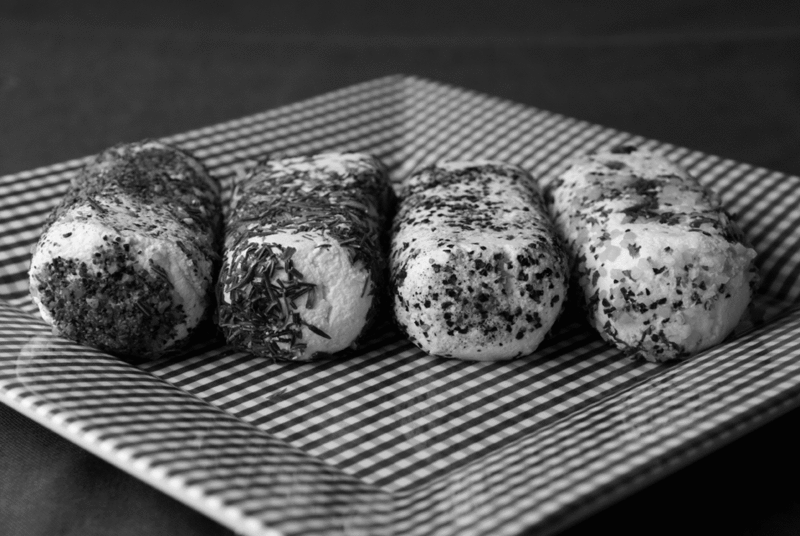 Jennifer May
Fresh chevre logs at Lynnhaven Farm.