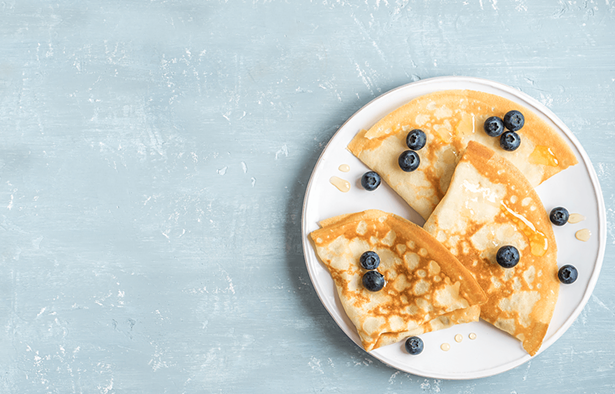 Ohana Café, a creperie and brunch spot in Saugerties, opened in August 2018 and has been dishing up Hawaiian-style crepes to hungry brunch-goers ever since.
A New York native, owner Aimee Marone spent 10 years in Hawaii, immersed in island culture and learning first-hand about the concept of "Ohana," which describes a close-knit community that operates as a family. When Marone and her mother, Rita, decided to open a restaurant, this concept of extended family was at the heart of it—a place for community to gather and bond over great cuisine.
"I wanted an area that was Ohana-based—mom-and-pop shops, art-based, neighbor-helping-neighbor—the small community vibe that I felt could really grow and embrace the idea that I was looking for," says Marone. The café found a home on Partition Street in quaint downtown Saugerties. The menu centers around Hawaiian and French-inspired cuisine like fruity crepes and slow-roasted pork and pineapple.
After the recession of the mid-1990s, Marone found herself without a job and in search of a new path—one that ultimately led her to the discovery of her life's passion—opening an authentic creperie. A short vacation turned into 10 years in the island state, when Marone fell in love with the ways of Hawaii. But she always yearned to bring the culture back home to New York.

"It's just a totally different way of life that I completely adored and embraced. They really embrace their ancestry, living off the land, and working through the community," Marone says. "It's a big change from growing up in New York, where people are always too busy. Like, how it's difficult for people to even say hello, sometimes."

In an ode to the slower pace of the Hawaiian islands, Marone's restaurant has the sleepy feel of a small-town diner, peppered with conversation and the clinking of silverware. Marone's background as an interior designer informed the pleasant, understated design of the restaurant.

Powder blue metal chairs set off the wood floors and a rotating selection of works by local artists hang on the exposed brick walls. Despite its minimalism, the interior evokes a warmth and ease synonymous with the laid-back lifestyle of Hawaii, with little touches of island culture sprinkled throughout.
As for the cuisine, the cafe combines the best of both worlds—or states, to be precise—using local ingredients to masterfully create a menu rich in flavor. From sweet crepes topped with caramelized apples to homemade quinoa tossed with craisins, spinach, mushrooms, onions, and walnuts, Ohana Café effortlessly blends together the best of multiple elements and cultures to create the perfect cuisine—and culture.