The Woodstock Film Festival is back for its 19th year, with a lineup of bold, boundary-flouting independent films, panels, concerts, and special events taking place from October 10 through 14. Though festival organizers are keeping most of their cards close to the vest for the time being, they did reveal that Julie Taymor and Matthew Heineman will receive the Honorary Maverick Award and Filmmaker Award of Distinction, respectively.
Julie Taymor: Maverick Spirit
Taymor's success has translated across the stage and onto the screen, her work earning her Tony, Emmy, and Grammy wins, as well as an Oscar nomination. Woodstock Film Festival Executive Director and cofounder Meira Blaustein said Taymor is ideally suited for the Honorary Maverick Award.
"She's amazing, probably one of the most fiercely independent filmmakers of today," Blaustein says. "A true artist, both in the theater and on the screen."
Taymor's extensive credits as a stage director include "M. Butterfly," "Grounded," "Spider-Man: Turn Off the Dark," and "The Lion King," for which she received the Tony Award for Best Direction of a Musical. Taymor's film credits include a pair of Shakespearean adaptations, Titus and The Tempest, as well as the acclaimed musical drama set to tunes by the Beatles, Across the Universe, which will be screened in celebration of its 10th anniversary during this year's Woodstock Film Festival. Taymor's next screen project will be My Life on the Road, a biographical drama about Gloria Steinem starring Julianne Moore.
"Julie is a director who marches to her own drum. She has a unique vision, an incredible artistic eye, and is one of the most innovate filmmakers of today," Blaustein says. "I'm thrilled that she is going to be here and that we can give her the Maverick. She's a hero of mine and an inspiration to countless filmmakers, young and old."


Melissa Leo, Meira Blaustein, Rachel Brosnahan
Alejandro Iñárritu and David Linde
Heineman Shines
Recipient of this year's Filmmaker Award of Distinction, Heineman is perhaps best known for his documentaries, though his first foray into narrative filmmaking,
A Private War
, will be the closing night film at the festival. Heineman's documentaries include
Escape Fire: The Fight to Rescue American Healthcare
,
Cartel Land
, and
City of Ghosts
, a film about Syrian media activists.
A Private War
is a biographical drama about the late journalist Marie Colvin, who died while covering the Syrian civil war in 2012. The film stars Rosamund Pike as Colvin. Heineman won an Emmy for the work and has been nominated for an Oscar.
"He's one of the boldest and most respected documentary filmmakers of today. Even though he's so young, he has achieved not only commercial but critical success," Blaustein says. "He's brought us many harrowing stories with his documentary films, and now he's venturing into the narrative world, taking his unflinching, bold and unique eye into the scripted format. I'm thrilled that we can both show his new film and honor him."


Catherine Hardwicke and Maria Govan
While the 19th Annual Woodstock Film Festival's full program won't be released until later in September, Blaustein said that attendees can look forward to the return of the virtual reality lounge, which made a well-received debut at the festival last year.
"By including virtual reality experiences, we are taking today's visual storytelling and moving forward with tomorrow's trends," Blaustein says. "I'm glad that we're able to include this very contemporary art form at the festival; VR is highly exciting and must be experienced live in order to fully understand and appreciate it."
New this year is the inclusion of work created during an intensive three-week youth film lab run by the Woodstock Film Festival. Three films produced during the summer course will be shown as part of the annual teen film program, traditionally taking place on the Friday of the festival, October 12.


Adam Blaustein Rejtö and Leon Gast
"The film lab is something I'm very proud of," Blaustein says. "It was inspiring to see the process—three full weeks where local teenagers got to immerse themselves in all aspects of filmmaking and create some great films with a group of professional filmmakers and instructors. It was an experience to remember for all participants. And the films are wonderful—you can see them at the festival."
In keeping with the communal spirit of the Woodstock Film Festival, movies will be shown not only in Woodstock, but also in Saugerties, Kingston, Rhinebeck, and Rosendale.
"We're going to have some really great panels in Woodstock at the festival," Blaustein says. "And there will be parties galore. People are coming here from literally all corners of the world."
The 19th Annual Woodstock Film Festival will run from October 10 through October 14. The full schedule will be released in September.
Joe Donahue and Paul Rudd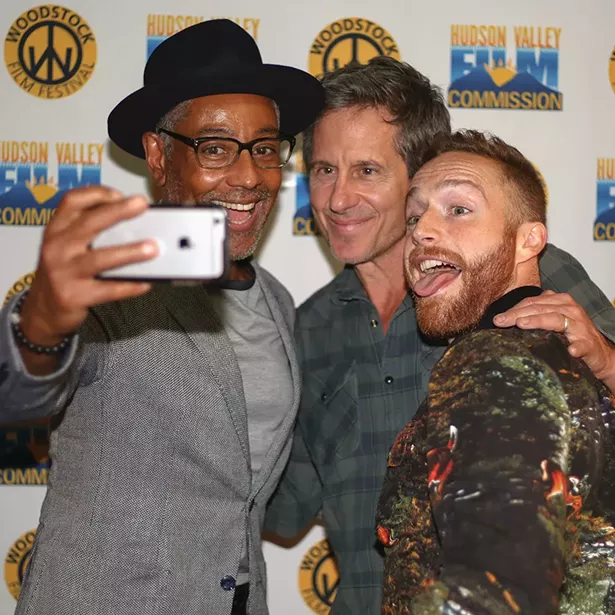 Giancarlo Esposito, Michael Berry, Tim Young