Tis the season to show your loved ones you care for them by spending a sensible amount of money on a purposeful gift that demonstrates your thoughtfulness, your perceptiveness, and your discerning taste.
Whether you're buying for a brand-new in-law, a longtime partner, or an ever-changing child, gifting is hard. (You can't wrap TikTok in a box, after all.) But here in the Hudson Valley, we all have at least one thing in common: proximity to the great outdoors.
That's why, this holiday season, we turned to six Hudson Valley outdoors shops for gift ideas suitable to a range of ages and experience levels. It might be cold outside, but this guide is season-agnostic—though you'll certainly find items you can put to immediate use.

57 City View Terrace, Kingston
Peapack Mittens, $49.95
Soft, warm mittens made from recycled wool sweaters, handcrafted by a small company in Grand Rapids, Michigan. All of the mittens have one-of-a-kind designs, are lined in high-grade polar fleece, and are machine washable. Sounds like a perfect gift for a chilly winter.
Flylow Ridge Gloves, $45
These gloves are made from pigskin leather that's been coated with waterproofing Sno-Seal and triple-baked for added durability. "They're built for everything winter throws at you: skiing, shoveling, or working outdoors," says Kyle Potter.
1066 Route 32, Rosendale
Bontrager Flare RT Rechargeable Tail Light, $59.99
Visibility while riding is important, and this light is designed to be seen from two kilometers during the day. It also has different flashing modes that make you stand out. Good for riders at any level.
Bontrager Specter WaveCel Helmet, $149.99
According to TRT proprietor Christian Favata, Bontrager changed the helmet game with the introduction of wavecell technology—a collapsible cellular structure lining the inside of the helmet that reduces the risk of concussion or traumatic brain injury by 99 percent over traditional helmets. Plus, "it's a good idea to replace your helmet every few years," Favata adds. "This is a must-have for any cyclist looking to keep themselves brain-injury free"—which we hope is all of you cyclists out there.
Trek Checkpoint ALR 5, $2099.99
Favata says this is the best-value gravel bike on the market, and a great way to experience the trails, bike paths, and unpaved roads crisscrossing the Hudson Valley. "What sets this model apart are the performance parts and features like massive tire clearance, Shimano 105 components, and extra mounts that make it easy to customize for any kind of adventure."
Hydro Flask Insulated Bottle, $32.95
This 21-oz to-go bottle has a slim profile so you can stash it in your bag, and is made of durable stainless steel in eight different color options. It's also vacuum-insulated so your cold drinks stay cold and your hot drinks stay hot. Perfect for that person who wants to do away with disposable plastic bottles. $32.95
Patagonia Black Hole Mini Hip Pack
Fanny packs may have been late to the `80s fashion revival, but they're definitely back now. This ultralight option from Patagonia has a flexible webbing belt so you can carry the pack around your hips or off the shoulder, bandolier style. It's made from 100 percent recycled nylon and lined with 100 percent waterproof recycled polyester. "What was once deemed unfashionable was never impractical," Bell says. "This is good for practical people who want a place for their phone, keys, money (this includes the guys) while keeping their hands free."
Blundstone Classic Chelsea Boots, $184.95+
The do-it-all boot for every season. "You don't have to be a hiker to love these boots; they work just as well with dress pants," says Katy Bell, store co-owner. Mountain Tops has a few other Blundstone options, too.
Guided Fly Fishing trip, prices vary
Here's one that will have you looking forward to warmer weather: fly fishing the fabled waters of Esopus Creek with a licensed guide from Esopus Creel. Whether you're a first-timer or an experienced angler, you can reserve a half-day or full-day trip for $50, with the remaining balance due on the day of the trip. The heart of the spring season is May 15 to June 30, says owner Todd Spire. Cast away.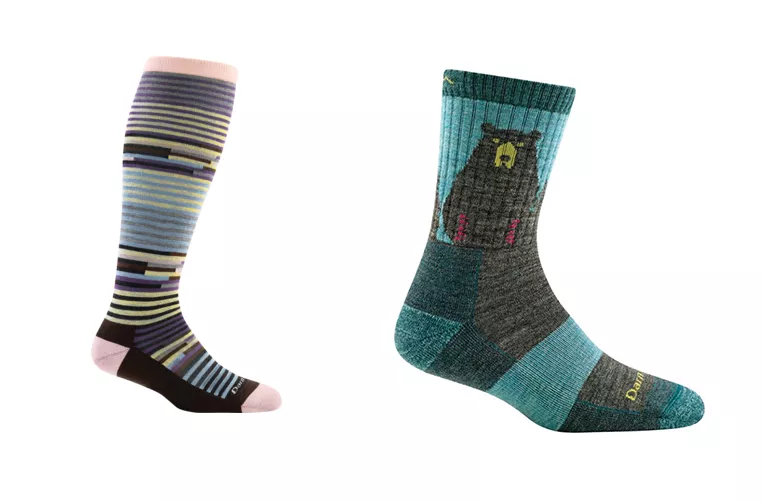 Petzl Tikka Headlamp, $29.95
This compact headlamp weighs only 82 grams (about .18 pounds), but it's powerful, with 300 lumen brightness and a flood beam for proximity and movement lighting. It's good for everything from basic hiking to caving. It has red lighting to preserve night vision and prevent members of a group from blinding each other, and a phosphorescent reflector that helps you find it in the dark. It's versatile, too: with a simple mounting accessory, you can attach it to a helmet or bicycle.
Darn Tough socks, $18+
The one type of sock you'll be happy to see in your stocking. Hikers sing the praises of these socks, which are anti-microbial and knitted to a fine gauge with a blend of Merino wool, nylon, and Lycra spandex so that they're breathable and fast-drying.
Set of Local Trail Maps, $6.95-$16.95
The New York-New Jersey Trail Conference maintains more than 2,000 miles of trails in the greater New York area, but they also publish some of the most aesthetically pleasing maps this side of Massimo Vignelli. Printed in vibrant color on waterproof, tear-resistant Tyvek paper, the NYNJTC maps are more functional than your typical collector's item, too.
63 Main Street, Cold Spring
Filson Field Watch, $350
The perfect timepiece for when telling the hour is the least of your concerns. This watch from the famous Seattle-based outfitter is built to military standards, and makes for a perfect tool for the trail. It's water-resistant up to 100 meters with a stainless steel case, screw-down crown, and scratch-resistant sapphire crystal display, and the quartz movement mechanism is noted for its longevity. But you don't have to go on a through-hike to wear it: the streamlined 36 mm case offers a smaller, more aesthetically versatile profile than a typical field watch.
Hults Bruk Salen Hatchet, $104
Hults Bruk is a Swedish company that dates to 1697, and this is one of their signature items: a hand-forged, all-purpose hatchet that's good for, well, the things hatchets are good for: making kindling, clearing a garden, displaying on your wall. The Salen has a 20-inch handle and comes with a leather protective sheath embellished with Swedish decorative elements.
Old Souls Rod & Gun Cap, $32
An Old Souls original, this snapback cap is made of cotton with a bit of polyester to aid in wicking and provide extra warmth on colder days. It has a signature woven patch with a merrowed edge, and comes in multiple colors.