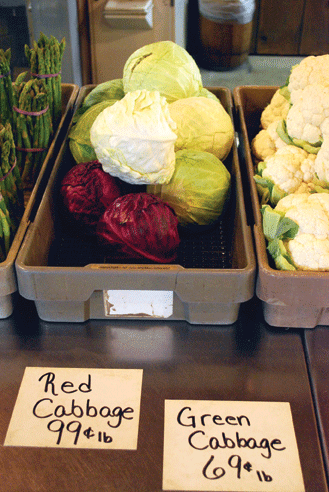 Some veggies, like cabbage and onions, are so cheap to buy that one would be hard pressed to save money by growing them.
With the onset of recession in recent years, applications for community vegetable plots in the New Paltz Gardens for Nutrition went up. Folks like me were looking to save money on their produce bills. I like to think I save money on my produce bills from growing many of my summer veggies in my plot and at home.
But do I? A little analysis is warranted. My suspicion going into this budgetary breakdown is that I don't save money when I take into account all the various inputs, and I sure as heck don't save money if I consider the value of my labor. Let's have a look.
This year's 20-x-30-foot vegetable garden has been my most successful in 25 years of having vegetable gardens. I credit this to the no-till technique as taught me by Jay and Polly Armour (see my
piece in the May 2012 issue of Chronogram
), to the sturdy flower and vegetable seedlings I bought from them (vegetables) and from Wallkill Farms (flowers), and to a long spring with a decent amount of rainfall supplemented by hand watering on my part (thank you, Greg and other garden board members, for putting in the new water system) and good cultural practices like weeding and mulching.
A Little Calculation
Here's what I spent on my garden going in. You can see I'm not profligate. I don't go in for garden gadgets or little gnomes or other tchotchkes. I really just buy what I think is essential. And some stuff I already had, like tomato cages, hand pruners, and a knee pad, so they're not figured in here.
$40 plot fee for garden
$56 seeds for things that can be direct-seeded into the ground, like winter squash, cukes, and okra
$23 leek and onion "sets" (small plants)
$71 kale, collards, swiss chard, brussel sprouts, and tomato seedlings
$15 disposable nitrile gloves (to save my hands)
$57 three flats of snapdragons, for color and cut flowers
$11 bale of straw for paths
$75 garlic planted last fall for harvest this summer
$8 organic fertilizer (dried chicken manure-based)
Total inputs: $356
Figuring the value of the organic produce and flowers coming out of my garden is a little trickier, because I haven't yet harvested some things, like the onions, leeks, or winter squashes. But I will do my best estimate here based on past harvest experience.
Snapdragons, leeks, and kale in the author's garden.
$80 ten flower bouquets at $8/each if purchased at a farmer's market
$125 value of the organic garlic I harvested
$60 for 40 pounds of onions
$36 for 36 leeks
$75 for 25 bundles of kale
$15 for five bundles of collards
$21 for seven bundles of swiss chard
$80 for 40 pounds of tomatoes
$10 for 10 pounds of cucumbers
$12 for four stalks of brussel sprouts
$30 for 30 pounds of winter squash
$5 for a quart of red okra
Total value: $549
So by my figuring, I saved about $200 on produce and flowers by growing them myself in my most successful gardening year ever. Note that I didn't figure my labor into the inputs. If I figured in the labor value of the average of five hours per week I spend on my garden throughout the growing season, this is definitely not a money-saving endeavor.
Norb Lazar, owner of the Phantom Gardener in Rhinebeck (where you can see a fabulous demo vegetable garden) says he tells his customers they can save money if they don't count their labor. He tells them, "If you have the time to garden, and you're an efficient gardener, and let's say you're doing canning and freezing, sure—you can save money. But if you can make $20/hour doing something else, well, the tradeoff is probably not worth it in strict financial terms." (At this point in our conversation, Lazar's wife, Pamela Neimeth, is overhead saying, "But you save money on a therapist!")
The Hudson Valley Seed Library's Ken Greene says, "You can save money—especially if you start from seed. But you can also spend more; it all depends on how frugal you are. Many of our tools are from garage sales or free tools we found and fixed. Making some of your own compost helps cut down the cost of soil amendments. Going in on bulk supplies with friends and neighbors helps, too. But what is the true value of home-grown food? There is the quantifiable cost of the inputs, and the qualitative value of joy, learning, flavor, convenience, staying fit, and beauty." Greene also is interested in nutrient density studies and how nutrient-rich fresh food grown in good soil is value-added over trucked-in produce. This value add is difficult to quantify, but we surely reap its benefits.
Lazar recommends that his customers actually hold off on trying to grow their own seedlings in year one. He says that folks set themselves up for disappointment because seed starting is actually kind of challenging, and you can't skip a day of watering if you go out of town. He recommends folks buy plants the first couple of years, but also they can direct sow things that are easy to grow from direct seeding, like zucchini and winter squash. For my part, I have found that using seedlings for kale and other greens, I've gotten much bigger yields than I did when I direct sowed seed into the earth. The plants just get a quicker jump on things. My kale plants are little trees.
The author's garden at New Paltz's Gardens for Nutrition.
Pick Your Produce Priorities
Certain crops are generally cheaper to buy. Lazar says, "Corn takes a large amount of space to grow properly and is a 'heavy feeder' in terms of its nitrogen needs. It used to be that you had to race home and put your homegrown corn in boiling water right away, but now the varieties are super sweet, so you can buy corn from a farmer's market and it tastes sweet even a couple of days later. For the amount of space corn takes up, it's not cost effective, but it's still cool to grow it."
I asked Lazar about root crops, which I find notoriously difficult to grow. He says, "Onions and carrots and beets: If you do raised beds, they're great. But you need really good loose soil for all root crops, and onions require a long season and extra-vigilant weeding. I steer beginners away from the root crops."
Lazar thinks the work-to-yield ratio is most favorable for the following crops: zucchini, tomatoes, kohlrabi, and greens of all kinds. Greene says, "I would say one of the biggest cost savings is growing an asparagus patch. You only have to plant once, the patch needs minimal care, and you get asparagus for years and years!"

Beware the Gadgetry
One thing that really eats up a new gardener's budget is the doodads. There are a lot of bogus gardening products that are a waste of money, and if you get into a decorating-your-garden mentality, you can sink a lot of cheddar into it. If I could only have a shovel, my hand pruners, and a carrying trug, I could make do.
Norb Lazar says, "I promote only what I've been using over the years. So for instance I have a Japanese weeding knife called a hori-hori, that I've used forever. You don't need a whole lot of tools. I use Harvest Guard, a clear white fabric that protects young crops from insect predation and untimely frost. Mulch is worth spending money on, as are raised beds. I like these raised bed kits that are caps that you can slide boards into to make instant raised beds. I suggest people read up and ask around before spending money on tools and other inputs."
The author's Dino kale has been much more robust since she switched from direct seeding to planting seedlings.