Bonnet Chair 2, Katie Stout
From some less common Shaker-style works from Shaker Museum's archives to the apocalyptic musings of pagan, poet, photographer, and visionary goof Richard J. Treitner, here are four exhibits to see to kick off 2021.
Katie Stout | Shaker Museum
Katie Stout is collaborates with New Lebanon's
Shaker Museum
for its "
Fringe Selects
" exhibition, a selection of material chosen by the artist and designer from the Museum's permanent collection. The exhibition explores the breadth of Shaker objects by taking a closer look at the objects on the "fringe"—colorful, ornamental, and less well-known than the minimalist, iconic Shaker pieces. The show also features two chairs created by Stout that were inspired by the Shaker bonnets and cloaks that were predominantly made by Shaker women. Through February 28.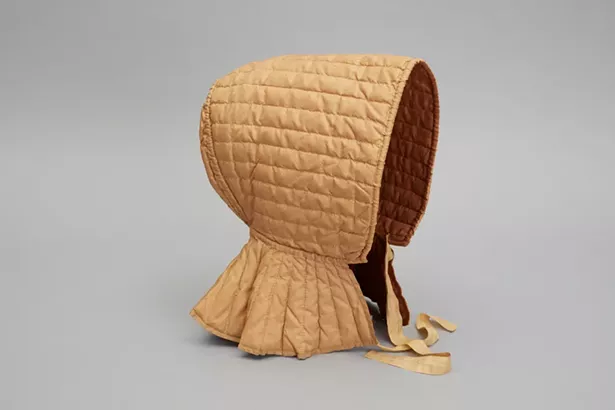 quilted bonnet from the Shaker Museum collection
spool holder stand from the Shaker Museum collection
Librado Romero | Hudson River Museum
After working as a photojournalist for the New York Times for five decades, Librado Romero retired in 2013 and established his full-time painting studio in Yonkers. His childhood memories of his native California and his extensive travels as a photojournalist combine to make Romero deeply appreciative of living and painting along the Hudson, one terminus in his show "From the Desert to the River." Water still fascinates the artist, and his deep sense of connection to his natural surroundings underlies much of his current work, whether painted glimpses of the Hudson River and the Palisades through stands of trees or meditations on the landscape of his youth.
View From My Window, Librado Romero
Richard Klein | Henry in Hudson
Richard Klein, director of exhibitions at the Aldrich Contemporary Museum of Art, is the third artist featured in the series Art Among the Goods at Henry, Nancy Shaver's antiques store in Hudson. Pillow is the centerpiece of the show, an assemblage of burnt-out light bulb fragments and brass screening. Klein's aesthetic is one of anti-fastidiousness: "When I started using found objects it freed me up," he says. "Now, I try not to worry about the details—to not make it perfect. The rough edges contribute."
Richard J. Treitner | Green Kill
"Stolen Gods and Silk Apocalypses" presents new and old work by Richard J. Treitner delving into gods, and goddesses, both real and imaginary, as well as the accumulated apocalypses of a lifetime by the artist, pagan, poet, photographer, and visionary goof. The Pine Hill-based artist wears his weirdness on his metaphorical sleeve—canvases and prints—embracing the erotic, the semiotic, and the psychotic: an outsider artist with an insider's knowledge of the artistic canon and how to subvert its constraints.
Outerspace Dad's Old Tattoo Smiley Foot, Richard J. Treitner