All images courtesy of Fruition Chocolate
Fruition's Shokan factory and walk-up cafe window
Headed into the Catskills for a cozy winter getaway or just looking to explore the Hudson Valley's majestic, mountainous backyard? Make a point to stop at Fruition Chocolate Works' new walk-up cafe window at its factory on Route 28 in Shokan.
Like almost every other biz in the food industry this year, Fruition had to swiftly pivot operations in early summer to keep customers safe and the business afloat. After making the tough decision to close their retail boutique in Woodstock, Bryan and Dahlia Graham—the husband-and-wife team behind the award-winning bean-to-bar chocolate and confectionery—transitioned their Shokan factory to curbside pickup and online mail-order only.
This summer, they launched a long-time dream of offering seasonal soft serve ice cream made onsite—a hit with the recent surge of tourists upstate and locals alike. In autumn, they transitioned to a menu of drinks and desserts that are sure to make a wintertime stroll on the nearby Ashokan Rail Trail all the more festive.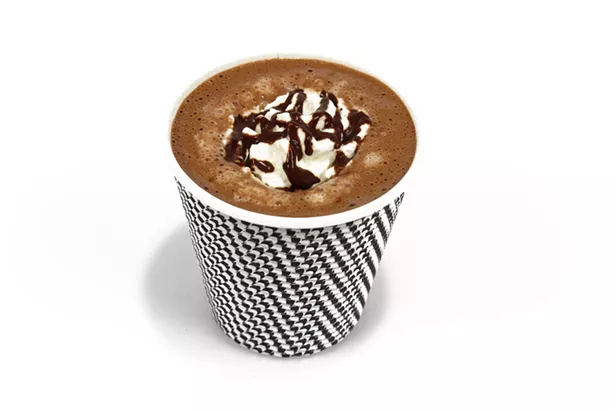 All images courtesy of Fruition Chocolate
Fruition's hot chocolate. Photo by Nicole Mayone.
The drink menu includes indulgent riffs on cozy classics, like a hot chocolate made with Fruition's Dominican Hispaniola 68 percent dark chocolate and a bourbon caramel latte made with Tuthilltown Distillery's Hudson Baby Bourbon. Pair your drink with a salty-sweet chocolate chip cookie or a pan of fudgy chocolate brownies—both crafted with Fruition's versatile Dominican Hispaniola dark.
In addition to the cafe offerings, you can pick up any of Fruition's signature chocolate bars and confections—made from organically grown, ethically sourced cacao, which they roast, crack, winnow, refine, conche, temper, and mould onsite in small batches to highlight the cacao's distinct flavor profile.
All images courtesy of Fruition Chocolate
Photo by Casey Robinson.
In-the-know gourmands will also delight at the selection of pantry goods available for pickup at the cafe. Fruition has started carrying cult favorites like spices from Burlap & Barrel and heirloom dried beans from Rancho Gordo, as well as local items like syrup, jam, and honey from Westwind Orchard in Accord and Saugerties-based ImmuneSchein's ginger elixirs.
Fruition's diversification speaks to the intense pressures the pandemic has placed on those in the food and beverage industries, but also to the fortitude many business owners have shown this year. "If we can just stay healthy and keep finding creative ways to engage our customers, we will not only be okay, but we may actually be better off than before," says Dahlia. "The pandemic forced us to think on our feet."