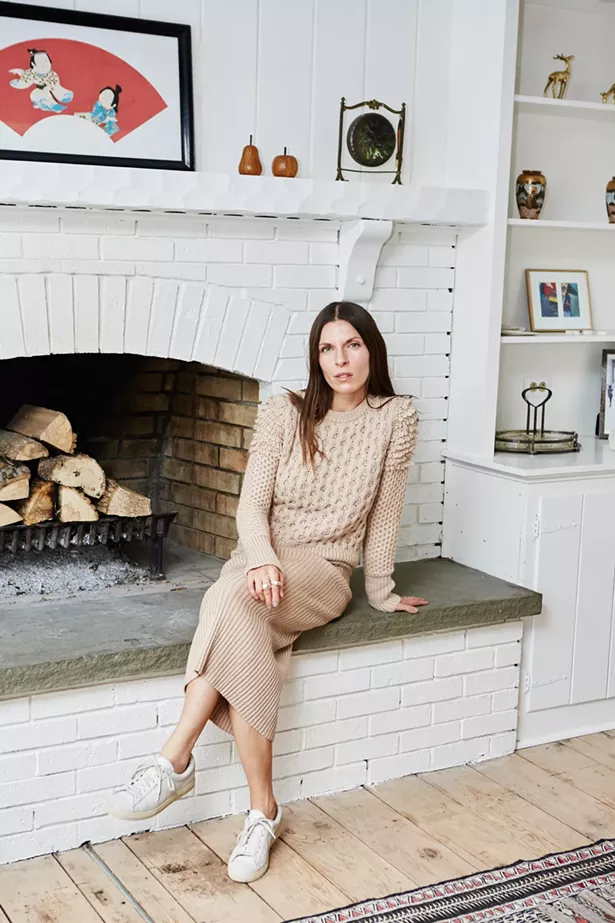 Kava Gorna
Catherine Carnevale, cofounder of ELEVEN SIX
There's nothing nicer than a well-fashioned knit item for comfort and style—unless it's a well-fashioned, soft alpaca knit made by the fiber artists of an Andean women's cooperative. If that sounds intriguing, take a look at the sleek pretties offered by ELEVEN SIX.
Growing up in England, Catherine Carnevale fell in love with fiber at an early age. "Mother was always dressmaking or handknitting," she recalls. "She was a home-ec teacher, so I was playing with pins and things from babyhood. Her mother was also a huge knitter. It was their influence that led me to be a maker and a textiles person. My hand knowledge is limited, but I'm trained in the technical machine side."
To get that training, Carnevale studied fashion textiles at the prestigious Central Saint Martins and then knitwear at the University of Brighton. To cut her teeth, she headed for New York. "I could smell the opportunity," she says. "There's not a lot of knitwear in the UK, yet there's not the technical training in the States. I got an achievement-based green card opportunity."
She dove into the world of Big Fashion, designing for Calvin Klein, Anne Klein, and Club Monaco. Once she got her green card secured, her husband Nick, a fashion buyer, could get his too.

Their journey upriver to Stone Ridge began when Carnevale was expecting her firstborn and their city apartment was under construction. "We used to spend weekends up there and then decided, why don't we just look at a whole bunch of places? We looked at 13 in three days and grabbed one. It happened faster than I expected."
Carnevale had intensely fond memories of a hiking trip to Peru's Sacred Valley of the Incas with friends, and she wanted to show her husband that enchanting landscape. Inspired by her admiration for the local knitting talent, the concept of ELEVEN SIX was born on that trip — the name a combination of Carnevale's June 11 birthday written UK-style and son Oliver's due date, November 6, American-style.

Alpaca wool, which is humanely harvested once a year without hurting the animals, is whisper-soft, naturally hypoallergenic, cool in the heat, and cozy in the chill. Connecting to the makers was a fateful adventure.
"It was 2014 when I had my epiphany and 2015 when we launched," says Carnevale, who cofounded the business with her husband. "I got a sponsor and went down there for a trade show, and people had the right contacts—it's very much an inside business. I found a wonderful second-generation family business with two small factories. Then I found a contact for an artists' collective in Bolivia. You have to connect to the queen bee lady who has the space and the set-up, and the women all come together at her place to work. Some of them have creches and bring their babies."

The garments wrought through this blend of South American craftsmanship and English-born, New York-honed creativity are sleek, sophisticated, and versatile. The ELEVEN SIX line ranges from tank tops, skirts, and dresses to cuddly sweaters and wraps, most in the company's signature neutral tones, making them easy to mix and match. These are clothes designed for people who refuse to compromise on either comfort or style—and enjoy knowing that they're helping creatives in another hemisphere with each purchase.
The fashion world has noticed and approved. Since launching four years ago, ELEVEN SIX knitwear has gotten picked up by retailers in Europe and Asia, as well as in North America at higher-end stores.
"We have a showroom and a presence at Fashion Week," says Carnevale. "We get pursued because people like that we're exclusively knitwear. Last year we got into Nordstrom's, and this year Saks Fifth Avenue and Bloomingdales."
This fall, ELEVEN SIX will celebrate their Hudson Valley retail debut when the line begins selling at No Sugar in Rhinebeck. (Shop ELEVEN SIX online and use the exclusive discount code CHRONOGRAM20 to receive a 20 percent discount between now and December 31.)
The Carnevale family now includes two children, aged 2 and 4, as the family enjoys post-corporate life in the Hudson Valley. "I feel privileged to be here, amid the nature of this glorious Hudson Valley, surrounded by so many incredible like-minded people," Carnevale says. "It's inspiring."
The next chapter in the ELEVEN SIX saga is unfolding this month, as Carnevale prepares to occupy a studio space in Kingston's Fuller Building, a one-time shirt factory turned modern office and maker space. "I met the local [Scott Dutton] while he was doing the renovation and he's created these unique spaces, so I'm bringing textiles back to that location in my own way," she says. "Down the line, I'll think about possible personal shopping by appointment. Maybe. And my neighbor is Lake and Skye fragrance, which gets me thinking that aligned businesses could do pop-ups. I almost feel I have to pinch myself. I've been let into this wonderful network and I can make these big orders now, and it makes a difference to these women half a world away."