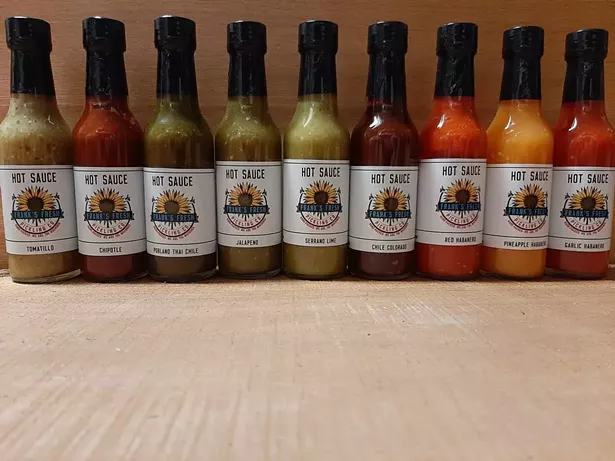 SUNY New Paltz alum Frank Cardella has long dreamt of opening an eatery in his college town. This dream finally came to fruition in an unlikely moment, amid a global pandemic. Last summer, word reached Cardella that music store Jack's Rhythms was relocating after 27 years at 56 Main Street. "Once I found out about the available space, it felt like an opportunity I couldn't miss… so I signed," says Cardella. "I'm the type of person to go all in and take a chance."
Cardella's culinary interest started at a young age, watching his grandmother prepare big holiday meals for the entire extended family. In a household of Sicilian and Spanish heritage, homemade food was paramount.
While working in the kitchen at the Gilded Otter in New Paltz in 2008, Cardella began broadening his culinary skill set and playing around different recipes on his own time. That summer, thanks to a booming garden harvest, Cardella started experimenting with hot sauce and pickles as a way of using the surplus cucumbers and peppers. "One day, we ran out of pickles at the Gilded Otter," says Cardella, "So I brought a bunch of cucumbers from my garden and I just pickled them right there. Someone at the bar said they were the best pickles they'd ever had!" That was the first time it occurred to Cardella that his hobby might have potential as a business. He started experimenting with other pickles and preserves like relish, sauerkraut, and kimchi.
A year later, in 2009, Cardella started a small side-hustle, Frank's Fresh Catering. "It was mostly for friends and family, but it has grown to friends of friends since I started," says Cardella, adding, "I've catered a lot of birthday parties."
After years of feeding people in New Paltz as a chef at New Paltz watering hole McGillicuddy's, Cardella was finally able to open his own spot, an Italian-style deli, late last year. The doors to Frank's Fresh Pickling Co. opened on December 12 after some time spent renovating the old music shop into a cozy deli stocked with homemade, original pickles, sauerkraut, relishes, hot sauces, kimchi, spice mixes, and gourmet jams. His pickle selection includes a classic garlic dill, habanero pickles for spicy lovers, half sour dill, and bread-and-butter pickles.
Cardella also offers products like the Voo Doo Spice, which works well as a rub for chicken or fish, and can be mixed with brown and white sugar to make a barbeque sauce. "We want you to be the chef as well," Cardella says, "because experimenting is how I got started."
On the deli side of the operation, sandwiches and salads rule the day. Some crowd favorites include the Stevie Roys, a turkey, swiss cheese sandwich with chipotle mayo, lettuce, and plum tomato on toasted rye for $6. Another one is the Turn up the Beet, which has sweet pickled beets, feta cheese, plum tomato, mesclun greens, and lemon dill aioli for $7.
Starting his business in the midst of a pandemic was nerve-racking, but Cardella forged ahead. "People warned me to be careful taking a risk like that with a family and a steady job," says Cardella. But he felt he couldn't pass up the opportunity. "I want to serve my community in a way I've always dreamed of," he says. "Now that I'm open, there's a deli with affordable, flavorful food."
Opening up his deli not only during a pandemic but in the middle of winter made it more challenging—a lot of the college kids were at home and less people were out and about on the streets. But New Paltz did not disappoint Cardella. "The people in the neighborhood have been so amazing, this community is just something else," says Cardella, emotional at the outpour of support from his neighbors and friends. "Even my old boss from McGillicuddy's came in and bought a bunch of stuff to support me."
In an era of expensive often over-wrought food, Frank's Fresh Pickling Co. offers refreshingly simple fare, made fresh, and sold at affordable prices. "I'm not looking to get rich," Cardella says. " I want to give back to my community the best I can."
Frank's Fresh Pickling Co. is open daily, 10am-6pm.
Frank's Fresh Pickling Co.
56 Main Street, New Paltz
(845) 633-8037