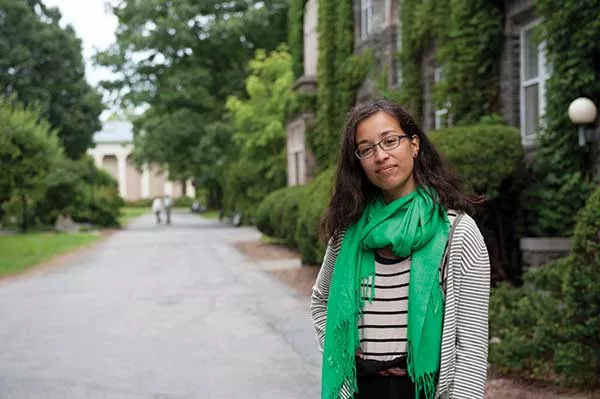 Hillary Harvey
Homeschooler Marley Alford on the Bard College campus.
There comes a moment in every homeschooling parent's life when they wonder, "Can I really keep this up?" There are definitely downsides to homeschooling, and I have encountered many in the course of homeschooling my daughter from kindergarten through fourth grade. But I never blinked because the rewards far outweighed the challenges.
My great moment of doubt is about college. Of course, I know that homeschoolers go to college, and not always as a 12-year-old prodigy. But I recently heard that local homeschoolers were having trouble translating their educations for admissions committees. And I wondered: If the rigorous homeschooling of the talented kids I know isn't acceptable to colleges, could homeschooling be a viable alternative for education at all? I decided I needed to research just what the problem was before going any further.
Luckily, a friend was hosting a college admission information session at her house. She posted the invite to the homeschool community on a Yahoo group list, saying she'd like "to share what I've learned and what I wish I had done differently." It was this last piece that especially compelled me.
Options for High Schooling at Home
Beatrice Alford has a deep gaze. She's been involved in forging co-ops, hiring tutors, and enriching her own learning life with French conversation groups and online classes. And she's homeschooled her two daughters, Marley, 17, and Eleanor, 12, since the beginning. As someone I admire, I am eager to hear her experience with college applications.
Starting with a single math workbook, Marley's education at home went from field trips and unstructured reading time, to online classes through Home2Teach.com and WriteGuide.com, to summer camps in writing at UMass Amherst and physics at Brown. This mix of learning at home and beyond is not uncommon for homeschoolers. Locally, there are part-time school options like Sojourner Truth Schoolhouse in New Paltz, parent-led cooperatives like The Alternative Learning Center in Columbia County, and private class series offered by certified teachers who are often on sabbatical (while teaching their own children). Alford and Marley added subjects, one by one, as interests and opportunities arose. But it was Bard's Bridge Program, where Marley took 100- and 200-level classes in theater, biology and math, which proved pivotal to her college applications.
The Bridge Program is Bard's enrichment for juniors and seniors within commuting distance—50 miles—who are thirsty for challenge. Bard solicits guidance counselors, who encourage strong candidates to apply. Recently, homeschoolers have heard of it through word-of-mouth. Once accepted, students are invited to enroll in classes for a reduced fee if there's room. They can access the library, campus center, and lectures, but not student clubs, the gym, or campus parties. It's not meant to substitute for high school. Bard has another program for that at Simon's Rock, where kids ages 16 and up can be with others their age, doing college-level work.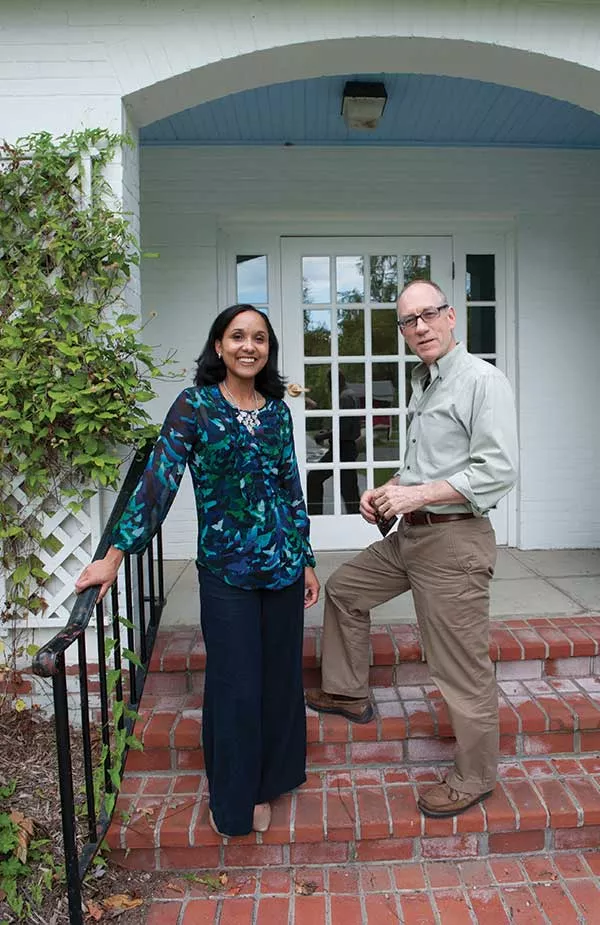 Hillary Harvey
Joanna Baker, Assistant Director of Admissions, with Greg Armbruster, Associate Director of Admissions, outside their office at Bard College.
"Bridge students are not treated as high school students in a class. They're treated like every other student," says Joanna Baker, assistant director of admissions, "Which is good. But we need to determine if they're ready, and the interview is really a big part of the application." In fact, right before we spoke, Baker interviewed a homeschooler. "It's not a homeschool program per se," Baker explains, "but high school students often have trouble coordinating their schedule with the Bridge Program, so it does tend to be better for homeschoolers because of their flexibility."
The Bridge Program shows that participants are independent, committed, mature, and able to thrive in a classroom and/or seminar setting. All things colleges are looking for in applicants, especially from homeschoolers, who might not have this kind of credential otherwise.
•
The tutor Alford hired to instruct Marley in writing college-level research papers was KellyAnne McGuire, a graduated homeschooler who designed the nine-week course on the subject. (Full disclosure, McGuire is a former Chronogram intern.)
McGuire "didn't homeschool in [her] pajamas." She and her brother sat down to lessons at the kitchen table five to six hours a day, five days a week. "It was serious," she says. Her parents pulled her out of public middle school and wanted her homeschooling to be stimulating. McGuire took liberal arts and 101 classes at Ulster County Community College so that when she entered four-year college (Mt. Holyoke), she could spend her time doing specialized classes towards her major. Her mother encouraged certain classes, which helped her determine what she liked, and also kept meticulous records of all the books read, the curriculum used. She wrote it all into the quarterly reports submitted to the local school district.