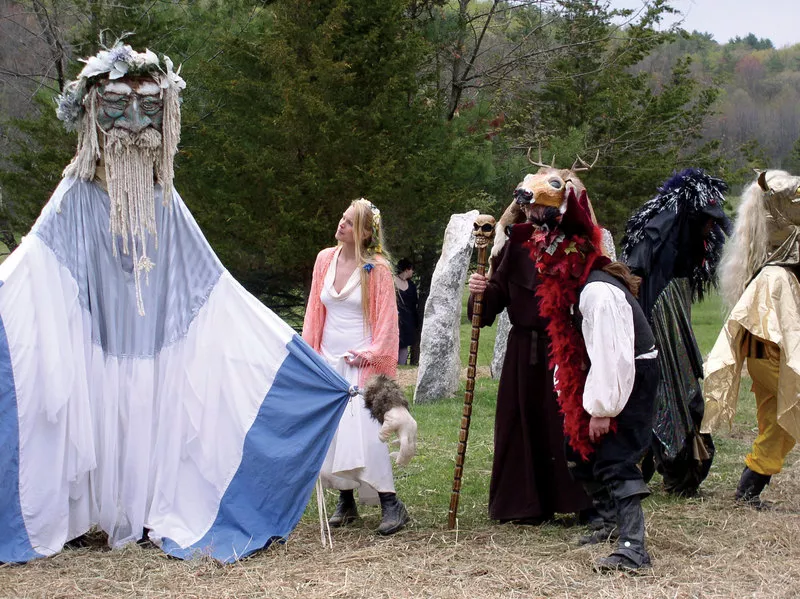 The 17th annual Beltane Festival will be celebrated at the Center for Symbolic Studies in Tillson on April 25.
Heat, light, and fertility are, at the most basic level, inarguably what it's All About. Without those essentials, none of the myriad fripperies humans have dreamt up to pass the time would exist in the first place. And every year, those of us who live in temperate climates get a taste of cold, dark, and fallow, reminding us to cherish the warming all the more when it comes. Is there anything better than that first day of T-shirt weather?
Back in the day, before people thought they had taken control of the production of light and warmth and fertility for themselves—a notion that may be proving to be little more than dangerous hubris anyway—the return of the sun was even more important. It was a time to dance and sing in sheer delighted gratitude, to revel in love and hope.
At the Center for Symbolic Studies, which once again hosts its annual Beltane festival on April 25, organizers recognize the primal importance of such core truths. "The mythic imagination is the primary source of intellectual and creative energy," observes co-founder Robin Larsen. "Without that, you're just sort of plodding along. With that, everyday crisis and triumph become a mythic journey." The center offers a variety of therapeutic and educational tools for those who wish to plod less and journey more—and every spring, it prepares a lovely celebration in which all are welcome to join.
"It's a picnic for your mind," says performance artist Carl Welden, who's been master of ceremonies for the event in years past. "It's part Ren faire and part May Day. I have had the most wonderful time just looking out from the stage at a sea of beaming faces."
It's really, both agree, two festivals in one day. All afternoon, music and games and friendly foolery will enchant young and old. The gates open at 1pm, and at 4:15 a pageant begins, in which local young people under the tutelage of the Vanaver Caravan will dance you a story, horses and puppets and children all joined in delight. "This year, we may do something special on horseback," Larsen says. "Last year, the teens enacted an old Balkan folktale of a princess slipping out at night to dance with a dragon."
As the shadows lengthen, the smaller kids thin out and the tone shifts as the teens and young adults ramp up the revelry. Weather permitting, a Beltane blaze is lit, and the drumming, music, dancing, and frolic continue in the spirit of the May Queen and her consort, the Green Man.
Participants are encouraged to wear their most fanciful garb and bring along a picnic, a Frisbee to toss, a musical instrument—whatever will enhance their joy, with the exception of pets and alcohol (the latter is neither allowed nor, one supposes, much missed). Past Beltane festivals have drawn as much as 1,200 people—a good thing, because the reasonably priced event is the main fundraiser for this unique community resource.
Beltane will be celebrated on April 25 at the Center for Symbolic Studies in Tillson. (845) 658-8540; www.symbolicstudies.org.