Chef Aaron Abramson leaving the smokehouse.
The commercial celebration of locally, organically, and sustainably grown foods—also known as farm-to-table—is largely recognized not just as a dining trend, but as a social movement.
Residents of the Hudson Valley, which is home to hundreds of thousands of acres of farmland, are plenty familiar with what ignited the movement—concerns around food quality, freshness, place of origin; environmental factors from carbon footprints to pollution and genetic modification; the treatment of animals; and the economic tribulations of small or family-owned farms—to name just a few.
While Aaron Abramson cares about the planet and loves kicking business to local growers, he isn't driven by social activism. His cultivation of a new food philosophy at Butterfield is rooted in a few other factors: the thrill of a challenge, a favorable division of labor, and an incomparability of flavor.
"That's the biggest thing I've learned being a chef: That the flavor of a vegetable straight from the ground is strikingly different." Executive chef Abramson is standing in the 80-year-old kitchen of Butterfield—the restaurant at the 260-year-old Hudson Valley inn recently reimagined as the Hasbrouck House—carrying out the ritual of making the daily bread.
"The vegetables you get at the grocery were pulled out of the ground 10 days, two weeks ago. That side-by-side comparison of the taste of a tomato that traveled across the country versus the one I just picked—it's unbelievable."
Hasbrouck House opened four years back, and since, it's experienced a complete overhaul of management. The stately stone house, cottage, and other facilities sit in the middle of a pastoral property just off Route 209, in the heart of Stone Ridge.
Poached halibut, summer succotash
A world of amenities from spa services to nightly bonfires greets guests, while neighbors are welcomed to frequent morning yoga classes and summertime screenings of crowd-pleasing classics like Jaws and Back to the Future near an outdoor snack hut that serves local ales and cans of rosé.
Harvested to Order
Butterfield is being reimagined too. Abramson was brought on to helm the kitchen this spring, and already, he has no shortage of plans for the future: a resident forager, gardens all the way to the tree line, a Michelin star (or three).
He places a cup of flour on an electric scale as he relays his visions. For example: Because he believes freshly picked food has an appeal you can't man-make, he looks ahead to a day when a salad "harvested to order" is a Butterfield staple.
"We'll have one guy whose job it is," he muses. "When we get a ticket in: 'We need cucumbers! Go pick the cucumbers!'"
Abramson originally became obsessed with the superiority of fresh, local ingredients while a sous chef at Blue Hill at Stone Barns, an upscale restaurant that sources its ingredients almost entirely from a four-season farm and agricultural education center on an 80-acre sliver of the Rockefeller Estate in Pocantico Hills.
Shaved local radish salad, warm chicken vinaigrette
Or, he may have developed that passion earlier, during his tenure at Willows Inn on Lummi Island, off the Washington coast. In 2011, he turned down a job at Noma and came home from Europe to help craft the Washington destination into a James Beard Award winner.
"I have the highest standards in the world for seafood, and I like to think no one has better seafood than the Pacific Northwest," says Abramson, a native Washingtonian. "We had fish delivered to our door in rigor mortis every day," he reminisces while kneading a mound of dough. "And we dug the shellfish ourselves. You can't beat that."
Of course, it's possible he already knew about the next-level flavor of a dish made with the freshest, purest ingredients even prior to Lummi Island. And now, he's applying it now at Butterfield along with this very simple mantra: "Get the best ingredients you can, and take great care of 'em."
Creativity Rooted in Boundaries
Of the Butterfield kitchen's four walls, three have doors.
The westernmost doors open into a small parlor that abuts the dining room: a cozy, clean square room around a hearth, with modern black leather banquets and frosted gold sconces, one wall of stone with arched windows to the garden, the other walls the cool, dark color of a wild lowbush blueberry.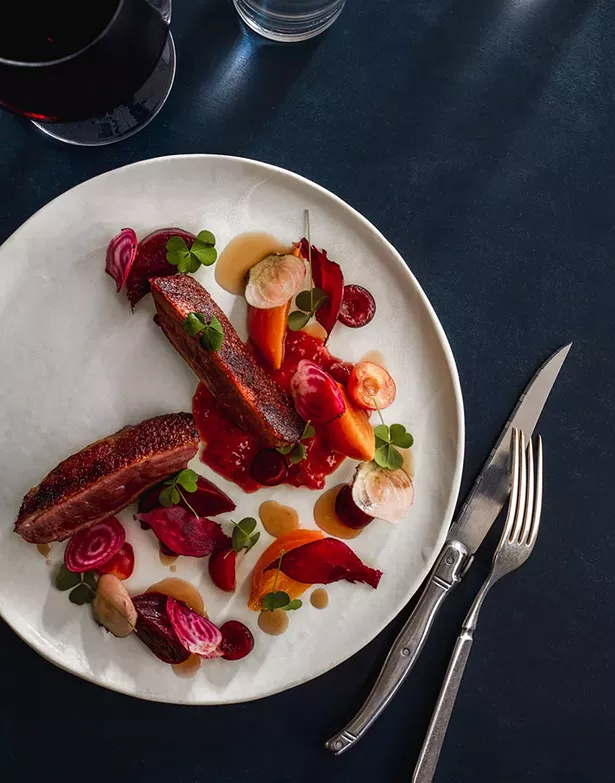 The east doors lead out to a verdant path lined with green and sage grasses, lavender and hosta, a stand-alone cottage of guest suites with clawfoot tubs, and a gravel drive along which are tall pines, hammocks, and a bright blue pool.