Shaved head. Thick mustache. Intense presence as he wields his bass guitar or alien-looking Chapman Stick. On stage—whether it's with King Crimson, Peter Gabriel, or other greats across his long musical career—Tony Levin provides photographers with the perfect material for striking pictures. But less known to many is the fact that Levin is himself a photographer. He recently published his third book of photos captured during his time as a world-traveling musician, Images from a Life on the Road (distributed by MoonJune Records).
"I'd done [photography] as an amateur since I was a kid," says Levin, 74, a Kingston resident. "It's always been a hobby. But I didn't really start to get serious about it until the early 1970s, when I was touring in Japan and could get a lot of the new lenses as they were just coming out over there. That had a lot to do with inspiring me to get deeper into it."
From the stage of King Crimson's three-night stand at Royal Albert Hall, in 2019.
Levin was born and raised in Boston, where he began studying upright bass at age 10, led a barbershop quartet, and played tuba in his high school marching band. After playing in a youth orchestra that performed at the White House for President John F. Kennedy, he went on to study classical music at Rochester's Eastman School of Music, which was established by Eastman Kodak founder George Eastman.

"Yeah, that is an interesting coincidence," he observes. "But at the time I was too fixated on music to pay that much attention to [the photography connection]." The musical fixation bore fruit, and quickly. The bassist played in the Rochester Philharmonic Orchestra but became increasingly pulled away from classical and into jazz and rock, heading to New York in 1970 to play with Mothers of Invention keyboardist Don Preston.
Peter Gabriel halfway through shaving his head.
The versatile Levin rapidly rose to become one of the New York studio scene's most sought-after session musicians, playing on albums by Buddy Rich, Lou Reed (Berlin, 1973), Paul Simon (Still Crazy After All These Years, 1975), Alice Cooper (Welcome to My Nightmare, 1975), and others. In 1977, he hooked up with Peter Gabriel, working with the former Genesis front man on his solo debut and becoming his preferred bassist ever since. During his early years with Gabriel, Levin incorporated the newly developed Chapman Stick into his musical arsenal; the instrument would become his signature axe soon after guitarist Robert Fripp recruited him for the reactivated King Crimson.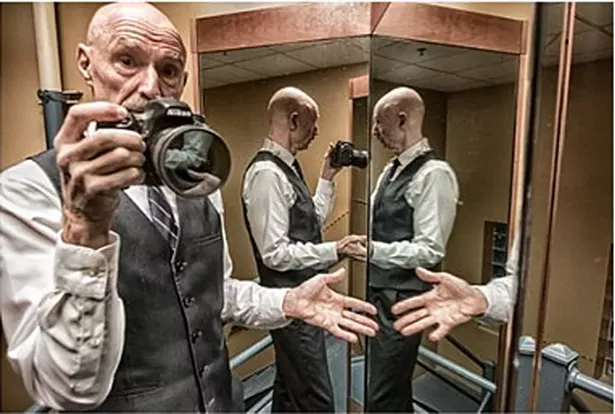 Tony Levin in Ann Arbor, Michigan in 2017.
Over the decades, in addition to performing on and off with both Gabriel and King Crimson, leading his own Stick Men, and playing in other projects, Levin has recorded and/or performed with John Lennon, David Bowie, Peter Frampton, Pink Floyd, Tom Waits, Todd Rundgren, Stevie Nicks, Cheap Trick, James Taylor, and dozens more luminaries.
Levin, whose previously published photo books are Road Photos (1983) and Crimson Chronicles (2004), has brought his camera everywhere on tour, often setting it up on a tripod on stage during performances and working the shutter with a squeeze bulb or a foot pedal placed next to his instrument effects pedals. The procedure resulted in some of Images from a Life on the Road's most arresting concert shots, including one of him and Gabriel in mid leap.
Adrian Belew and Robert Fripp of King Crimson on a train in Japan in 1981.
"That was during [the song] 'Shock the Monkey,'" Levin recalls. "There was a point in the song when we'd always jump up and down, and I was really happy to be able to get a picture of that." Another Gabriel photo in the new book that jumps out is a moody portrait of the singer with his head half shaved. "Peter decided he wanted to shave his head like I did and showed up at my hotel room, asking to borrow my electric razor," says Levin. "He was half-way done when I said, 'Wait, stop, let me get a picture of this.'"
Woodstock `94 in Saugerties, where Peter Gabriel was the festival's closing act.
But many of the book's most memorable photos were captured away from the bandstand. Images of exotic locales visited on tour and backstage vignettes show another side of the performing field. "It's been such a blessing, my life and career," says Levin, who looks toward resumed King Crimson touring this summer once the pandemic hopefully eases. "With the book, I wanted to give people a sense of what it's like for musicians on the road. I hope that, like me, they find these photos special. Something to treasure."
Images from a Life on the Road is out now.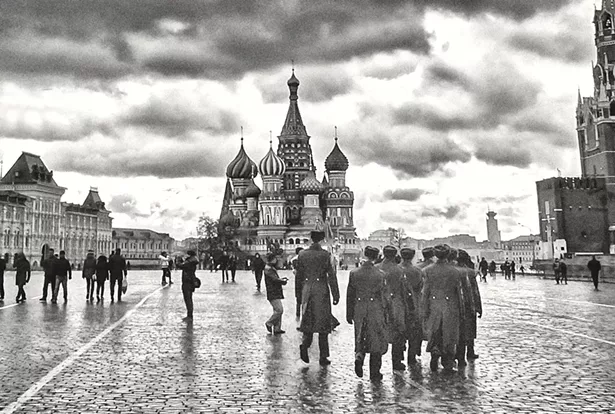 Red Square, Moscow in 2014, on tour with The Crimson Project.