To close on the home of your dreams, you'll have to accomplish critical tasks including retaining an attorney, locking in your interest rate, completing inspections, addressing contingencies, doing your final walkthrough, and reviewing and signing the closing docs.
Lisa Halter, broker and owner of Halter Associates Realty, the largest independent agency in Woodstock, says there are myriad ways you can envision your home improvements ahead of time, and implement your plans as soon as the keys are in your hands. "While you're working your way through all the details that lead to closing day, it can be fun to dream about all the ways you can personalize your new home," says Halter. "We can also leverage our hyper-local knowledge and network to help you identify design pros and contractors."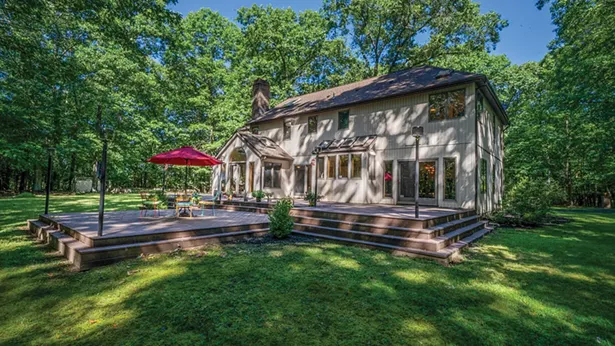 On the market for the first time since its construction in 1988, this spacious and tranquil custom-built contemporary rests on 54 private, wooded, subdividable acres a half mile from Main Street in Rosendale. The nearly 3,000-square-foot rural retreat features an openfloor plan with hardwood and marble; expansive eat-in kitchen with an island and custom built-in refrigerator; three large bedrooms with walk-in closets and skylights; a massive basement with high ceilings and Bdry system; and an oversized attached two-car garage with storage loft. A rare find in a historic Ulster County hamlet, this home is priced to sell at less than $850,000.
While you're counting the days to closing, spend time browsing some design apps and sites for inspiration. "Some of my personal faves are Houzz and Elle Decor. I also use Wayfair a lot to source just about everything," says Halter. "And Artistic Tile is renowned for their unique and innovative tile designs." Here are just a few projects Halter recommends to spark your imagination and make your new home shine:
1. Paint and tile.
Repaint the front door, trim, and shutters to not only match the home's exterior, but better sync with your style. Inside, create a mood with new window treatments or add custom tiling to the bathrooms and kitchen. "Using the highest-quality tools and materials will always pay off," Halter says.
2. Utilize the space.
In your new home, every empty room is a new opportunity. Check out some of the free design apps like MagicPlan to start thinking about ways to better use the space. After designing your layout, get contractor estimates to build a playroom or office, cut out skylights in the ceiling, or customize built-ins. If you're on a budget, you can turn the attic into a pillow room, hang an indoor hammock in the family room, or use reclaimed barn wood to install benches in your kitchen or dining room.
3. Elevate the landscape.
Learn about what plants grow well in our climate, and especially which ones are deer proof! Consider consulting a landscape designer to turn your property into a place of recreation and relaxation. Build stone walls, patios, and walkways; install a gazebo, fountain, or outdoor kitchen; fence off an organic garden; construct a tree house; or add custom outdoor lighting to create a backyard atmosphere that feels like an extension of your new home.
4. Tell your story with art.
Nothing distinguishes a home like hand-selected fine art, and art dealers do more these days than curate gallery shows—many of them represent private buyers looking to elevate their homes. The Hudson Valley has dozens of galleries featuring contemporary local art. If you're looking for more affordable options, spend your weekends hunting through antique stores, yard sales, and thrift shops for one-of-a-kind outsider art. You can even elevate your child's artwork with a high-end frame.
Take your time, observe what's missing, which parts of the home your family gravitates to, and let your imagination run wild!