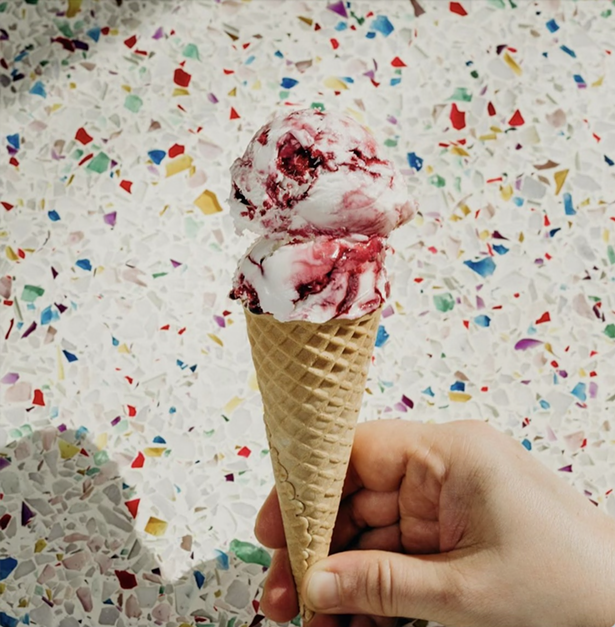 Located on Broadway in Tivoli, beloved ice cream parlor Fortunes is named for a local legend. Owners Brian Ackley and Lisa Farjam met at Bard during their undergrad years. At the time, Fortune was a "local fixture who was always at the bar and always hanging out," says Ackley, of the small-town character who passed away eight years ago. "He looked very professorial and would sit with a stack of philosophy books at the bar, smoking Camel wides."
Ackley and Farjam's journey into the food industry happened naturally. They both had a love for cooking and enjoyed hosting dinner parties while living in Brooklyn. Farjam would make the main course and they quickly discovered Ackley had a knack for making desserts. Eventually he got an ice cream machine and started making his own ice cream for their family and friends. When the couple moved upstate to Tivoli, they decided to make the jump into starting their own shop.
The couple designed the ice cream shop themselves in what was originally an old barn. The inside has a sunny feel with a bright yellow spiral staircase running through the middle draped in plants. Ackley drew all of the architectural plans and designed all of the furniture inside and Farjam took the lead with the color scheme and aesthetics. "Lisa just has really good intuition in terms of what and how something should look," says Ackley.
Ackley makes all of the ice cream recipes himself using local fruit and dairy from farms right around Tivoli. "We wanted to take advantage of not only the upstate dairy, but the upstate fruit, which has this really short moment, but when it comes it's really amazing and very special." The fruit and berries he uses, ranging from sour cherries to apricots, peaches, and black raspberries, are mostly sourced from nearby Montgomery Place Orchards, Mead Orchards, Fix Bros. Fruit Farm, Rose Hill Farm, and all of the dairy comes from Ronnybrook Farm.
While a lot of their ice cream flavors are seasonal, the menu at Fortunes always carries the classics: vanilla, chocolate, mint chocolate chip, and a nut flavor with berries. For dairy-free customers, Fortunes offers a dark chocolate; honeycomb, which is a tahini- and oat milk-based vegan ice cream; and two other vegan flavors (usually including a sorbet). For seasonal flavors, they rotate about four or five flavors depending on what berries, fruits, and nuts are available. They also sell reusable pint containers of to-go ice cream for an at-home treat.
Since opening in 2019, the ice cream shop has quickly become a favorite among locals and visitors alike and was named the best ice cream in New York by Food & Wine Magazine last year. "We just decided that Tivoli really needed an ice cream shop. So we started the shop four years ago and it's just been going ever since," Ackley says.
Fortunes Ice Cream
is open Thursday through Monday from 12pm to 10pm.