Page 2 of 2
Photo: John Garay
Gena Wirth and Peter Adams at First United Methodist Church on Liberty Street in Newburgh
The theme of the coming issue is Makers, and Muyot interviewed 27 of them. "We've just passed 1,400 submissions to the film festival," he says. "We're bringing visitors from everywhere. And when they go home, we'll still be here training people for film-related and green tech jobs."
Makers of Change
Underpinning the renaissance and undermining (at long last) Newburgh's reputation as dangerous is a switch from zero-tolerance to targeted policing. The loathed "jump-out squad" has been eliminated and the Community Progressive Response Team has taken its place; violent crime dropped to a historic low in 2018. "The police do pop-up street barbecues and walk around, play basketball with the kids," says Muyot. "The good people aren't afraid of them anymore."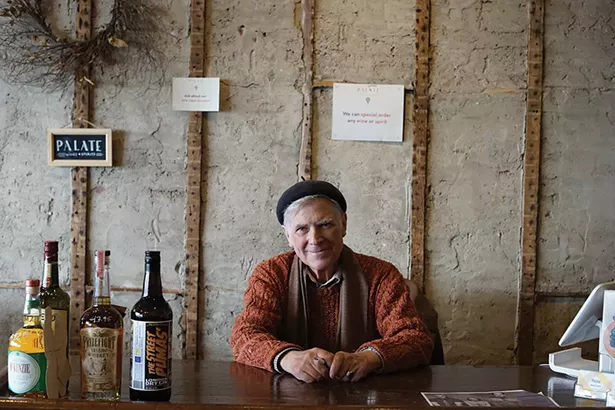 Photo: John Garay
Yaakov Sullivan of Palate Wine & Spirits
All these factors and more are giving Newburgh's revitalization serious traction at last. Luke Pontifell, founder of Thornwillow Press, set up shop in the Burgh in 2004 to have enough room for his fine bookbindery; he's moving forward with plans to repurpose more industrial space into a Maker's Village. Joseph Fratesi and Thomas Wright relocated their Atlas Industries from Brooklyn to a 55,000-square-foot Spring Street factory in 2013, creating studios for all kinds of creatives and a gallery/event space; they've got 32 tenants and are hosting a spring market over Mother's Day weekend, celebrating the opening of their new 17 Spring Street Garden. VIP Partners LLC is converting its six lots into the William Street Hub, with 15,000 square feet of commercial space and 12 one-bedroom affordable apartments. Labor will be locally sourced.
Photo: John Garay
Virginia Kasinski, director of Newburgh Urban Farm and Food Initiative
Down by the river—where, it must not be forgotten, there is a selection of restaurants with truly spectacular views—the renovated West Shore Railroad Depot, designed by the creator of Grand Central Station, is now home to eateries in the Cosimo's restaurant family. Pizza Shop has been serving thin crust pan pizzas for eight years, with a new riverside patio; Hudson Taco, an eclectic taqueria crafting dishes like Korean BBQ short rib tacos from local ingredients and serving an exclusive corn lager from Newburgh Brewery.
Up at the city's northern gateway, hardcore bibliophiles are opening the Barking Goose Bookstore Bar & Cafe later this month, serving up craft beverages and topnotch coffee with the literature. Local book clubs are salivating. And you can shop the Newburgh Vintage Emporium, a passion project of weekenders-turned-fulltimers featuring 11,000 square feet of vintage, antique, and locally made treasures that's a "Best of the Best" pick from Hudson Valley magazine.
Photo: John Garay
Nassar of Mike's Convenient Store
Beatrice "Bibi" Lorenzetti first drove down Newburgh's wide, rolling Broadway just a couple of years ago, marveling at the blend of majesty and grit. Lorenzetti, a yoga teacher, and her drummer partner had been dreaming of someplace with room for a garden and easy access to mountains and water. "We loved that it was so gangster, almost an '80s New York City feel, and found out that abandoned property was selling cheap. We decided to try an apartment first." A month later, the right fixer-upper appeared; now, her Ashtanga Yoga and his music studio are realities. "We've been in Newburgh for a year now, and so much has changed," she says. "The city sold 1,400 building permits this year! Liberty Street's gone from two blocks of stores and restaurants to four. You walk around and you see homes being brought back to life all over the place."
Photo: John Garay
Tony of Tony's Newburgh Lunch
Fittingly, the Tower of Victory—originally constructed to celebrate the centennial of the end of the Revolutionary War—will host a grand reopening on April 27, welcoming visitors at Washington's Headquarters State Historic Site, the place where the Purple Heart medal was born. Come take in the five-star view and then hear some Fourth Saturday jazz at The Wherehouse. Come to the one-of-a-kind Motorcyclepedia Museum for Hudson Farm and Flea on April 6, or the Newburgh Illuminated Fashion Show on April 13. Sample the exquisite fare at the newly expanded Liberty Street Bistro, where CIA-trained chef Michael Kelly revels in his return to his Newburgh roots. Save June 1 for Newburgh Illuminated, bigger and better than ever this year.
But whatever you do, do come witness the reinvention of Newburgh. What's going on in this most diverse and beautiful all-American city of the Valley will give you fresh hope. "This community is so strong, and we have all walks of life around the table determining the vision," says Cappella." It's the Little Engine that Could. People are feeling proud to live here again, and it's an honor to be part of the transformation."