Photo: John Garay
Street art by Will Teran on the corner of Washington and Liberty, across from Washington's Headquarters.
On May 15, 2018, the City of Newburgh was struck by a tornado. Two lives were lost to falling trees. In a bitterly ironic touch, the damage was worst on Liberty Street, the epicenter of the city's revitalization. Roofs were ripped from two restaurants, thousands lost power for days.
The next day, there was an epic picnic on Liberty Street. Rapper and poet Decora and then-owner of Caffe Macchiato Jodi Cummings organized, and soon all and sundry were munching on shrimp, oysters, and steaks that would otherwise have gone bad. Barbecues sizzled, music played, people laughed and cried and began cleaning up. Less than three weeks later, the city hosted its Newburgh Illuminated Festival, filling the streets with delectable food, art, performance, and joy.
"Twenty thousand people! Joyful faces everywhere, bands, fire dancers! We asked ourselves, how do we make it like this all the time?" says entrepreneur Michael Muyot, referencing the festival.
Photo: John Garay
Pitch Party for Awesome Newburgh Foundation at the Thornwillow Institute.
Shaking the Stigma
An ambitious goal for any community, but to know the story of Newburgh is to know that this little city is no stranger to the storm. "Newburgh!" said an old friend when I happened to mention this story. "You do know it's the worst city?"
A few fast facts turned her head around, but the stigma is real. Named an All-American City by Look magazine in 1952, Newburgh at midcentury was a wonder of industry and prosperity. That was before a city manager with policies so racist that the federal government overruled them, before urban "renewal" razed the waterfront shopping district, before industry left with a giant sucking sound to be replaced by faceless absentee landlords and crack cocaine. In 1979, Newburgh got another national spotlight—this time in Oui, as one of 10 "Towns Without Pity."
Photo: John Garay
Carmela, Zach Jr., Giovanni, and Zachary Murry in front of the Dutch Reformed Church on Grand Street.
People fighting to rescue Newburgh in the late 20th century had a rough ride. Many never gave up. Her assets—the glorious Newburgh Bay, the largest contiguous historic district in the state, lovely Downing Park, Washington's Headquarters—have always inspired a love not easily foresworn, no matter the frustration and heartbreak. But it became increasingly clear that it was going to take more than a few angel investors or waterfront clubs to rescue the All-American City.
Opportunity Flowing
Photo: John Garay
Justin Hastey and Rebecca Nissen at 2 Alice's Coffee House
Now for the good news. Much, much more than that is going on.
"Sally's Fish Market is still thriving, 80-plus years old," says Allison Cappella. "Commodore Chocolatier is in their third generation; so is Pete's Hot Dogs. That's off the very top of my head. And there are a whole lot of cool things happening on the streets around them. We're changing neighborhoods one house at a time, getting them back on the tax rolls with Newburgh families living in them."
Cappella is the new executive director of the Newburgh Community Land Bank, a nonprofit founded in 2012 that buys derelict properties from the city and partners with Habitat for Humanity Newburgh and RUPCO to make them livable. Many are abused Victorian gems; if this work were easy, it would have long since been done. "We often need to do lead or asbestos abatement, which are factors that discourage speculators from buying these properties and sitting on them," Capella says. Once a space is safe, but before it's resold, it may become a venue in the NCLB's Artists in Vacancy program before the keys are handed over to new owners; the NCLB has the power to establish deed restrictions requiring renovation or owner occupancy. "A lot of conscious thought is going into preventing gentrification," says Cappella. "We want everybody welcomed and mixed together. The strongest community is a diverse community. The most amazing feeling is seeing kids who are used to survival mode react to having clean, safe rooms of their own."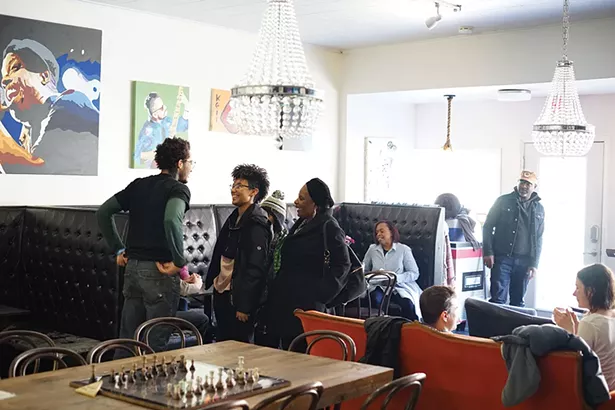 Photo: John Garay
Marcelis, Maiya, Doris, Micah and Courtland at Blacc Vanilla
Commercial properties are marketed by A River of Opportunities, a project of The Strategic Economic Consortium (T-SEC), which partners with the Orange County Incubator to bring employers to the area. Their latest success is on Upper Broadway, where fitness apparel manufacturer Zielwear will employ 25 locals.
"There are so many passionate people here," says Muyot. "It's a matter of building the channels for them." Leveraging his background in sustainability, Muyot is organizing a green tech conference to be held June 17 to 21 at SUNY Orange in conjunction with the East x Northeast International Film Festival put together by author, actor, and director Robert Fontaine Jr,. Muyot has also created 12550 The Zine, a glossy, ad-free publication showcasing Newburgh's progress. The first issue highlighted a diverse array of developments in the city's creative renaissance: a film production jobs bootcamp, a new skate park drawing shredders from across the Tri-State area, and a Great Gatsby Gala held in Downing Park.
Photo: John Garay
Gena Wirth and Peter Adams at First United Methodist Church on Liberty Street in Newburgh
The theme of the coming issue is Makers, and Muyot interviewed 27 of them. "We've just passed 1,400 submissions to the film festival," he says. "We're bringing visitors from everywhere. And when they go home, we'll still be here training people for film-related and green tech jobs."
Makers of Change
Underpinning the renaissance and undermining (at long last) Newburgh's reputation as dangerous is a switch from zero-tolerance to targeted policing. The loathed "jump-out squad" has been eliminated and the Community Progressive Response Team has taken its place; violent crime dropped to a historic low in 2018. "The police do pop-up street barbecues and walk around, play basketball with the kids," says Muyot. "The good people aren't afraid of them anymore."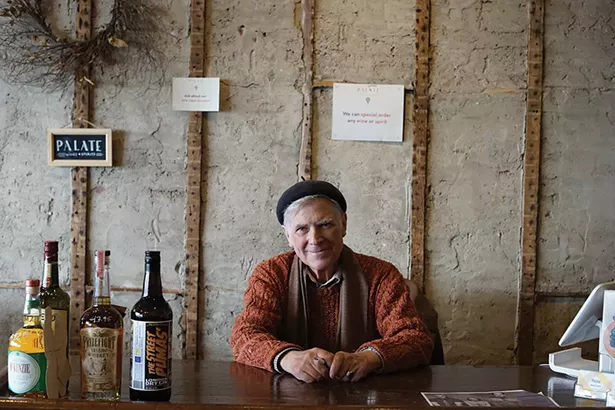 Photo: John Garay
Yaakov Sullivan of Palate Wine & Spirits
All these factors and more are giving Newburgh's revitalization serious traction at last. Luke Pontifell, founder of Thornwillow Press, set up shop in the Burgh in 2004 to have enough room for his fine bookbindery; he's moving forward with plans to repurpose more industrial space into a Maker's Village. Joseph Fratesi and Thomas Wright relocated their Atlas Industries from Brooklyn to a 55,000-square-foot Spring Street factory in 2013, creating studios for all kinds of creatives and a gallery/event space; they've got 32 tenants and are hosting a spring market over Mother's Day weekend, celebrating the opening of their new 17 Spring Street Garden. VIP Partners LLC is converting its six lots into the William Street Hub, with 15,000 square feet of commercial space and 12 one-bedroom affordable apartments. Labor will be locally sourced.
Photo: John Garay
Virginia Kasinski, director of Newburgh Urban Farm and Food Initiative
Down by the river—where, it must not be forgotten, there is a selection of restaurants with truly spectacular views—the renovated West Shore Railroad Depot, designed by the creator of Grand Central Station, is now home to eateries in the Cosimo's restaurant family. Pizza Shop has been serving thin crust pan pizzas for eight years, with a new riverside patio; Hudson Taco, an eclectic taqueria crafting dishes like Korean BBQ short rib tacos from local ingredients and serving an exclusive corn lager from Newburgh Brewery.
Up at the city's northern gateway, hardcore bibliophiles are opening the Barking Goose Bookstore Bar & Cafe later this month, serving up craft beverages and topnotch coffee with the literature. Local book clubs are salivating. And you can shop the Newburgh Vintage Emporium, a passion project of weekenders-turned-fulltimers featuring 11,000 square feet of vintage, antique, and locally made treasures that's a "Best of the Best" pick from Hudson Valley magazine.
Photo: John Garay
Nassar of Mike's Convenient Store
Beatrice "Bibi" Lorenzetti first drove down Newburgh's wide, rolling Broadway just a couple of years ago, marveling at the blend of majesty and grit. Lorenzetti, a yoga teacher, and her drummer partner had been dreaming of someplace with room for a garden and easy access to mountains and water. "We loved that it was so gangster, almost an '80s New York City feel, and found out that abandoned property was selling cheap. We decided to try an apartment first." A month later, the right fixer-upper appeared; now, her Ashtanga Yoga and his music studio are realities. "We've been in Newburgh for a year now, and so much has changed," she says. "The city sold 1,400 building permits this year! Liberty Street's gone from two blocks of stores and restaurants to four. You walk around and you see homes being brought back to life all over the place."
Photo: John Garay
Tony of Tony's Newburgh Lunch
Fittingly, the Tower of Victory—originally constructed to celebrate the centennial of the end of the Revolutionary War—will host a grand reopening on April 27, welcoming visitors at Washington's Headquarters State Historic Site, the place where the Purple Heart medal was born. Come take in the five-star view and then hear some Fourth Saturday jazz at The Wherehouse. Come to the one-of-a-kind Motorcyclepedia Museum for Hudson Farm and Flea on April 6, or the Newburgh Illuminated Fashion Show on April 13. Sample the exquisite fare at the newly expanded Liberty Street Bistro, where CIA-trained chef Michael Kelly revels in his return to his Newburgh roots. Save June 1 for Newburgh Illuminated, bigger and better than ever this year.
But whatever you do, do come witness the reinvention of Newburgh. What's going on in this most diverse and beautiful all-American city of the Valley will give you fresh hope. "This community is so strong, and we have all walks of life around the table determining the vision," says Cappella." It's the Little Engine that Could. People are feeling proud to live here again, and it's an honor to be part of the transformation."